Free LLC Operating Agreement
An LLC operating agreement is the legal document that governs your limited liability company. Articles of Organization do NOT govern your LLC. An operating agreement shows who owns and manages the LLC, how profits are dealt with, and how any problems the LLC may have now or in the future will be resolved. An LLC operating agreement is not required in all states in the US—although it is important.
An LLC operating agreement is a critical internal document, especially for multi-member LLCs.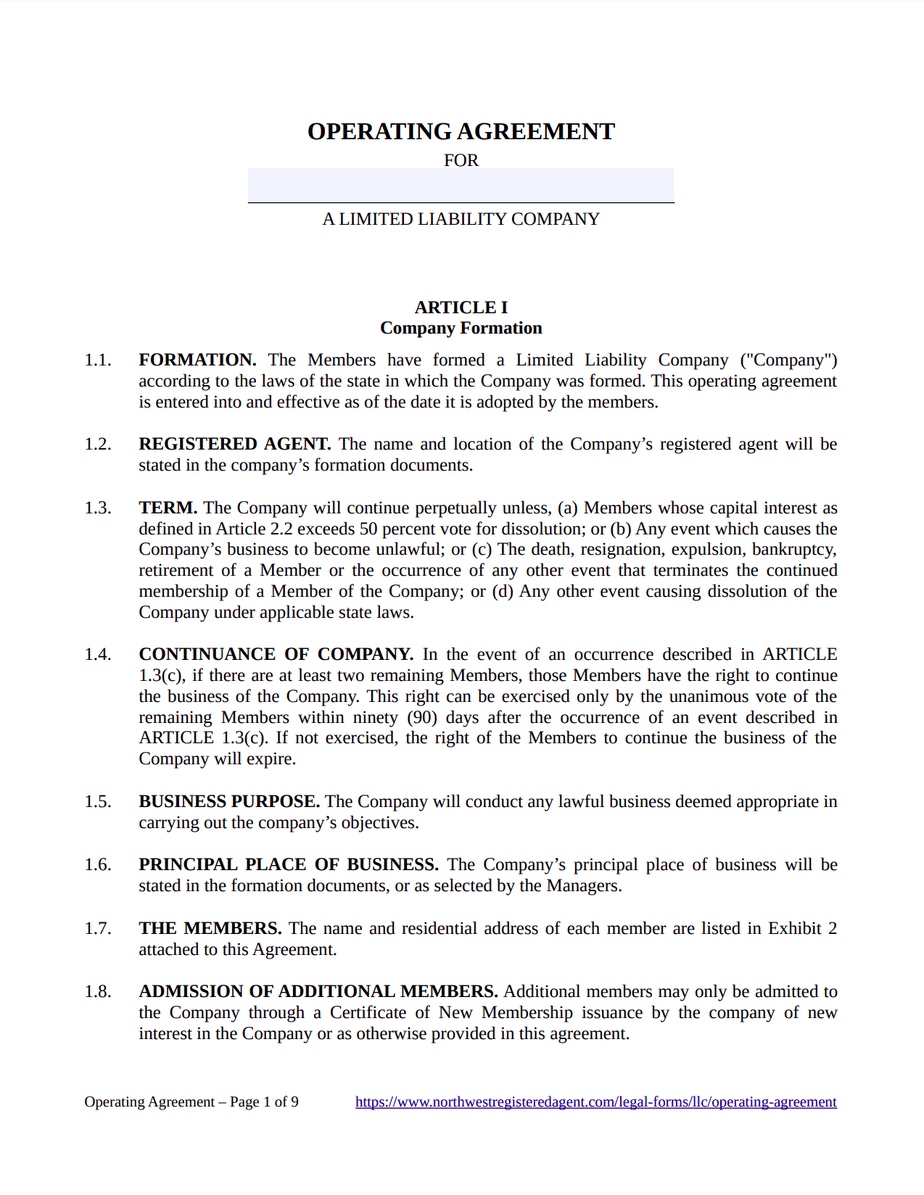 Want to know if your state requires an operating agreement? Or how issues with operating agreements have affected real court cases in your state? Choose your state from the dropdown below.
Many of these pages also include FREE state-specific operating agreement templates—and our forms library is growing fast! Need an operating agreement for a Wyoming Close LLC? How about a manager-managed California LLC?  Check out our state-specific operating agreement pages to see what templates are available.
State-Specific Operating Agreement Pages
What's so different about Northwest Registered Agent's free operating agreement?
Our LLC operating agreement is not only free but also painstakingly written in a language that you can actually understand. There's no reason for 30 pages of dense legalese. Or paragraphs rehashing information already in state statutes. The laws of your state remain the same no matter what you write in your operating agreement.
So with that in mind, we edited our LLC operating agreement down to the bare essentials. You could read it to your friends or family, and they would understand it. We pride ourselves on making LLCs easier to manage—our LLC operating agreements have been used to run over 1.5 million LLCs.
Does Northwest help me create an LLC operating agreement for my LLC?
We don't—unless you hire us to form your LLC—but you're free to download and use our template yourself. If you sign up for our LLC formation services, we include your initial LLC resolutions, and we create the LLC operating agreement for you. Our business formation also includes registered agent service, lifetime customer support, and useful tools and resources to help you maintain your LLC. Learn more about starting an LLC in our free LLC Guide. Or, get started fast and sign up for our LLC formation service now!
What should be included in an operating agreement?
Our free LLC operating agreement template covers the crucial parts of an operating agreement:
Article I: Company Formation
This first section of the LLC operating agreement essentially does four things:
Affirms that the LLC has been formed by state laws and will conduct lawful business

Notes where key business information (such as member info and principal office address) can be found

Lists the events that can end the business (and how members can continue the LLC)

Explains how to add new members
Article II: Capital Contributions
Every member has to "buy in" to the LLC with initial capital contributions. These contributions are money or other assets that are exchanged for ownership interest. In this section, you enter the total value of these contributions. This article also notes that members are not obligated to contribute more later on.
Article III: Profits, Losses and Distributions
Everyone wants to know exactly how and when they'll see some money. This article explains that profits and losses are determined annually and allocated to members in proportion to their percentage of ownership interest. After expenses and liabilities are paid, distributions can be made at any time. If the company or membership interest is liquidated, distributions follow Treasury Regulations.
Article IV: Management
So how are decisions made? This section explains that members vote on managers, and that one manager will be elected as Chief Executive Manager. The CEM manages operations and carries out the decisions of the managers. This article assigns responsibilities to managers, including making decisions, executing contracts and agreements, keeping records, and responding to member requests for information.
Don't want managers? If members manage your LLC, you can still use this form with minor modifications—or better yet, check out our free multi-member LLC operating agreement.
This article also notes that as long as managers are acting in good faith, they're not liable for losses or damages to the LLC. Similarly, members and managers acting in good faith for the LLC are indemnified from resulting lawsuits or other actions—meaning losses from expenses or judgments are covered by the company.
Article V: Compensation
There are situations where the LLC may owe members or managers for services or expenses. Article V of the LLC operating agreement notes that managers are entitled to compensation for their services. Members or managers must be reimbursed for LLC expenses paid out-of-pocket.
Article VI: Bookkeeping
Article VI explains how books are kept. Managers are responsible for keeping financial records, including separate capital and distribution accounts for each member. This section states that the LLC is to keep books on a calendar year. At the end of the year, the books are closed and the managers prepare a statement for each member.
Article VII: Transfers
When transferring membership interest, you don't want to risk strangers coming in and messing up what you've worked hard to create. Essentially, this article offers some protection by giving other members the first chance to buy the interest. If members don't buy the interest or don't unanimously approve the transfer, whomever receives the interest will be only be entitled to profits and compensation—not participation in the LLC.
Article VIII: Dissolution
Members can vote to end the LLC through the process of dissolution. This article notes that the LLC is responsible for paying debts before making any distributions to members.
Certification of Member
This is the signature page. Members sign to acknowledge that they agree to abide by the terms of the agreement.
Exhibits
At the end of the LLC operating agreement, there are also fill-in-the-blank exhibits. These exhibits include places for you to list individual manager information, member information and capital contributions.
Are operating agreements required for an LLC?
Every state is going to say you should, but guess what? Almost every state statute says failure to maintain LLC operating agreements for your LLC does not cause you to lose your liability protection. We have yet to see an actual state agency require you to maintain an LLC operating agreement.
Do I need an LLC operating agreement?
Yes, absolutely, especially if you're going to have multiple members. Even though the state does not require it, it would be silly to form an LLC with another person without having an LLC operating agreement that both of you agree on. Operating agreements will lay out how to handle disagreements, money, and technical things like the right of first refusal—things that will shape the future of your company. If you are going into business with another person, odds are you will eventually need to part ways. The operating agreement between you will be what outlines how the breakup will happen.