New York Department Of Health Approval
When does a non profit corporation need an approval from the New York Department of Health? If your NY non profit states a purpose that includes soliciting contributions or grants, which are intended to benefit hospitals, nursing homes, hospice or assisted living facility, you will need an approval/consent from the NY Dept of Health, signed by the Commissioner of Health or a member of the Public Health Council. This approval needs to be attached to your certificate when you file it with the Department of State.
NEW YORK DEPT OF HEALTH APPROVAL TEMPLATE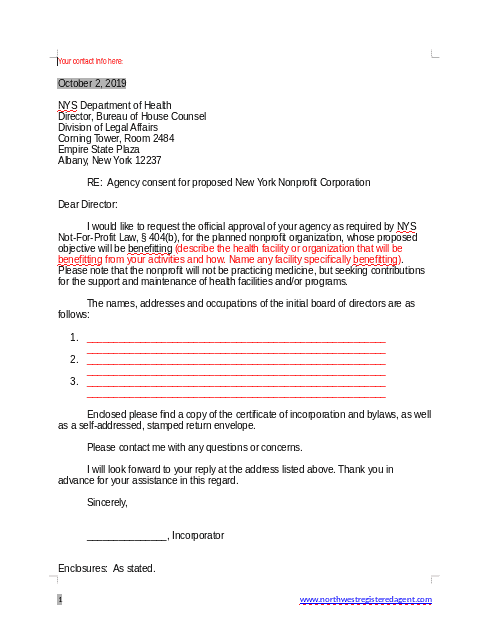 What is the approval process?
You send a business letter requesting consent to allow the filing of your proposed certificate of incorporation. Attach a copy of your proposed certificate and bylaws. See our free request letter template to the NY Department of Health.
Does the Department of Health need any special information?
Include in your letter, a description of the type of fundraising activity that you plan to conduct and who will benefit from your funds. Also, list the names and addresses of the initial board of directors. State their occupations and any other charitable organizations they have been or are associated with. If your charity will be supporting a specific facility, be sure it is named in the purpose clause of the certificate.
Also, be certain your certificate has the following language or you will not receive consent.
Nothing in this Certificate of Incorporation shall authorize the corporation within the State of New York, to (1) provide hospital services or health related services, as such terms are defined in the New York State Public Health Law (PHL); (2) establish operate or maintain a hospital, a home care services agency, a hospice, a managed care organization or a health maintenance organization, as provided for by Articles 28, 36, 40 and 44 respectively, of the PHL and implementing regulations; (3) establish and operate an independent practice association, (4) establish, operate, construct, lease, or maintain an adult home, an enriched housing program, a residence for adults, or an assisted living program, as provided for by Article 7 of the New York State Social Services Law (SSL); or (5) establish, operate, construct, lease or maintain an assisted living residence, as provided for by Article 46-B of the PHL. Additionally, nothing in this Certificate of Incorporation shall authorize the corporation within the State of New York, to (a) hold itself out as providing or (b) provide any health care professional services that require licensure or registration pursuant to either Title 8 of the New York State Education Law, or the PHL, including, but not limited to, medicine, nursing, psychology, social work, occupational therapy, speech therapy, physical therapy, or radiation technology.
Is there a fee?
No.
How long does it take to get the approval?
At least a month if your paperwork is in order.
Where do I send my consent request?
NYS Department of Health
Director, Bureau of House Counsel
Division of Legal Affairs
Corning Tower, Room 2484
Empire State Plaza
Albany, NY 12237
Questions?
Phone:  (518) 473-3233
Email:  Housecon@health.state.ny.us
New York Nonprofit Organization