Guam Corporate Bylaws
Guam corporate bylaws provide a framework for the operation and management of your corporation. Your bylaws highlight important internal issues like the issuance of stock, requirements of officers and directors, as well as the procedure to amend the bylaws.
Corporate bylaws are one of your corporation's most important internal documents, but they can be time-consuming and confusing for a new business owner to create. Have no fear, Northwest is here, and we've got a free, attorney-drafted template you can use to create bylaws that suit the needs of your corporation.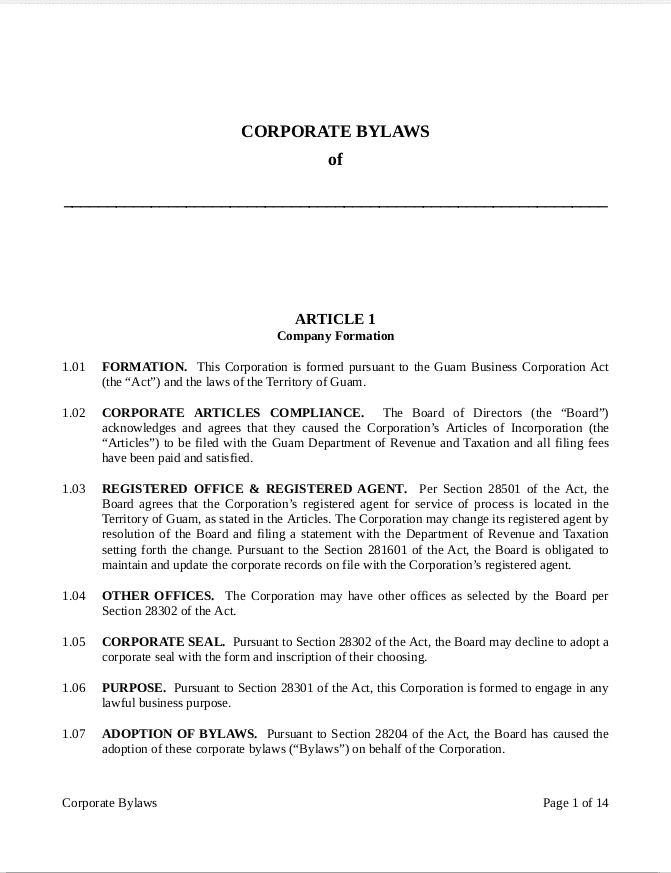 Why do I need corporate bylaws?
Your Guam corporate bylaws will act as the backbone of your business. Here's why well-crafted bylaws are crucial.
1. Corporate bylaws are legally required in Guam.
18 Guam Code § 28204 states that the "incorporators or board of directors of a corporation shall adopt initial bylaws for the corporation." Guam requires corporate bylaws. If you neglect to adopt them, your corporation could find itself in serious legal trouble.
2. Corporate bylaws establish the rules and roles within your corporation.
Corporations have many moving parts and can be difficult to run. By laying out the day-to-day operating rules and procedures for your corporation, bylaws help to establish the direction of the business, and the responsibilities of officers, directors, and shareholders. Your bylaws can also help resolve internal disputes before they turn into legal battles.
3. Corporate bylaws prove that your business is a legitimate corporation.
In order for your corporation to attract investors, lease office space, and open a bank account, corporate bylaws are a must. Also, in the event of a lawsuit, your bylaws will play an important role in reinforcing your limited liability status by establishing that your corporation is its own separate entity.
What is included in Guam Corporate Bylaws?
Strong bylaws are essential and can include anything (within the law) not already covered by Guam's statutes. They should at the very least include information regarding:
Directors and officers
Meetings
Records
Stock
Finances
Amendments and emergencies
Who prepares the bylaws?
Bylaws are typically prepared and adopted by the incorporators or by the board of directors in the organizational meeting. If this is your first time writing bylaws, you may want to consult an attorney. You can also use Northwest's free, attorney-drafted corporate bylaws template, customized for Guam corporations.
Are corporate bylaws legally binding?
Yes. Corporate bylaws are considered legal documents. They establish that the directors and shareholders are separate from the corporation, which is crucial for maintaining limited liability status. The flip side is, if you don't adhere to your bylaws, your corporation could face some pretty serious fines, lawsuits, or even dissolution.
FAQs
Are bylaws filed with the territory of Guam?
There is no need to file your bylaws with the Guam Department of Revenue and Taxation, as they are part of your internal records. Instead, you should keep them on file with the rest of your business documents.
Do bylaws need to be signed?
No, your bylaws do not need to be signed, but it's definitely a good idea. Signed bylaws show that your directors and officers have agreed to the basic rules that will guide the corporation.
How do I amend my bylaws in Guam?
18 Guam Code §281009 states that a corporation's directors or shareholders may amend the bylaws, unless otherwise noted in the articles of incorporation, or unless shareholders make an amendment denying the directors the ability to amend the bylaws. However, in most cases, the rules for amending your bylaws will be spelled out in the bylaws themselves.