Corporation Bylaws – Free Template
Corporate bylaws are the internal formalities of your business. Bylaws set out the corporation's rules and how the business will operate. Bylaws aren't submitted to any state agency (unlike your Articles of Incorporation), but they are a typical corporate requirement—and critical for successfully organizing and managing your business. We offer a free corporate bylaws template you can use to establish your corporation's internal policies and procedures.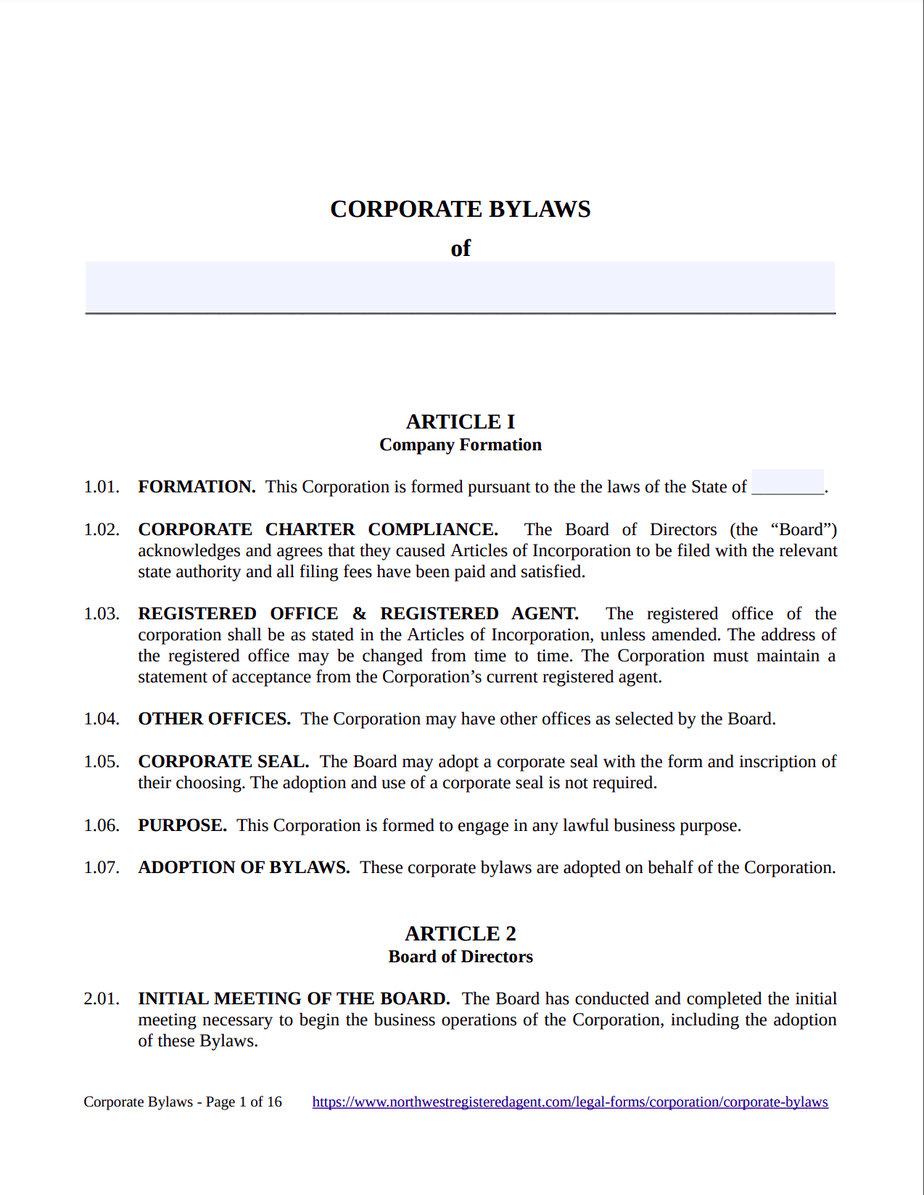 Free Corporate Bylaws Template
Our corporate bylaws template have been written by a Washington State licensed attorney BUT do not constitute legal advice; these bylaws are just a basic sample that you can use at your own discretion. As always, we must recommend you seek independent counsel of a licensed attorney in your own state. Like all our forms, this template is intended for individual use. If you would like to use our corporation bylaws commercially, please contact us for payment details.
Want to know if your state requires bylaws? Or how issues with bylaws have affected real court cases in your state? Choose your state from the dropdown below. Many of these pages also include FREE state-specific bylaws templates—and our forms library is growing fast!
State-Specific Bylaws Pages
And if you would like our help with incorporation, we form businesses every day. We'll get your corporation set up correctly for only $100 plus state fees. We also provide industry-leading registered agent service for $125 a year.
What's so different about Northwest Registered Agent's free corporate bylaws?
Our corporate bylaws were written to be generic and beneficial in any state. The bylaws are brief and straightforward, so that you can easily read and understand them—yet they cover a wide range of essential topics, from meetings to amendments. Our bylaws are written to give the shareholders, directors, and officers strong protection and management structure. Our business is helping businesses start and succeed—and we pride ourselves on making corporations easier to manage.
What should corporate bylaws include?
Corporate bylaws are the internal rules of your corporation. Bylaws should include information about your policies and procedures for topics such as meetings, voting, stocks, dividends, financial records, directors, officers, amendments and emergencies. Our free corporation bylaws template covers this crucial information and more:
Article 1: Offices
This section affirms that the registered agent office is the same as listed in the Articles of Incorporation and notes that the corporation can have other offices within or outside of the state.
Article 2: Shareholder Meetings
Meetings might sound straightforward, but there are quite a few details that need to be nailed down. This section includes:
meetings locations

annual meeting dates

annual meeting order of business

procedures for calling a special meeting

quorum and voting record requirements

procedures for proxy voting

how shareholder actions can occur without a meeting
Article 3: Stock
Article 3 goes over how stock certificates are issued and what happens if they're lost or ruined. This section also goes over how stock can be transferred and how the corporation deals with fractional shares.
There's also key information in this section on shareholders. Unless specific circumstances are met, registered owners are considered to be the holders in fact of stock. If a shareholder is another corporation, the section explains who in the other corporation is authorized to vote.
Article 4: Board of Directors
This section explains how many directors there are, how to increase the number of directors, how to remove directors, and how to fill vacancies. It's also noted that directors don't receive a salary for serving on the board and any loans to directors require a vote of approval from two-thirds of the voting shares. This section also goes over procedures for calling and holding board meetings and appointing committees.
Article 5: Officers
Article 5 lists the officer positions (president, vice president, secretary, assistant secretaries, and treasurer) and their duties. The section also explains how powers can be delegated, how officers can be removed and how vacancies can be filled. There are also financial details on officer salaries, loans and bonds.
Article 6: Dividends and Finance
This section goes over where money is deposited and how it's withdrawn. It notes that reserves can be set aside prior to distributions, and that distributions can be paid out of surplus, net earnings or treasury shares.
Article 7: Notices
Notices (such as meeting notices) can be delivered personally or by mail to the address listed in the corporation's records.
Article 8: Seal
This section notes that a corporate seal isn't required but can be adopted by a board resolution and used on behalf of the corporation. Need a corporate seal? When you hire us to form your corporation, you can add on corporate supplies, including corporate books and seals, during checkout.
Article 9: Books and Records
Corporations are required to keep records, so this section notes that records (including meeting minutes) will be recorded and kept at the registered office, principal place of business or the office of transfer agent or registrar.
Article 10: Special Corporate Acts
This section explains who is responsible for executing and signing materials such as contracts, deeds and checks. There's also a statement indemnifying directors and officers (meaning they're not to be held liable for actions done in good faith on behalf of the corporation).
Article 11: Amendments
The bylaws can be amended (or repealed entirely) by shareholders. The board of directors can also amend or repeal bylaws, but these changes can themselves be amended or repealed by a majority shareholder vote. This section also notes that emergency bylaws may be adopted in certain situations.