Michigan Corporate Bylaws
Michigan corporate bylaws outline the policies and procedures for important aspects of your company, including appointing directors and officers, holding meetings, amending bylaws, dissolving the business, and handling conflicts of interest.
Bylaws can be tricky to get right. That's why we at Northwest provide a free Michigan-specific template, drafted by an attorney, that you can use to create corporate bylaws specifically for your business needs.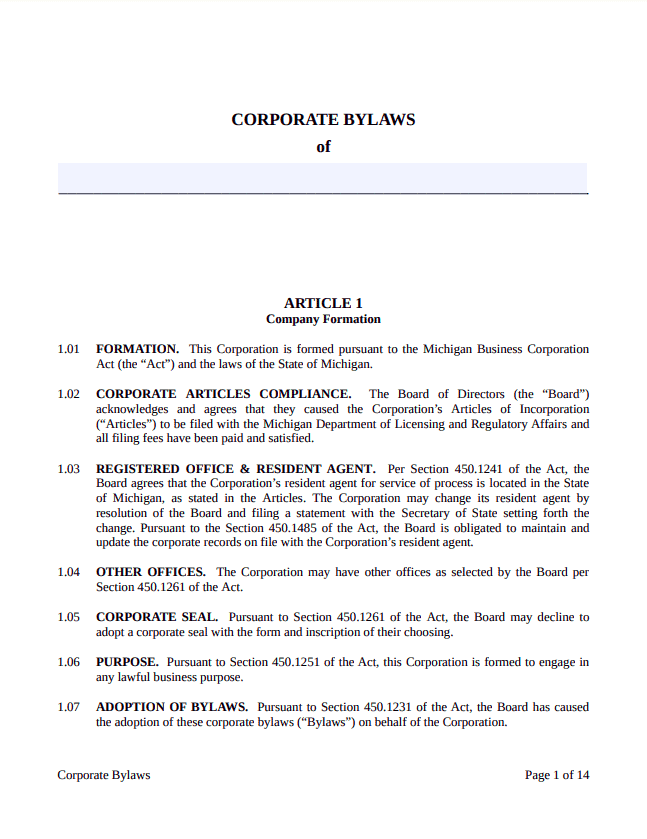 FAQs
Are bylaws filed with the state of Michigan?
No, your corporate bylaws are internal documents. This means you'll keep them filed with your own corporate documents.
Do bylaws need to be signed?
While it's not technically required, signing bylaws is standard practice. Including signatures from leadership at your company helps to legitimize your bylaws.
How do I amend my bylaws in Michigan?
According to MI Comp L § 450.1231, the board of directors or the shareholders MAY have the power to amend or repeal bylaws. However, how your corporation makes changes to your bylaws is typically specified within the articles or within the bylaws themselves.
For example, articles or bylaws may specify that the power to amend bylaws be reserved exclusively for shareholders. And MI Comp L § 450.1415 and MI Comp L § 450.1523 allow for articles or bylaws to change the terms of a quorum (the minimum number of folks required to be present for a vote) for shareholders meetings and meetings of the board of directors, respectively.