New Jersey Corporate Bylaws
New Jersey corporate bylaws are the rules prepared by the board of a corporation that establish the procedures and leadership roles within the company. Your bylaws are where you decide how many officers and directors you will appoint and what their powers will be, how you will vote on amendments, and your process for settling disputes, among other issues.
Unlike the New Jersey Certificate of Incorporation, which is filed with the New Jersey Division of Revenue, corporate bylaws are collected in an internal document that you'll keep on record at your business. But even though the state government may never see your bylaws, your corporation is still required to have them. We've created a straightforward guide, complete with a free, attorney-drafted bylaws template specific to New Jersey corporations.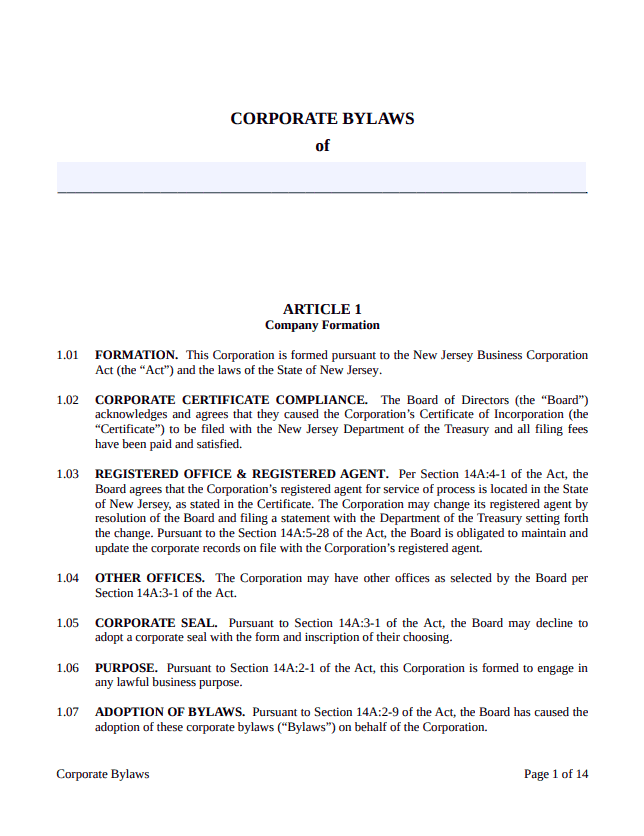 Why Do I Need Corporate Bylaws?
Bylaws are your insurance that when the unexpected happens, your corporation will have a plan for how to handle it. Here are a few reasons you need corporate bylaws.
1. Corporate bylaws are legally required in New Jersey.
New Jersey state law requires that the board of a corporation adopt bylaws at their first organizational meeting (per NJ Rev Stat § 14A:2-9 (2019)). This means that if you fail to adopt bylaws and your business is sued, a court could rule that your business is not a valid corporation, and you could lose your limited liability protection.
2. Corporate bylaws establish the rules and roles within your corporation.
Adopting bylaws ensures that your officers, directors, and shareholders know what your corporation's rules are, and you can use your bylaws as a guidebook for settling disputes and disagreements. Bylaws also establish your company's procedures for holding board and shareholder meetings and voting on amendments.
3. Corporate bylaws prove that your business is a legitimate corporation.
You can't expect people to invest in your business solely based on your charm and good looks (although we're sure those will help). Investors, landlords, and banks will want to see your bylaws to make sure that your corporation has done its due diligence and can be trusted.
What Is Included in New Jersey Corporate Bylaws?
When drafting your New Jersey bylaws, make sure to include the following topics:
Meetings
Stock
Directors and officers
Finances
Records
Amendments and emergencies
You're free to include other topics as well. According to NJ Rev Stat § 14A:2-9 (2019), you may include any rule related to your business as long as it's "not inconsistent with law or the certificate of incorporation."
Who Prepares the Bylaws?
In New Jersey, the board of directors prepares the initial bylaws at the first organizational meeting. It's smart to consult an attorney before finalizing your bylaws. Feel free to use our free New Jersey corporate bylaws template as it suits your business.
Are Corporate Bylaws Legally Binding?
Yes. Your bylaws are a contract between the directors, officers, and shareholders of your corporation, and there could be serious legal consequences for not following them—including losing your limited liability protection.
FAQs
Are bylaws filed with the state of New Jersey?
No, you don't need to file your corporate bylaws with the New Jersey Division of Revenue. Bylaws are compiled in an internal document that you should keep with your other important records, such as meetings minutes and resolutions.
Do bylaws need to be signed?
No, bylaws don't need to be signed to be legally valid. However, having your officers and directors sign your bylaws demonstrates that everyone in your corporation is in agreement and just looks good.
How do I amend my bylaws in New Jersey?
A corporation decides its own rules for amending bylaws in their certificate of incorporation and bylaws. For example, in New Jersey both directors and shareholders have the power to amend bylaws, unless the certificate of incorporation states that only shareholders may amend them—see NJ Rev Stat § 14A:2-9 (2019). Bylaws can also redefine the quorum (the minimum number of people who must be present in order for a vote to take place).