Nevada Corporate Bylaws
Your bylaws make up a contract between the directors, officers, and shareholders of your Nevada corporation that determines your company policies and organizational structure. Corporate bylaws govern a corporation's rules for voting, distributing stock, holding shareholder and board meetings, and appointing directors and officers, among other things.
Bylaws are essential documents for corporations, but if you're not a lawyer, the legal jargon might make your head spin. That's why Northwest offers a guide to Nevada corporate bylaws, which includes an attorney-drafted corporate bylaws template that anyone can download for free.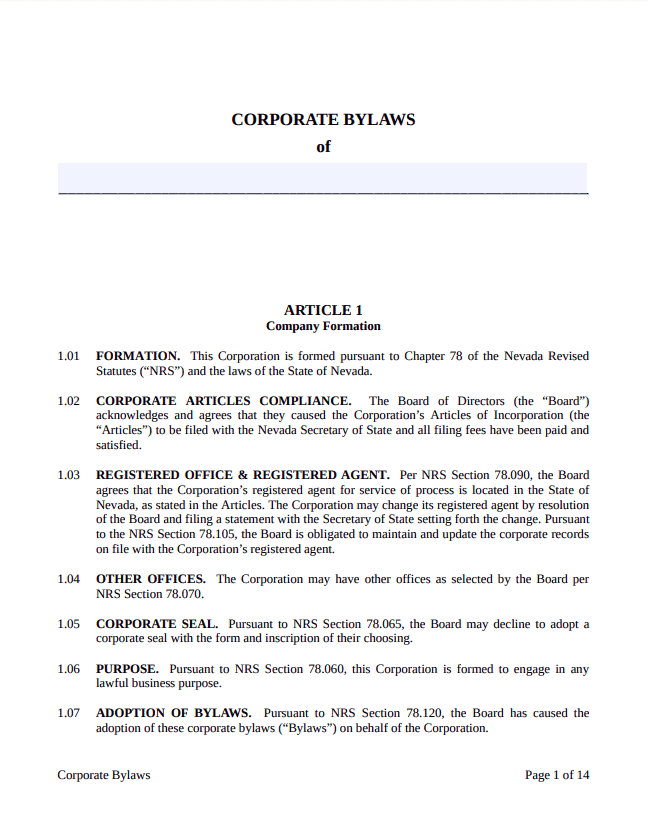 Why do I need corporate bylaws?
Even though you don't need to file your bylaws with the Nevada Secretary of State—like you do with your Nevada Articles of Incorporation—corporate bylaws are no joke. Here's why.
1. Corporate bylaws establish the rules and roles within your corporation.
Bylaws are like board game instructions. They're the rules that everyone in your corporation agrees to follow, and they help you settle disputes and handle problems that arise. You can't play (or work) without them.
2. Corporate bylaws prove that your business is a legitimate corporation.
Before investors trust you with their hard-earned money, they're going to want to know that your corporation won't go under in a month. Bylaws show that your corporation is professional and can be trusted.
Does Nevada require corporate bylaws?
No. Nevada is one of few states that doesn't order corporations to adopt bylaws. NV Rev Stat § 78.046 (2019) describes some of the powers bylaws can have, but it doesn't mandate that corporations adopt bylaws. Even so, bylaws are essential legal documents for corporations. In a court case, your bylaws can help you prove that your company has been following standard protocols, which could be crucial to maintaining your limited liability protection.
What is included in Nevada Corporate Bylaws?
You can include nearly anything in your corporate bylaws, as long as it's within the law, but you should definitely address the following topics:
Meetings
Stock
Directors and officers
Finances
Records
Amendments and emergencies
Who prepares the bylaws?
Nevada bylaws are prepared by the incorporator or board of directors, usually at the first organizational meeting. It's wise to consult a lawyer before finalizing your bylaws, but you can use our attorney-drafted corporate bylaws template to get started.
Are corporate bylaws legally binding?
Yes. Bylaws are legally binding documents that can be used in court to enforce a decision. Officers and directors are legally bound to follow their bylaws and can be removed from office if they do not.
FAQs
Are bylaws filed with the state of Nevada?
Nope, the Nevada Secretary of State doesn't want to hold onto your bylaws for you. You should keep your corporate bylaws with your company's other important documents, such as meetings minutes and resolutions.
Do bylaws need to be signed?
Not technically, but it's good, standard practice to sign them. Having your officers and directors sign your bylaws lends them legitimacy and shows that everyone in your corporation is in agreement.
How do I amend my bylaws in Nevada?
Directors or shareholders can amend bylaws, but your corporation's policy for amending bylaws should be covered in the bylaws themselves. For example, you could decide in your bylaws that a two-thirds majority vote is needed to pass an amendment.