Utah Corporate Bylaws
Your corporate bylaws establish the rules, processes, and structure of your Utah corporation. They determine how decisions will be made and who has the power to make the decisions. Your bylaws outline your corporation's policies for handling important situations, including appointing directors and officers, board and shareholder meetings, and conflicts of interest, among other things.
Unlike most states, Utah doesn't legally require a corporation to adopt corporate bylaws. However, bylaws are essential documents for corporations. To make preparing your corporate bylaws easier, Northwest provides a free, attorney-drafted corporate bylaws template, specific to Utah corporations.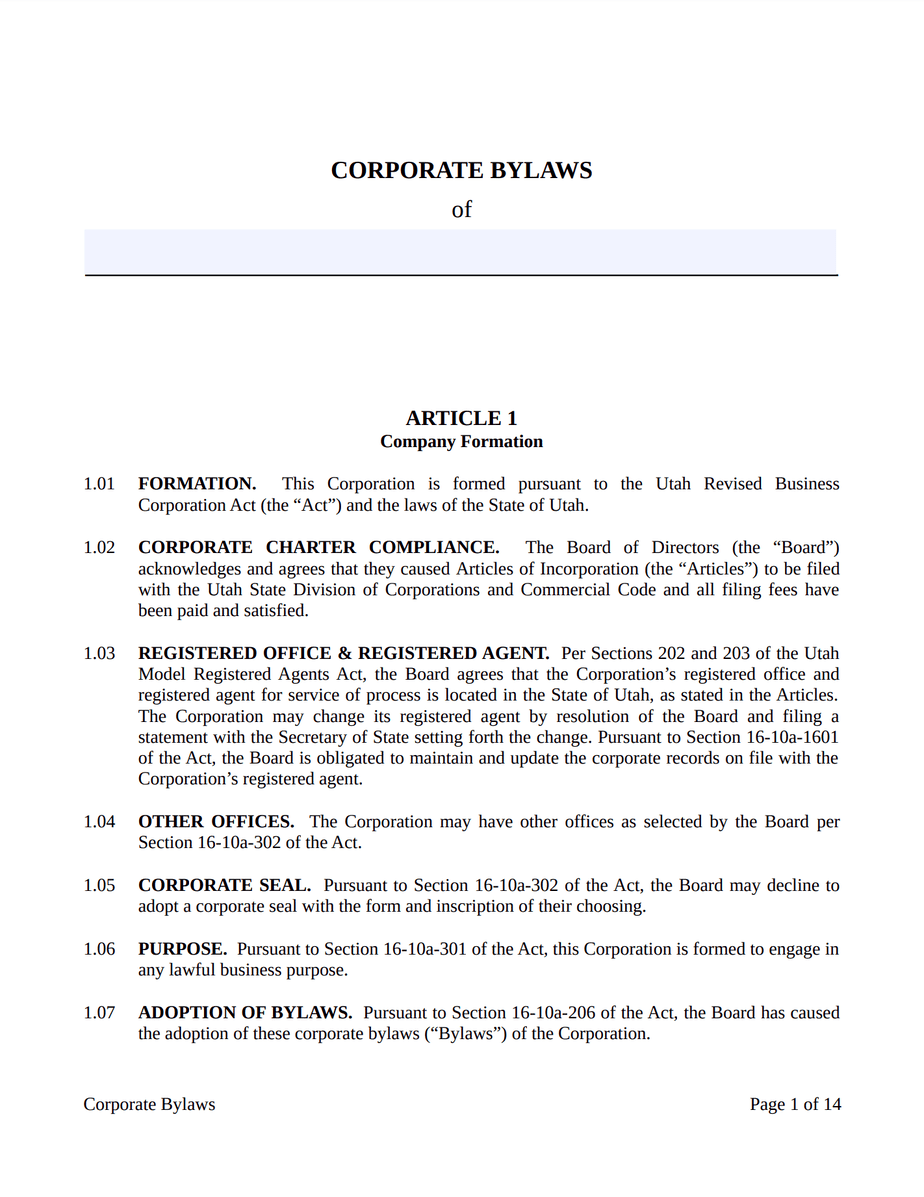 Why do I need corporate bylaws?
Bylaws serve many essential functions for Utah corporations. Here are a few of them:
1. Corporate bylaws establish the rules and roles within your corporation.
Your bylaws formalize your corporation's rules, procedures, and management structure. That means establishing the number of directors and officers your corporation will have, and what their powers will be. Bylaws also specify when and where board and shareholder meetings will be held and what the voting process will look like.
Because of this, bylaws are essential for resolving internal disputes. If your directors, officers, or shareholders can't agree, consulting the rules in your corporate bylaws can settle the argument.
2. Corporate bylaws prove that your business is a legitimate corporation.
Having bylaws demonstrates that your corporation is a credible business rather than a fly-by-night operation. Banks require corporate bylaws to open a business bank account, and potential investors will look to your bylaws to make sure your corporation follows responsible protocols.
Additionally, if your corporation is ever sued, your bylaws can help reinforce your limited liability protection. Because your bylaws document all of your corporation's policies, they can help you show that your corporation is a separate legal entity from the people who operate it.
3. Corporate bylaws give you more control over your corporation.
In the absence of corporate bylaws, your corporation's guiding document will be the Utah Articles of Incorporation. The articles provide very little detail on the rights and powers of the people running your corporation. Adopting bylaws gives you more control over your corporate structure.
Does Utah require corporate bylaws?
No. Corporate bylaws are not required for Utah corporations. According to UT Code § 16-10a-206 (2019), the board of directors, incorporators, or shareholders may adopt bylaws, but they are not required to. However, corporate bylaws are almost always required to open a company bank account—an essential step for keeping business and personal finances separate, which your corporation needs to do in order to maintain limited liability.
What is included in Utah Corporate Bylaws?
Technically, any rule that isn't forbidden by Utah law or the Articles of Incorporation could be included in your bylaws. But you should definitely address the following topics:
Meetings
Stock
Directors and officers
Finances
Records
Amendments and emergencies
Who prepares the bylaws?
Bylaws are usually adopted by the board of directors. However, UT Code § 16-10a-206 (2019) states that if the board of directors have not yet been appointed, the incorporators may adopt bylaws. And if neither the board of directors nor the incorporators adopt bylaws, the shareholders may do so.
Whoever in your corporation prepares the bylaws should consider consulting with a lawyer to make sure their bylaws are legally sound. Northwest offers a free, attorney-drafted corporate bylaws template customized for Utah corporations to get you started.
Are corporate bylaws legally binding?
Yes. Directors, officers, and shareholders are legally bound to follow the corporate bylaws. Violating bylaws could lead to your corporation losing its limited liability status.
FAQs
Are bylaws filed with the state of Utah?
No. Unlike the Utah Articles of Incorporation, your bylaws are internal documents—meaning you don't have to file them with the Division of Corporations and Commercial Code.
Do bylaws need to be signed?
Not technically. A board of directors could adopt corporate bylaws without signing them. However, we at Northwest recommend that all directors and officers sign your bylaws to ensure that everyone is on the same page.
How do I amend my bylaws in Utah?
The process for amending corporate bylaws will usually be established in the bylaws themselves. For example, bylaws will usually establish what percentage of "yes" votes are required to pass an amendment, as well as the quorum (or number of people required to be present for a vote to be considered legitimate).
UT Code § 16-10a-1020 (2019) states that shareholders and the board of directors may amend bylaws, unless the Articles of Incorporation or the bylaws themselves give this power solely to the shareholders.