Maine Corporate Bylaws
Maine corporate bylaws establish the rules, procedures, and management structure of your corporation. The bylaws determine how decisions are made and who has the authority to make them. Your bylaws should cover your policies for appointing directors and officers, holding shareholder and board meetings, and dealing with conflicts of interest, among other topics.
While your Maine Articles of Incorporation need to be filed with the Secretary of State, your corporate bylaws are internal documents that your corporation keeps on record. Even though they aren't filed with the state, every Maine corporation is required to adopt bylaws. Since we know that creating corporate bylaws can be overwhelming, Northwest offers a free, attorney-drafted corporate bylaws template specifically for Maine corporations.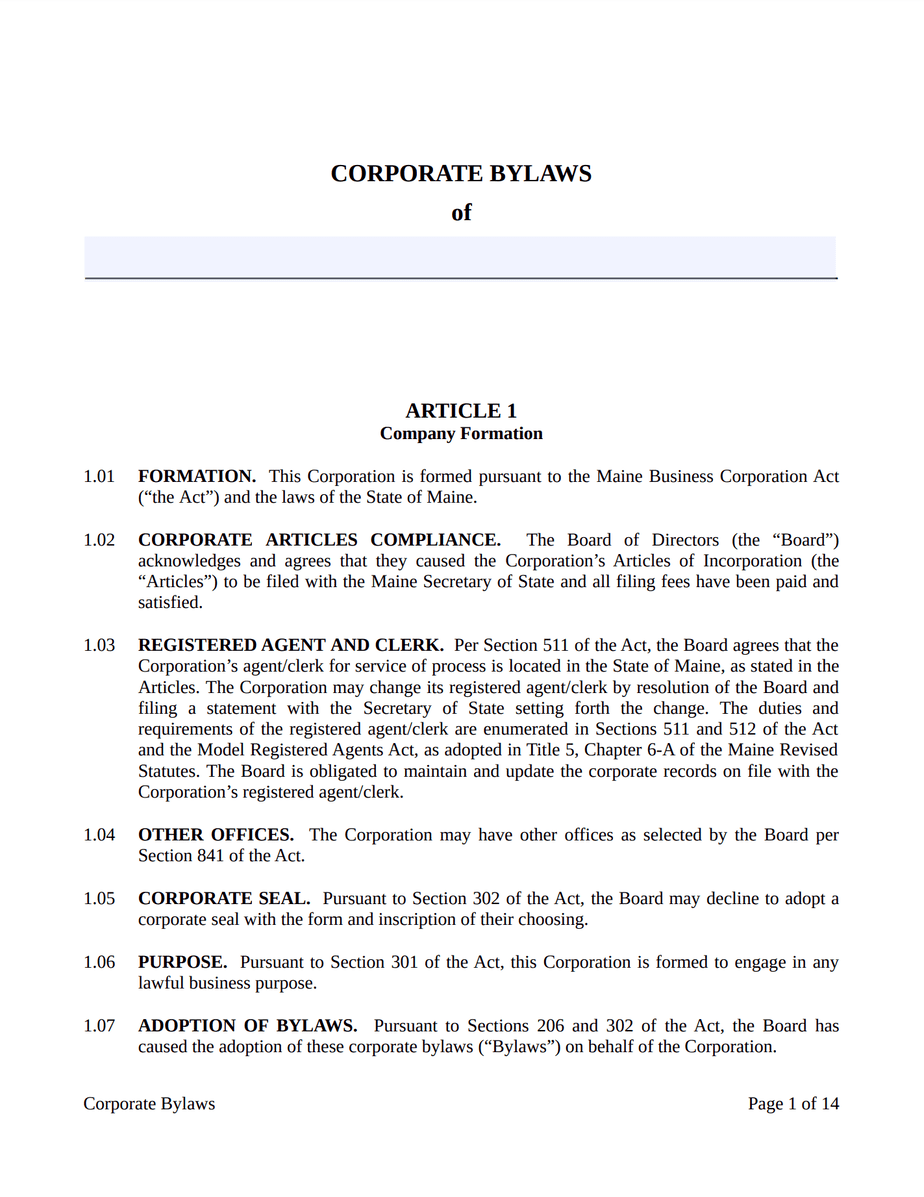 Why do I need corporate bylaws?
Every legitimate corporation needs bylaws. Here's why.
1. Corporate bylaws are legally required in Maine.
Per 13-C ME Rev Stat § 206 (2019), the incorporators or board of directors of a Maine corporation must adopt initial bylaws. Usually the bylaws are adopted at the corporation's first organizational meeting.
2. Corporate bylaws establish the rules and roles within your corporation.
Your corporate bylaws put the rules and structure of your corporation into writing, including the number of directors and officers you have and what their powers are. They also establish voting procedures and when and where meetings for shareholders and directors will be held.
If there is ever a dispute between members of your corporation, you'll refer to the rules in your bylaws to resolve the issue.
3. Corporate bylaws prove that your business is a legitimate corporation.
Adopting corporate bylaws shows potential investors, banks, and landlords that your corporation is aboveboard and adheres to rules and protocols. Banks will require you to show your bylaws in order to open a corporate bank account.
Crucially, if your corporation is ever sued, your bylaws can help you maintain your limited liability protection. Following the rules and processes in your corporate bylaws helps you show that your corporation is a separate legal entity with limited liability status.
What is included in Maine Corporate Bylaws?
Maine corporate bylaws should outline your policies for all important issues, including finances and management. Technically, you can include any rules in your bylaws, as long as they're not contrary to your Articles of Incorporation or Maine law. But you should definitely cover the following topics:
Meetings
Stock
Directors and officers
Finances
Records
Amendments and emergencies
Who prepares the bylaws?
Corporate bylaws are prepared by the board of directors. Since bylaws are complicated and full of legal jargon, corporations often consult an attorney before they finalize their initial bylaws. Northwest offers a free, attorney-drafted corporate bylaws template customized for Maine corporations to help you get started.
Are corporate bylaws legally binding?
Yes. Corporate bylaws are legally binding for shareholders, board members, and officers. Violating the corporate bylaws can lead to your corporation losing its limited liability status.
FAQs
Are bylaws filed with the state of Maine?
No. Corporate bylaws are internal documents that are not filed with the Maine Secretary of State. Your bylaws should be kept on record with your corporation's other internal documents, including meeting minutes and resolutions.
Do bylaws need to be signed?
Technically, no. A board of directors could adopt bylaws without signing them. However, including the signatures of all board members and officers helps you demonstrate that all members of your corporation are in agreement.
How do I amend my bylaws in Maine?
Corporations will usually establish the process for amending bylaws in the bylaws themselves. For example, corporations usually specify how many votes are needed to approve an amendment in their bylaws.
Per 13-C ME Rev Stat § 1020 (2019), shareholders for Maine corporations can amend bylaws. The statute says that the board of directors can also amend bylaws unless the Articles of Incorporation or the bylaws themselves say that only shareholders have the power to do so.