New Hampshire Corporate Bylaws
New Hampshire corporate bylaws compile the rules and management structure of a corporation into one document. Your bylaws govern your corporation's process for holding board and shareholder meetings, voting, appointing officers and directors, and even dissolving the business, if necessary.
Bylaws are compiled in an internal document, so, unlike the New Hampshire Articles of Incorporation, bylaws don't need to be filed with the New Hampshire Corporations Division. Even so, drafting corporate bylaws for your corporation is essential—and a legal requirement. Northwest can help you get started with our free, attorney-drafted corporate bylaws template, which is specifically for New Hampshire corporations.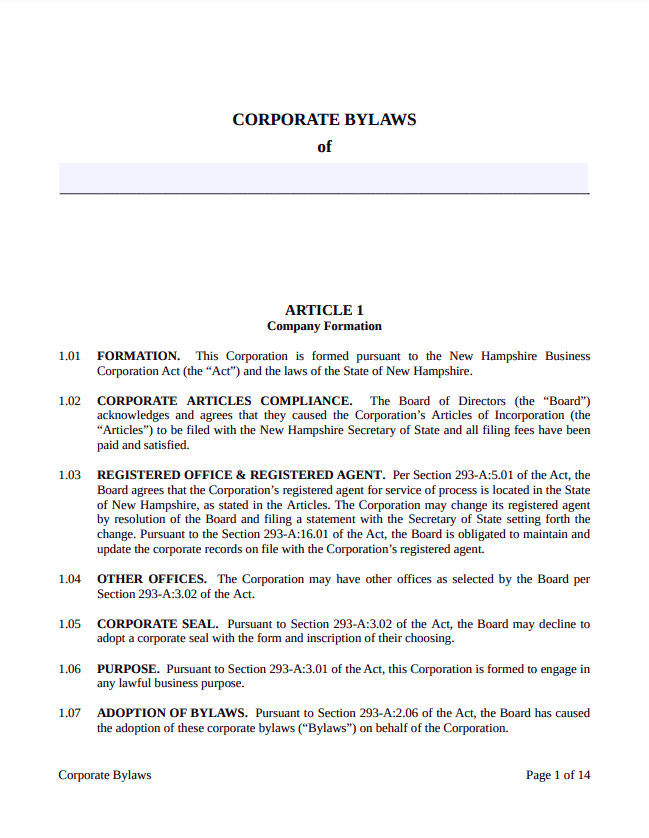 Why do I need corporate bylaws?
Forming a corporation always comes with uncertainty, but your bylaws help you prepare for disputes and emergencies. Here are the few of the reasons your corporation needs bylaws.
1. Corporate bylaws are legally required in New Hampshire.
Per NH Rev Stat § 293-A:2.06 (2019), "the incorporators or board of directors of a corporation shall adopt initial bylaws." So to stay on the right side of the law, you need corporate bylaws. Usually, bylaws are adopted at the first organizational meeting.
2. Corporate bylaws establish the rules and roles within your corporation.
Your bylaws determine who has power in your corporation—who gets to make decisions and how. Bylaws establish the rules for voting, when and where shareholder and board meetings will be held, and how you'll settle disputes, among other things. Bylaws are also where you decide how many officers and directors you'll appoint.
3. Corporate bylaws prove that your business is a legitimate corporation.
Banks, landlords, and potential investors will want to see your bylaws to make sure your company is operating legally. Having strong bylaws can also help you maintain your limited liability status if you ever go to court—following your bylaws shows that your company is a distinct legal entity with clear protocols.
What is Included in New Hampshire Corporate Bylaws?
Generally, you're allowed to include anything in your bylaws that doesn't contradict your articles of incorporation or New Hampshire law. That being said, don't forget to address the following topics:
Meetings
Stock
Directors and officers
Finances
Records
Amendments and emergencies
Who Prepares the Bylaws?
In New Hampshire, either the incorporators or the board of directors prepare corporate bylaws, typically under the guidance of a lawyer. Feel free to use our free, attorney-drafted bylaws template as a jumping-off point.
Are Corporate Bylaws Legally Binding?
Yes indeed. Bylaws are a legally binding contract that your directors, officers, and shareholders agree to follow. An officer or director caught violating bylaws could be removed from office or face other unpleasant legal consequences. Bylaws hold up in court and can be used to enforce a decision.
FAQs
Are bylaws filed with the state of New Hampshire?
No. Corporate bylaws are internal documents, so you should keep them with your company's records instead of submitting them to the New Hampshire Corporations Division.
Do bylaws need to be signed?
Not technically. However, having your officers and directors sign your bylaws is standard practice and shows that your corporation is unified.
How do I amend my bylaws in New Hampshire?
You decide how your corporate bylaws can be amended in the bylaws themselves. For example, your bylaws could state that only shareholders and not directors will have the power to make an amendment. Bylaws can also define the quorum (the number of people who must be present to vote on an amendment) or the percentage of votes needed to pass an amendment.