How to Issue Corporate Stock
To issue stock in a corporation, you can use a simple bill of sale. Stock is issued to fund the corporation—in the Articles of Incorporation, the corporation sets the number of shares the corporation is authorized to issue. The corporation then decides how many shares of stock it will initially issue. We offer a free bill of sale template for issuing stock.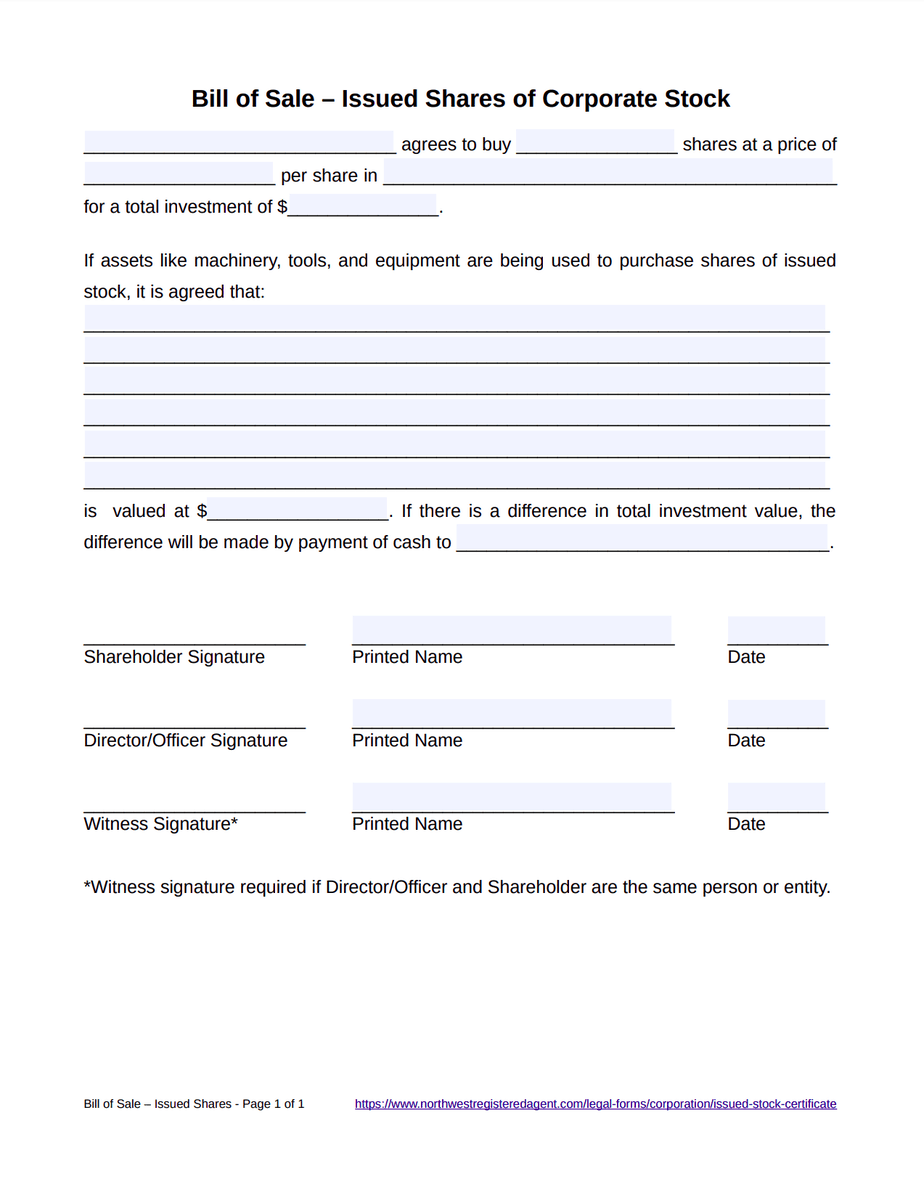 How does a corporation issue stock?
Issuing stock isn't much different from drawing up a contract for any kind of sale. In some sort of written document—it could be a bill of sale or stock certificate—the issuer establishes a price for each share and documents the amount of shares being bought, along with the name of the shareholder and the corporation. A director or officer approves the sale with a signature. If the director or officer is also the shareholder, it would be ideal to have the document signed by a witness.
So why use a bill of sale instead of simply a stock certificate? Stock certificates are formal (and pretty), but a bill of sale has more room for details. This is especially useful if the corporation isn't being funded solely with cash. If a shareholder wants to fund the corporation with assets (like business vehicles or personal tools needed to work in the business), this can easily be addressed on a bill of sale. Also, there's no reason you can't have both a bill of sale and fancy stock certificates.
What should a bill of sale for issued stock include?
A bill of sale isn't a particularly complicated document. However, there are certain details that are crucial to include. Our free bill of sale for issued shares of corporate stock includes the following essential information:
The name of the shareholder

The number of shares being purchased

The price per share

The name of the corporation

The total investment value

Any assets and their value (if being used to purchase shares)

Shareholder name and signature

Director or officer name and signature

Witness signature (if director/officer is also the shareholder)

Dates of all signatures
Our free forms are great, but we can do a lot more. We offer registered agent service in every state for $125 a year. You can hire us for annual report compliance on behalf of your corporation. We also form corporations for $100 plus state fees.