Oklahoma Corporate Bylaws
The rules you adopt for your Oklahoma corporation—called Oklahoma corporate bylaws—define the policies, protocols, and management structure of your business. Drafting bylaws helps you prepare for the myriad situations your corporation may face, from appointing officers to voting on amendments to handling conflicts of interest.
Unlike the Oklahoma Certificate of Incorporation, corporate bylaws are compiled in an internal document that is not filed with the Oklahoma Secretary of State. If you're overwhelmed at the prospect of drafting corporate bylaws on your own, never fear! Northwest provides a free, attorney-drafted Oklahoma corporate bylaws template that you can use for your business.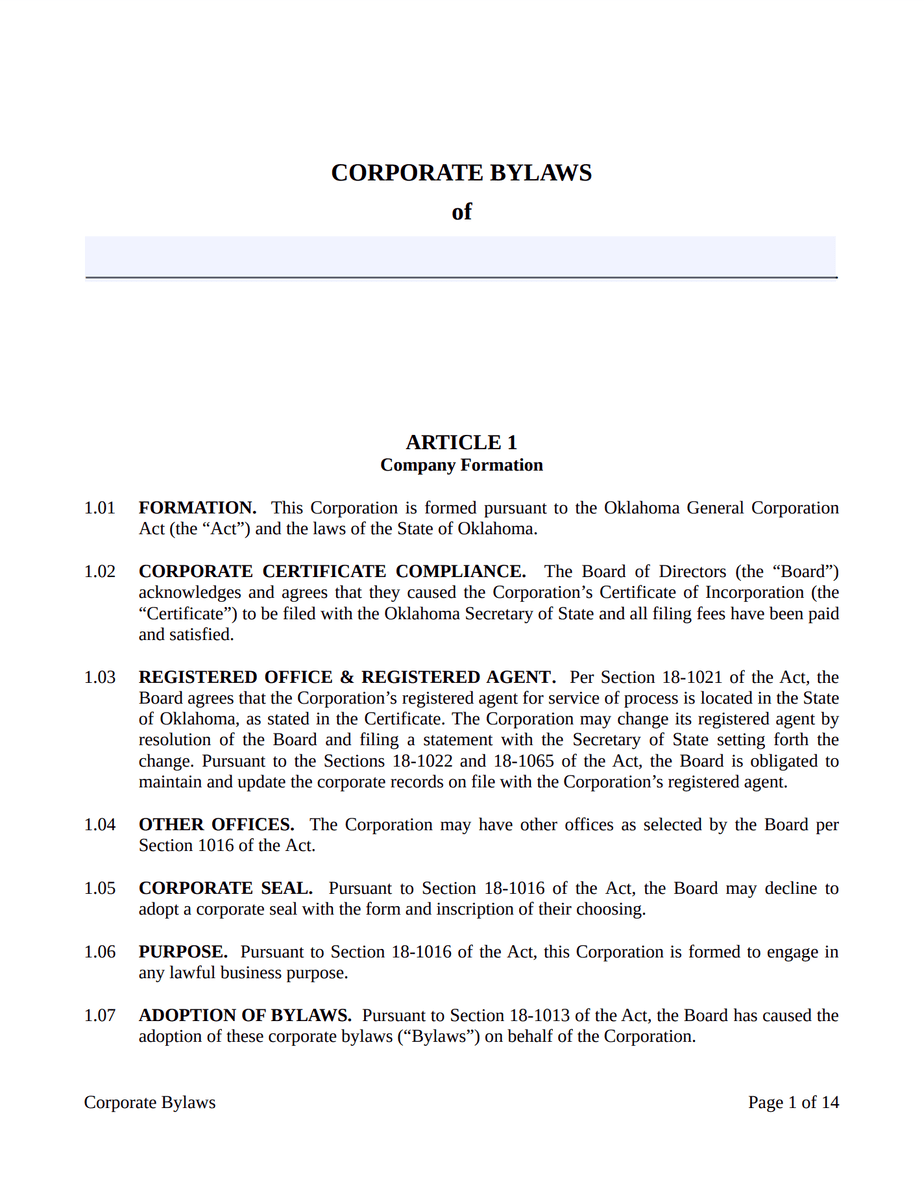 Why do I need corporate bylaws?
Adopting bylaws is common practice for corporations, and there are many situations in which your bylaws will come in handy. Here's why you need bylaws.
1. Corporate bylaws establish the rules and roles within your corporation.
Corporate bylaws determine how many officers and directors you'll appoint and what powers they'll have. You'll decide in your bylaws when and where shareholder and board meetings will be held and how you will vote to make changes.
If there's a disagreement about how to proceed, you'll consult your bylaws to make sure your decision aligns with your policies.
2. Corporate bylaws prove that your business is a legitimate corporation.
Who would you rather invest your money with—a corporation that has its policies and financial records clearly documented or one that keeps minimal records and makes its decisions with a handshake and a wink? Your corporate bylaws show investors, banks, and landlords that your corporation is legit. In fact, most banks won't even let you open a corporate bank account without bylaws.
Plus, if you're ever involved in a lawsuit, your corporate bylaws can demonstrate that your corporation has been following protocols—which could be crucial to protecting your limited liability status.
Does Oklahoma require corporate bylaws?
No. Unlike in most states, Oklahoma law doesn't explicitly require corporations to adopt bylaws. According to OK Stat. § 18-1013, bylaws "may" be adopted by the incorporators or directors of a corporation, but the law doesn't say that they must. However, just because they're not technically required doesn't mean you should toss them in a mental folder called "Things I Can't Be Bothered With." Bylaws are necessary for everything from opening a business bank account to fighting lawsuits, so you're going to want to have them.
What is included in Oklahoma Corporate Bylaws?
You can include nearly anything you want in your corporate bylaws, as long as it's business-related and doesn't contradict your certificate of incorporation (or the law). However, there are a few essential topics you should be sure to cover:
Meetings
Stock
Directors and officers
Finances
Records
Amendments and emergencies
Who prepares the bylaws?
In Oklahoma, initial bylaws can be prepared by the incorporators or directors of a corporation. Initial bylaws are typically adopted at the first organizational meeting. It's prudent to consult an attorney before finalizing bylaws, but you can use our attorney-drafted Oklahoma bylaws template to get started.
Are corporate bylaws legally binding?
Yes. Corporate bylaws function as contracts between the people in your corporation. Officers, directors, or shareholders who violate the bylaws can face unpleasant legal consequences. Corporations can lose their limited liability status if they don't follow the policies in their bylaws.
FAQs
Are bylaws filed with the state of Oklahoma?
No. Oklahoma bylaws are internal documents, so they don't need to be submitted to the Secretary of State. Your bylaws should be kept with your corporation's records.
Do bylaws need to be signed?
No, bylaws don't need to be signed to be legally binding. However, it's a good idea to have your directors and officers sign your bylaws to show that everyone involved agrees to your policies.
How do I amend my bylaws in Oklahoma?
An Oklahoma corporation can define its policies for amending bylaws in the certificate of incorporation or in the bylaws themselves. For example, you can specify in your certificate of incorporation whether directors will be able to amend bylaws or whether only shareholders will have that power. In addition, bylaws typically define the quorum (the minimum number of people who must be present to hold an official vote).