North Dakota Corporate Bylaws
North Dakota corporate bylaws document the policies, management structure, and finances of a corporation. Because corporate bylaws are internal, they are not filed with the North Dakota Secretary of State. However, bylaws are essential, as they govern corporate policy for holding shareholder and board meetings, appointing officers and directors, voting, and other important matters.
Unlike the North Dakota Articles of Incorporation, there is no government form for corporate bylaws, so it can be tricky for new business owners to know where to start. That's why Northwest provides a free, North Dakota-specific corporate bylaws template, which has been drafted by our attorney.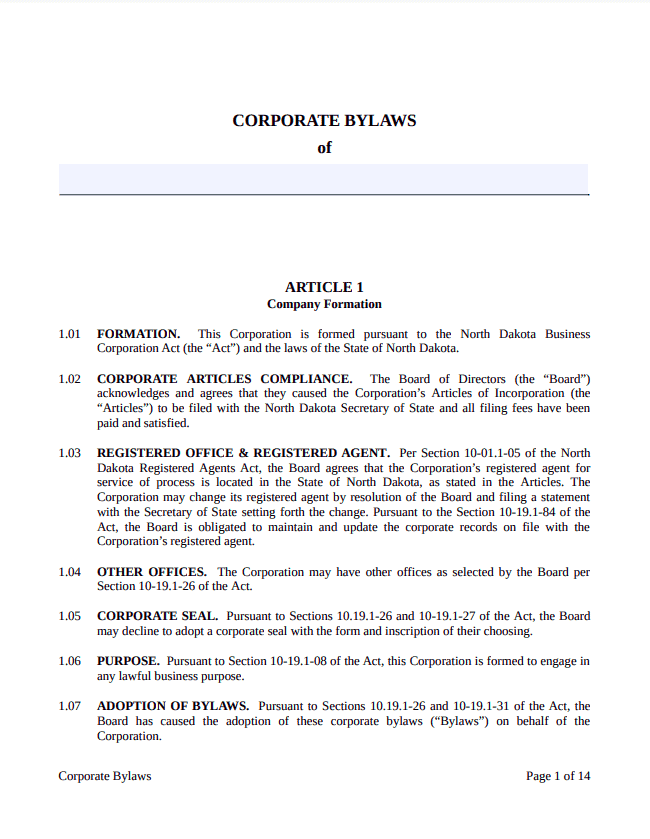 Why do I need corporate bylaws?
Lots of things can go wrong when running a corporation, but your corporate bylaws can make you better prepared to handle worst-case scenarios like disputes and dissolution, while also helping to prevent these worst-case scenarios from happening. Here are a few reasons you should adopt corporate bylaws.
1. Corporate bylaws establish the rules and roles within your corporation.
If you don't have corporate bylaws, your corporation will be governed by North Dakota's default laws, which might not work well for your business. In your bylaws, you can decide how many officers and directors you'll have and what their powers will be, when and where you'll hold shareholder and board meetings, and how you'll vote on amendments, among other things.
When you need to settle disputes within your corporation, you can use your bylaws to reach a resolution.
2. Corporate bylaws prove that your business is a legitimate corporation.
It's important to show that your company is professional, well-organized, and transparent about its business practices. Potential investors, banks, and landlords will want to see your bylaws to make sure that they can trust you.
Does North Dakota require corporate bylaws?
No. Unlike most other states, North Dakota does not require corporate bylaws. However, it is standard practice for corporations to adopt bylaws, and they are typically required to open a corporate bank account. In case of a lawsuit, your bylaws help you demonstrate that your corporation has been following protocols, which reinforces your limited liability protection.
What is included in North Dakota Corporate Bylaws?
ND Century Code § 10-19.1-31 lists some of the topics that North Dakota bylaws may cover, but the law also states that you may include any rule for running your corporation that is consistent with the law and your articles of incorporation. Here are some topics that corporate bylaws almost always address:
Meetings
Stock
Directors and officers
Finances
Records
Amendments and emergencies
Who prepares the bylaws?
According to ND Century Code § 10-19.1-31, initial bylaws may be adopted by the incorporators or the board of directors, unless the articles of incorporation reserve the right to adopt bylaws to the shareholders. Typically, corporate bylaws are adopted at the first organizational meeting. It is a good idea to consult an attorney before finalizing your bylaws. Feel free to use our attorney-drafted North Dakota bylaws template as your foundation.
Are corporate bylaws legally binding?
Yes. Corporate bylaws are legal documents that hold up in court. If a court finds that your corporation has violated its bylaws, you risk losing your limited liability status or facing other unpleasant legal consequences.
FAQs
Are bylaws filed with the state of North Dakota?
No. Corporate bylaws are kept on record with other important internal documents, such as meetings minutes. They are not filed with the Secretary of State.
Do bylaws need to be signed?
No, but it's a good idea to get signatures anyway. Bylaws aren't legally required to be signed, but we recommend having your directors and officers sign them to demonstrate that everyone is on board with your policies.
How do I amend my bylaws in North Dakota?
You will set the rules for amending bylaws in your articles of incorporation or in the bylaws themselves. For example, your articles or bylaws may specify whether or not shareholders have the power to amend bylaws adopted by the board. Your bylaws can also determine the the number of voters who must be present for an official vote to take place (called the quorum).