North Carolina Corporate Bylaws
North Carolina corporate bylaws are collected in an internal document that governs a corporation's policies, processes, and organizational structure. Your bylaws should include your company policies for appointing shareholders and directors, voting, holding board and shareholder meetings, and settling disputes, among other things.
Unlike the North Carolina Articles of Incorporation, corporate bylaws are not filed with the Business Registration Division. But they are essential—and required—legal documents, and there can be serious consequences if you neglect to draft bylaws. To help you through the process, we've created a guide to North Carolina corporate bylaws, complete with an attorney-drafted, state-specific bylaws template that you can use for free.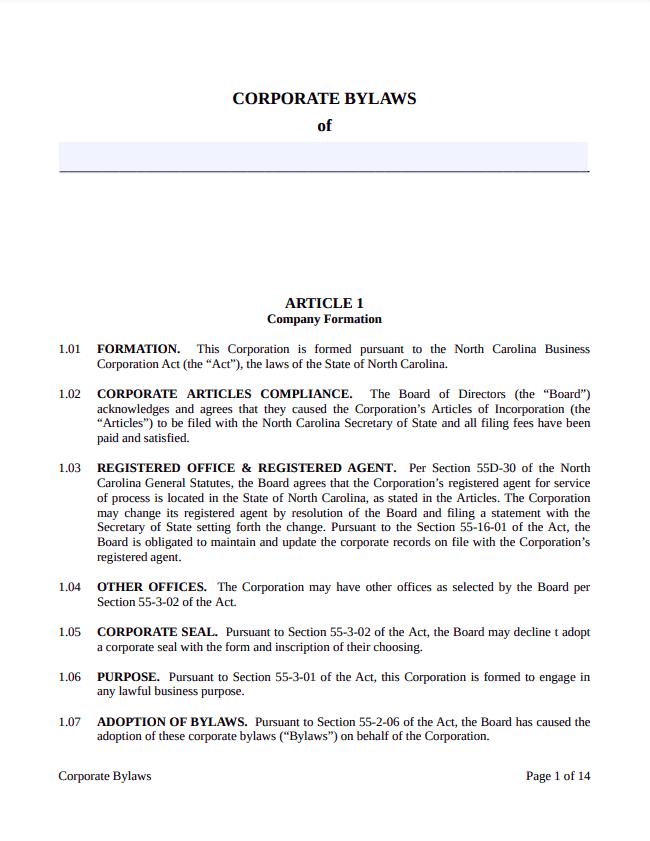 Why do I need corporate bylaws?
Corporations are more complex than other business types, so it's especially important that all of your corporation's policies and roles are clearly documented. Here's why you need corporate bylaws.
1. Corporate bylaws are legally required in North Carolina.
North Carolina law requires the incorporators or board of directors of a corporation to adopt initial bylaws—per NC Gen. Stat. § 55-2-06. The law doesn't specify when bylaws must be adopted, but this usually happens at the first organizational meeting.
2. Corporate bylaws establish the rules and roles within your corporation.
Bylaws dictate what powers your officers and directors have, who can make amendments, and how voting works. If your business doesn't have corporate bylaws, you won't be able to do standard things like hold a shareholder meeting or take a legitimate vote. Corporate bylaws are also essential for resolving internal disputes and handling emergencies.
3. Corporate bylaws prove that your business is a legitimate corporation.
Corporate bylaws show people that your business is following well-defined rules and processes, which is important for maintaining limited liability. You'll need corporate bylaws to open a company bank account, rent or buy property for your business, and win over potential investors.
What is included in North Carolina Corporate Bylaws?
Your bylaws can include any rule for managing your company, as long as it's consistent with the law and your articles of incorporation. However, corporate bylaws pretty much always cover the following topics:
Meetings
Stock
Directors and officers
Finances
Records
Amendments and emergencies
Who prepares the bylaws?
Incorporators or directors prepare the initial corporate bylaws, often with help from an attorney. Our free North Carolina corporate bylaws template can give you a place to start.
Are corporate bylaws legally binding?
Yes. Corporate bylaws are effectively a legal contract that everyone in your corporation agrees to follow. Officers or directors who violate corporate bylaws can be removed from their positions or face other negative consequences. A corporation shown to be breaking the rules of their bylaws can lose its limited liability status.
FAQs
Are bylaws filed with the state of North Carolina?
No. Bylaws are internal, so they are kept with a business's records, such as meetings minutes and resolutions. They are not submitted to the North Carolina Secretary of State.
Do bylaws need to be signed?
Not necessarily, but we encourage it. Bylaws aren't legally required to be signed, but having your officers and directors sign your bylaws looks professional and shows that everyone in your corporation pledges to follow your policies.
How do I amend my bylaws in North Carolina?
The process of amending bylaws is usually outlined in the bylaws themselves. For example, according to NC Gen. Stat. § 55-7-25, shareholders may adopt a bylaw redefining the quorum (the number of voters who must be present in order for an official vote to take place).