Tennessee Corporate Bylaws
Tennessee corporate bylaws are internal rules and procedures established by a corporation and compiled into a legal document. Corporate bylaws cover everything from finances and stock to the voting process to plans for handling emergencies.
Since corporate bylaws are internal documents (unlike the Tennessee For-Profit Corporation Charter), you don't need to file yours with the Secretary of State's office. Even so, you should put just as much care into drafting strong bylaws as with any other aspect of forming your corporation. Northwest's free, attorney-drafted Tennessee bylaws template can help you get off on the right foot.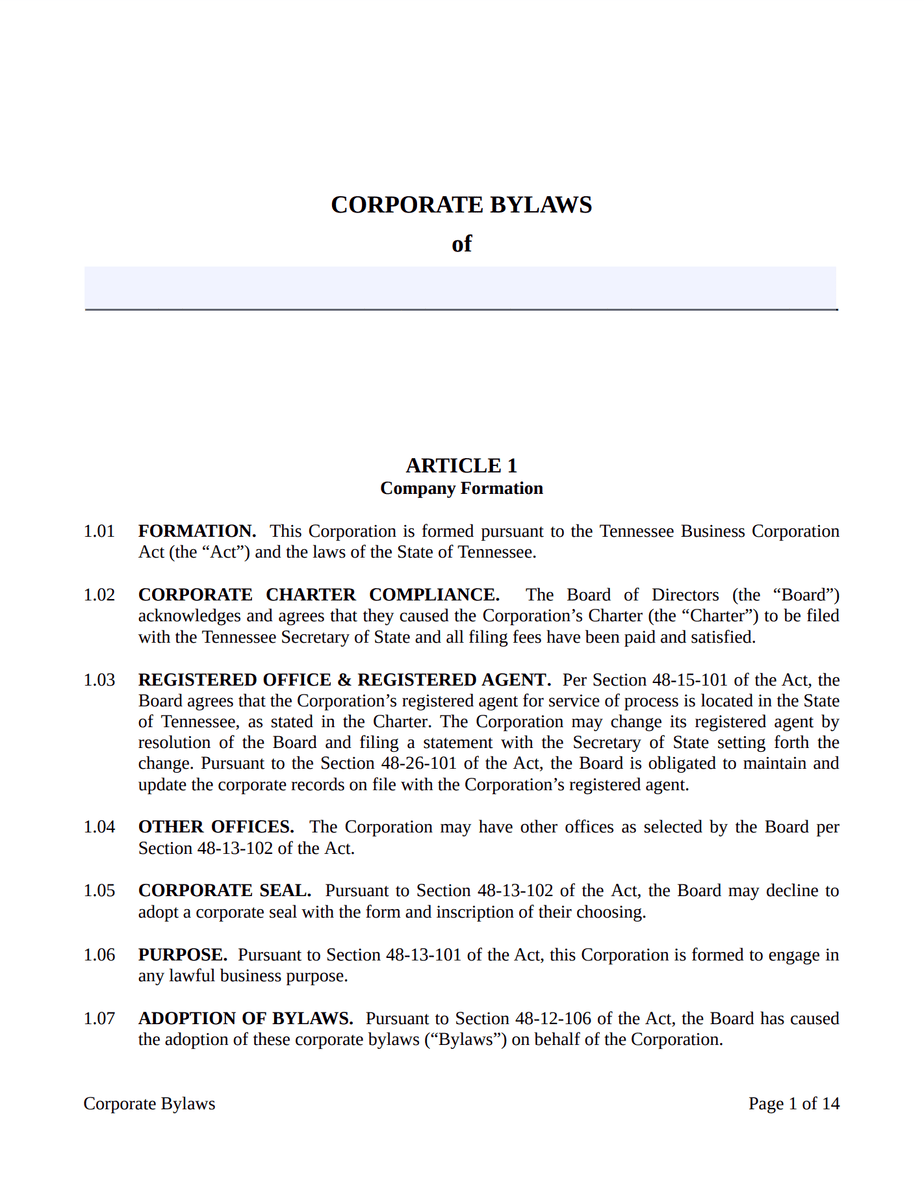 Why Do I Need Corporate Bylaws?
Corporate bylaws can be confusing to a new business owner, but their purpose is to prevent future confusion and conflict from derailing your business. Here are a few reasons to adopt bylaws.
1. Corporate bylaws are legally required in Tennessee.
Per TN Code § 48-12-106 (2019), either the incorporators or directors of a corporation must adopt initial bylaws. In most cases, the board of directors adopts bylaws at the first organizational meeting.
2. Corporate bylaws establish the rules and roles within your corporation.
Have you ever been part of an organization where no one knew who was in charge? Not fun. Corporate bylaws make it clear what responsibilities and powers your officers, directors, and shareholders have. They specify who gets to make decisions, how voting works, and when and where you'll hold shareholder and board meetings. If there's ever a disagreement, your bylaws should be able to guide you to a fair solution.
3. Corporate bylaws prove that your business is a legitimate corporation.
When you open a corporate bank account, the bank will ask to see your bylaws. Ditto for renting or buying property. Your corporate bylaws are how you prove to the world (and investors) that you're running a real corporation.
What Is Included in Tennessee Corporate Bylaws?
Tennessee law allows corporations to include any business-related rule in their bylaws as long as it's legal and consistent with the corporation's charter. That being said, you shouldn't forget to include the following topics:
Meetings
Stock
Directors and officers
Finances
Records
Amendments and emergencies
Who Prepares the Bylaws?
The board of directors prepares the bylaws, unless they have not yet been appointed, in which case the incorporator does. Usually, bylaws are adopted at the first organizational meeting.
Are Corporate Bylaws Legally Binding?
Yes. Bylaws hold up in court and can be used to enforce a decision. If you follow the policies in your bylaws, they can help you reinforce your limited liability protection in a court case. However, if you don't follow your bylaws, you risk losing your limited liability status—or facing other undesirable legal consequences.
FAQs
Are bylaws filed with the state of Tennessee?
No, bylaws should be kept with your corporation's other internal records, including meetings minutes, resolutions, and amendments. They are not filed with the Tennessee Secretary of State.
Do bylaws need to be signed?
No, bylaws do not need to be signed in order to have legal validity. However, it's a smart move to have your officers and directors sign them to show that they read and agree to your policies.
How do I amend my bylaws in Tennessee?
According to TN Code § 48-20-201 (2019), both shareholders and directors have the power to amend bylaws, unless the corporation's charter or bylaws state that only shareholders may amend them. Corporations typically make the rules for amending their bylaws in the bylaws themselves. For example, Tennessee law allows the voting or quorum requirement to be increased in the bylaws. (A quorum is the minimum number of voters who must be present to vote on an amendment.)