Wyoming Corporate Bylaws
Your corporate bylaws outline the rules, procedures, and structure of your Wyoming corporation. They determine how decisions will be made and who will make them. Your bylaws should specify how you will appoint directors and officers, when and where you will hold shareholder and board meetings, and how you will handle conflicts of interest and amending the bylaws themselves, among other matters.
Your corporate bylaws—unlike the Wyoming Articles of Incorporation—are internal documents that do not need to be filed with the Wyoming Secretary of State. However, corporate bylaws are essential for Wyoming corporations. Since we know that creating corporate bylaws is tough for anyone who isn't a lawyer or a legal wizard, Northwest provides free, attorney-drafted corporate bylaws templates that are customized for Wyoming corporations.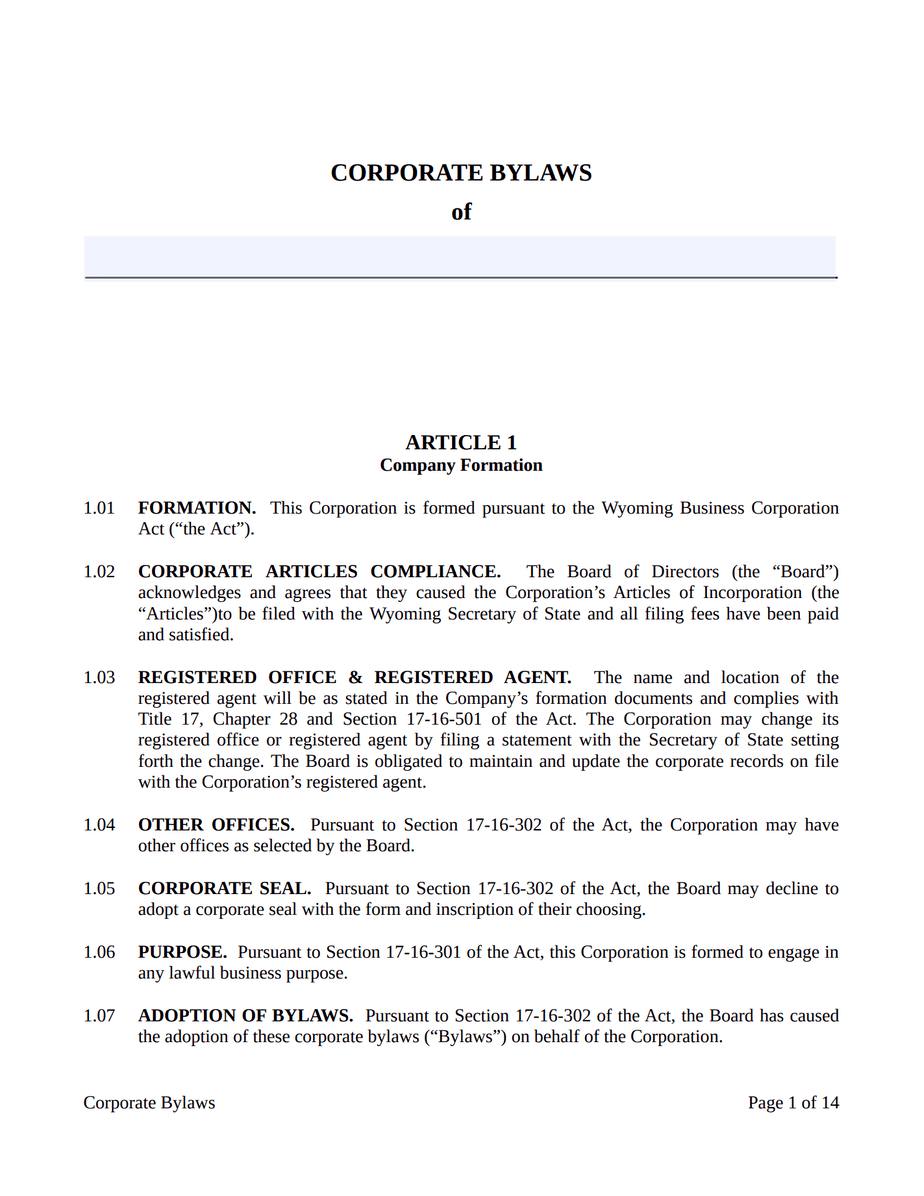 Why do I need corporate bylaws?
Corporate bylaws are crucial rules that every legitimate corporation needs. Here are a few reasons why.
1. Corporate bylaws are legally required in Wyoming.
According to Wyoming Statute § 17-16-206 (2019), either the incorporators or the board of directors shall adopt bylaws. In most cases, the board of directors adopts initial bylaws at the first organizational meeting.
2. Corporate bylaws establish the rules and roles within your corporation.
Wyoming may be the Wild West, but you don't want your corporation to be lawless. Your bylaws establish the rules, processes, and structure of your corporation, including how many directors and officers you'll have and what their powers will be. They also establish your corporation's voting procedures and how often you'll hold board and shareholder meetings.
Since all of your corporation's rules and protocols are in your bylaws, they will come in handy if you need to resolve an internal disagreement.
3. Corporate bylaws prove that your business is a legitimate corporation.
Your bylaws show others that your corporation can be trusted. Banks will want to see your corporate bylaws before you open a business bank account. And potential financial backers will look at your bylaws to make sure your business is a good investment.
If you ever face a lawsuit, your bylaws will be crucial for helping you protect your limited liability status. Since all of your corporate policies are written in your bylaws, they can help you prove in court that your corporation has protocols in place to keep business finances and interests separate.
What is included in Wyoming Corporate Bylaws?
Wyoming corporate bylaws should cover the policies and procedures for handling important issues within the company, including corporate finances and management. You're free to include anything in your bylaws that doesn't violate Wyoming law or the Articles of Incorporation, but don't forget to address the following topics:
Meetings
Stock
Directors and officers
Finances
Records
Amendments and emergencies
Who prepares the bylaws?
In Wyoming, either the incorporators or the board of directors can prepare the bylaws. Since corporate bylaws are complex legal documents, corporations often hire a lawyer to help them prepare bylaws. Our free, attorney-drafted Wyoming corporate bylaws templates can help you get going.
Are corporate bylaws legally binding?
Yes. All directors, shareholders, and officers are legally required to follow bylaws. Breaking the rules in your corporate bylaws could jeopardize your corporation's limited liability status.
FAQs
Are bylaws filed with the state of Wyoming?
No. Bylaws aren't filed with the Secretary of State. Keep your bylaws on record with your meetings minutes, resolutions, and other internal documents.
Do bylaws need to be signed?
Technically, no. In theory, a board of directors could adopt bylaws without signing them. However, Northwest recommends getting the signatures of all directors and officers on your bylaws to make it crystal clear that everyone involved knows and agrees to your policies.
How do I amend my bylaws in Wyoming?
Wyoming statutes have some rules for amending bylaws (see WY Statute § 17-16-1020 (2019)), but for the most part, the rules for amending bylaws will be established in the bylaws themselves.
For example, your bylaws might state that in order to reach a quorum (the number of members needed to vote on an amendment) you need a two-thirds majority present rather than a simple majority. Your bylaws could also state that only shareholders, not directors, may amend a specific bylaw.