Missouri Corporate Bylaws
Missouri corporate bylaws establish how your corporation will handle virtually every internal process, including appointing directors and officers, holding shareholder and board of director meetings, handling conflicts of interest, and even dissolving the business—should it come to that. Bylaws bestow decision-making powers upon people within your corporation, so they're very important. They're also dense and nearly impossible to understand, unless you're a legal whiz.
We can help. We offer a free corporate bylaws template, drafted by our attorney specifically for Missouri corporations.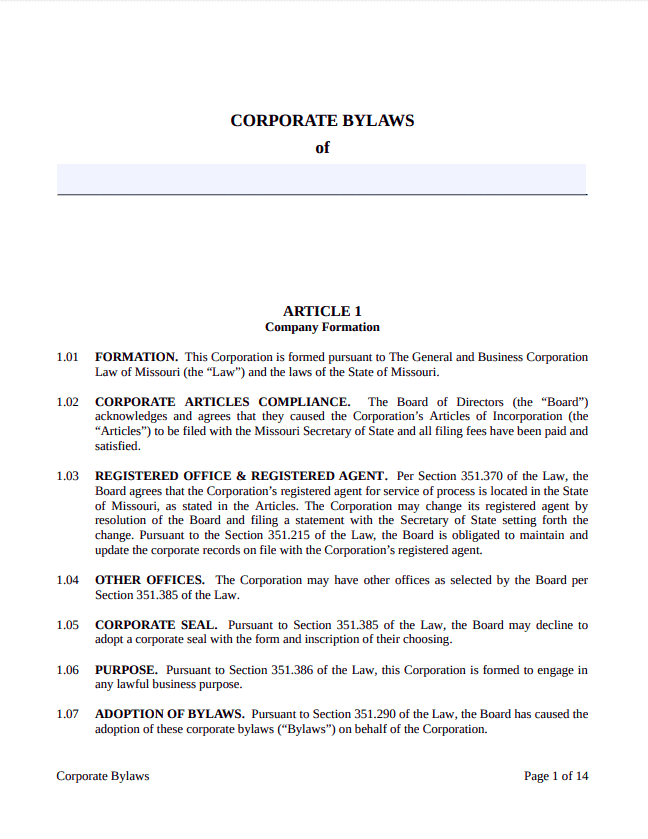 Why do I need corporate bylaws?
Unlike your Missouri Articles of Incorporation, which are filed with the MO Corporations Division, bylaws are internal documents kept on record with your corporation. Despite the fact that you may never have to show the state your bylaws, they're still super important. Here's why:
1. Corporate bylaws establish the rules and roles within your corporation.
Adopting rules together helps unify the people within your corporation and head off miscommunication and conflict. Plus, you'll need bylaws to establish certain functions of your corporation, like shareholders' meetings and record-keeping practices.
2. Corporate bylaws prove that your business is a legitimate corporation.
Bylaws show others that your corporation follows proper protocols.. People who work with you—including landlords, bankers, and potential investors—will ask to see your bylaws.
Does Missouri require corporate bylaws?
No. Missouri Revised Statute § 351.290 contains plenty of rules for making, amending and repealing bylaws, but it doesn't explicitly require a corporation to have them. However, bylaws are essential for establishing the rules of your corporation and proving your credibility to investors.
What is included in Missouri corporate bylaws?
Corporate bylaws can technically include anything that doesn't contradict Missouri's statutes (or the law). But bylaws should cover the following:
Meetings
Stock
Directors and officers
Finances
Records
Amendments and emergencies
Who prepares the bylaws?
Bylaws are typically adopted by directors (if named in the articles) or incorporators at the first organizational meeting. You can hire a lawyer to help draft your bylaws or use our free Missouri Corporate Bylaws template to get started.
Are corporate bylaws legally binding?
Yes. Corporate bylaws are legal documents and can be used in court to defend your limited liability status, if ever you face a lawsuit. Violating your bylaws could lead to undesirable legal consequences.
FAQs
Are bylaws filed with the state of Missouri?
No. You could send a copy of your bylaws to the Missouri Secretary of State, but they'll probably send them right back. Your corporate bylaws are internal documents, which means they should be kept on file with your business records.
Do bylaws need to be signed?
Not technically. But you probably should get those signatures. It's standard practice to have board members sign your bylaws because that shows your bylaws have everyone's buy-in. However, Missouri's statutes don't explicitly say that bylaws are required to be signed.
How do I amend my bylaws in Missouri?
In Missouri, the power to make, alter, amend or repeal bylaws is automatically held by the corporation's shareholders. However, the amendment process can be modified in a corporation's articles or in the bylaws themselves. For example, Missouri Revised Statute § 351.290 goes on to state that articles may give voting rights to the board of directors.