Mississippi Corporate Bylaws
Mississippi corporate bylaws are the policies and guidelines your corporation will follow for taking legitimate votes, holding official meetings, appointing directors and officers, and even someday dissolving or selling your business, should the time come.
Corporate bylaws are crucial for any well-run corporation, which is why we offer a free, attorney-drafted template, just for Mississippi corporations, that you can use for your business.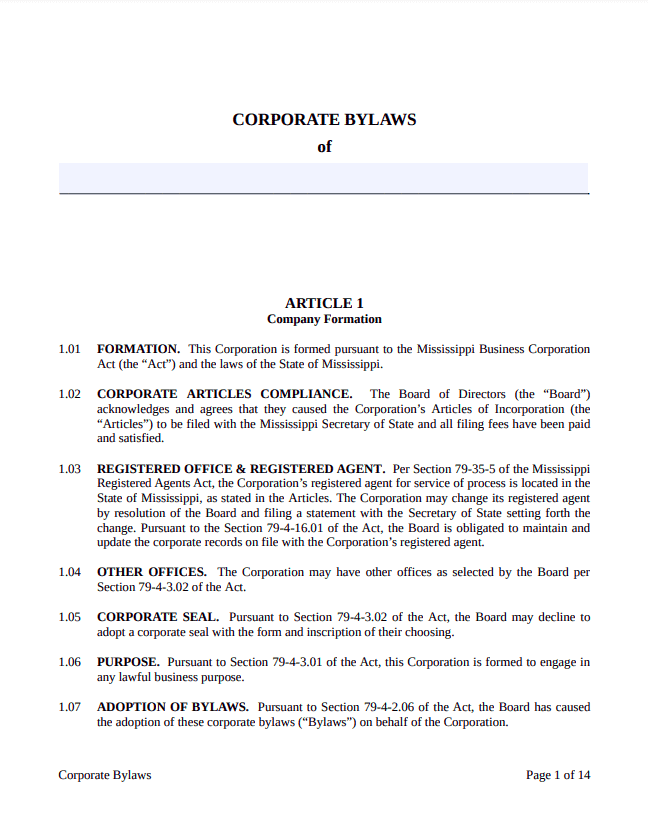 Why do I need corporate bylaws?
Even though bylaws aren't filed with the Mississippi Secretary of State's office—like your Mississippi Articles of Incorporation are—bylaws are essential. Here's why:
1. Corporate bylaws are legally required in Mississippi.
Miss. Code Ann. § 79-4-2.06 states that corporations "shall adopt initial bylaws" at their first organizational meeting. In other words, bylaws are a legal necessity for incorporating in Mississippi.
2. Corporate bylaws establish the rules and roles within your corporation.
Having clear rules helps prevent disagreements and miscommunication, which helps you run your business more efficiently. Plus, without bylaws, you won't have an agreement on how to do the most basic of things, like taking a vote or keeping official records.
3. Corporate bylaws prove that your business is a legitimate corporation.
Bylaws lend credibility to your business. Bankers, landlords, and potential investors will want to see your bylaws before working with you.
What is included in Mississippi Corporate Bylaws?
While corporate bylaws can include anything within the law not already covered by Mississippi's statutes, it's a good idea to make sure your bylaws cover certain essential aspects of your business:
Meetings
Stock
Directors and officers
Finances
Records
Amendments and emergencies
Who prepares the bylaws?
Bylaws are adopted by your directors or incorporators at your first organizational meeting. It's a good idea to consult with a lawyer before solidifying your bylaws. That said, you can use our free, Mississippi Corporate Bylaws template to help get you started.
Are corporate bylaws legally binding?
Yes. In court, corporate bylaws can be used to defend a corporation's limited liability status or enforce a decision. Violating bylaws is cause for removal from office and can lead to other negative legal consequences.
FAQs
Are bylaws filed with the state of Mississippi?
No. Mississippi doesn't keep track of your corporate bylaws—you do. Your corporate bylaws are internal documents, which means they should be kept on file with your business records.
Do bylaws need to be signed?
No. Signing your corporate bylaws lends them legitimacy and is good, standard practice. That said, Mississippi's statutes do not require corporate bylaws to contain signatures.
How do I amend my bylaws in Mississippi?
Your bylaws can be amended by your board of directors or your shareholders, but the process for making amendments should be specified in your articles or in the bylaws themselves. For example, Miss. Code Ann. § 79-4-10.20 states that articles of incorporation may reserve voting rights exclusively for shareholders.