Mississippi Incorporation Services
To start a corporation in Mississippi, you must file Articles of Incorporation with the Secretary of State's Business Services. You can file the document online or by mail. The Articles of Incorporation cost $50 to file. Once filed with the state, this document formally creates your Mississippi corporation. However, to actually ready the corporation to do business, you must complete several additional steps.
Starting a Mississippi Corporation Guide:
Mississippi Corporation Filing Options
Do It Yourself
Sign up for a free account and use our online tools to start your Mississippi corporation today. Includes Mississippi incorporation and maintenance walkthrough and company document creation. All for free—just pay state fees.
$
0
Total
Go Monthly
Skip the state fees! Get a Mississippi corporation and the best of our services today. Includes EIN, hassle-free maintenance, business address & mail forwarding, Privacy by Default®, local Corporate Guide® service, and everything you need to operate at full capacity.
$
31
/ Month
Pay in Full
Includes Mississippi corporation, business address & free mail forwarding, Privacy by Default®, lifetime support from local Corporate Guides® and a year of registered agent service.
$
278
Total
Mississippi Articles of Incorporation Requirements
To form a Mississippi corporation, you must complete and file the Articles of Incorporation with Business Services. The document is an example form only—Mississippi requires all filings to be done online. The requirements for online filings are explained below.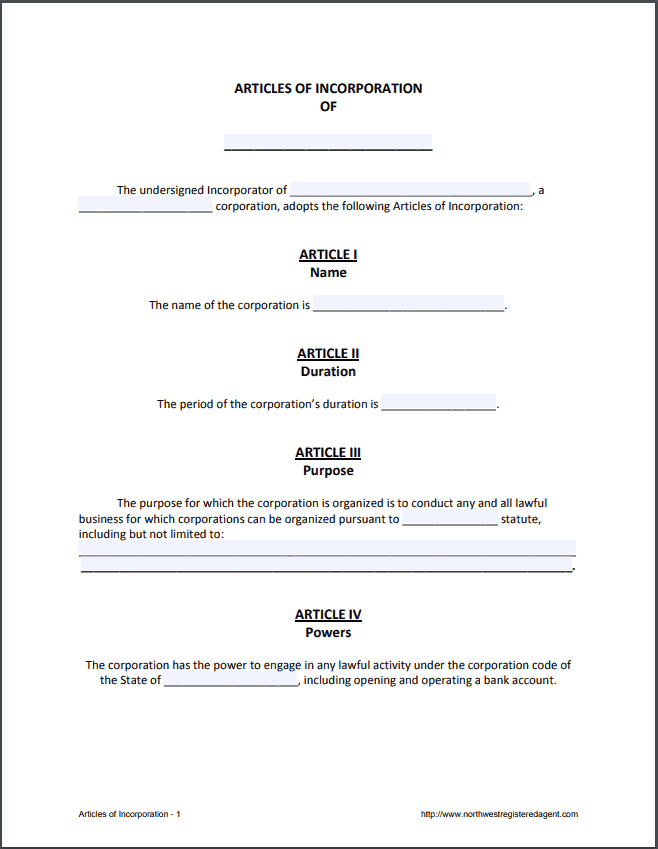 1. Account Creation
If filing yourself, you must first create a Mississippi Corporations Registered Filer account (even if you plan to submit via mail—paper forms must be first completed online, and there's no access to the online forms without an account). You'll need to provide your name, address, phone number and email to create an account. Tip: Avoid all these extra steps when you hire Northwest. Just answer a few questions, sit back, and let us file everything correctly the first time.
2. Business Name
Your name must include "Corporation," "Incorporated," "Company," "Limited," or an abbreviation for one of these words. If you're a professional corporation, you can use "Professional Corporation or "P.C." as your designation. Tip: Most corporations keep it short and sweet with "Corp" or "Inc."
3. Business Email
This is where the Secretary of State will send any official notifications. Like everything in your Articles of Incorporation, the email you include here becomes part of the permanent public record of your corporation. Avoid an inbox full of spam and use our email when you hire Northwest.
4. Effective Date
If want your Mississippi corporation to begin right away, you can skip this section. If you'd prefer to begin on a specific day (maybe to line up with the beginning of a tax period), you can enter an effective date up to 90 days in the future. Tip: Most corporations skip this section.
5. Duration
Want your business to continue indefinitely? Skip this section. Prefer to put a self-destruct timer on your business? List the number of the years you want your Mississippi corporation to exist. Tip: Most corporations skip this section as well.
6. Authorized Shares
For each stock class, list the number of shares you'd like to create. You must have at least one share.
7. Nature of Business
Select at least one NAICS code—these are 6-digit codes for nearly every sort of business activity you could think of. Pick the best match for your business (it's okay if it's not a perfect match).
8. Registered Agent
From the drop-down menu, choose either "organization" or "individual," and list your agent's name. Tip: For expert registered agent service, we recommend Northwest.
9. Registered Agent Address
If you have a commercial registered agent, their information will already be in the system—just select your agent and the address will appear automatically. If you choose a noncommercial registered agent, you'll have to enter the Mississippi street address where they will be available (and which will become a permanent part of the public record). Tip: We're a commercial registered agent—search for "Northwest Registered Agent, LLC."
10. Mississippi Incorporator
Your incorporator electronically signs and submits your Articles of Incorporation. You incorporator must enter their name, address and title (it doesn't have to be a director or officer; you can simply choose "incorporator"). Tip: We'll be your incorporator when you hire Northwest.
How much does it cost to start a Mississippi corporation?
The state charges a $50 fee to submit Mississippi Articles of Incorporation. If you submit your filing online, there's also a variable convenience fee that's around $3-4.
Hire Northwest to form your Mississippi corporation and your total out-the-door cost is $278. This includes state filing fees, a full year of registered agent service and all the business documents you need to open a corporate bank account.
How long does it take to start a Mississippi corporation?
Mississippi Articles of Incorporation must be filled out online and then either submitted electronically or printed out and mailed. The processing time is quick—just a day—but if you mail your form, you'll need to add time for postal delivery.
If you hire Northwest to start your corporation, we file online and typically have your Mississippi corporation formed within 24 hours.
Does a Mississippi corporation need a registered agent?
Yes. In your Articles of Incorporation, you're required to list a Mississippi registered agent. You can either hire an agent or appoint someone. You can even appoint yourself. The job, however, comes with more headache than many people anticipate. You have to list the address where you'll be available—and this address becomes part of the permanent public record for your corporation. A public address can mean loads of junk mail and unwanted visitors on your doorstep. Additionally, you have to be regularly available at your address during business hours. When you have meetings to attend and errands to run, being tied to your desk can be tough.
A better option? Consider hiring a commercial registered agent service like Northwest. When you sign up for our services, you can maintain your address privacy with our registered office address. We'll accept, scan and send you any service of process the same day. You can stay on top of your business, wherever you are—whether that's sitting in a board meeting or fishing the Gulf.
Create Bylaws for Your Mississippi Corporation
Do I need bylaws?
Yes, creating bylaws is crucial to the organization of your Mississippi corporation. While public documents like your Articles and Annual Reports form and maintain your corporation in the state, your bylaws determine how your corporation actually operates.
Why are corporate bylaws important?
Your bylaws answer questions about how corporate decisions will be made and who gets to make those decisions. There's a lot to consider: How will board members be selected? How long will their tenure on the board last? How many members of the board will be required to vote on a resolution? Who will be officers? What duties and authority will they have? Which types of stock will have voting shares? These decisions will significantly affect your corporation, your officers and shareholders, and even your business relationships. Whether you're opening a corporate bank account, taking on partners, or seeking investors, the people and businesses you work with will want to take a look at your bylaws.
How do I begin writing bylaws?
Creating bylaws isn't easy—which is why Northwest gives you free corporate bylaws when you hire us to form your Mississippi corporation. We know what kinds of topics and questions corporations need to address, and we've spent years refining and improving our forms. We give you other free corporate forms as well, such as resolutions and meeting minute templates. Let us help you start out on the right foot. Check out the free corporate forms we provide to help corporations form and maintain their businesses.
Get an EIN for Your Mississippi Corporation
Do I have to get a tax ID number (EIN)?
Yes, corporations must have an EIN for their federal tax filings. You'll also need your EIN in order to register for Mississippi's Taxpayer Access Point, the state's online tax system.
You can fill out the IRS's application yourself for no cost, or you can save yourself a few steps (and some headache) and hire us to get your EIN for you. No extra application or form is necessary—just add on EIN service during checkout when you hire Northwest to form your Mississippi corporation.
Open a Bank Account for Your Mississippi Corporation
To open a corporate bank account, you will need to bring the following to the bank:
A copy of the Mississippi corporation's Articles of Incorporation
The Mississippi corporation's bylaws
The Mississippi corporation's EIN
If your bylaws don't specifically assign the power to open a bank account, you may also want to bring a corporate resolution to open a bank account that states that the person going to the bank is authorized by the business to open the account in the name of the corporation.
We recommend calling your bank ahead of time before going in and asking what their requirements are. Most banks don't open corporate accounts nearly as frequently as personal accounts, so some bankers may be unfamiliar with their own bank's requirements. As frustrating as that may be for you, calling ahead will help save you from being super annoyed when you walk into the bank.
Obtain a Business License
Does a Mississippi corporation need a business license?
There isn't a general, state-level business license in Mississippi. Cities and counties, however, may have their own licensing requirements. For instance, many cities, including Jackson, Southaven and Meridian, require business or "privilege" licenses. Fees are variable (often depending on factors such as number of employees and inventory) but typically start out at $20.
File Mississippi Corporation Reports
What is a Mississippi Annual Report?
Your Mississippi Annual Report is a form you file to confirm or update your corporation's ownership and contact information with the Secretary of State's Business Services. The report and $23.25 fee must be submitted by April 15th each year. Fail to file? The state will dissolve your corporation. Yikes.
Northwest can help you ensure you remember your filings and stay compliant. When you hire us as your registered agent, we send you reminder notifications for your reports. Better yet, put your mind completely at ease and hire us to file your Annual Reports for your Mississippi corporation each year.
How much does a corporation in Mississippi cost each year?
$23.25. This is the filing fee for the mandatory Mississippi Annual Report.
Pay Corporate Taxes
What are the taxes for a Mississippi corporation?
The Mississippi corporate net income tax rates are:
3%: $1,000 to $5,000
4%: $5,001 to $10,000
5%: over $10,000
Some good news—over the next few years, Mississippi is in the process of phasing out the 3% bracket. By 2022, the corporate income tax will exempt the first $5,000 of taxable income.
Mississippi also has a corporate franchise tax that applies to both C and S corporations. The tax is $2.50 per $1,000 of either capital employed or assessed property value in Mississippi (whichever is greater). There's a minimum corporate franchise tax of $25.
The state sales tax is 7%, but cities can choose to tack on up to 1% additional sales tax. For example, customers will pay 8% at the counter in Jackson, 7.25% in Tupelo and 7% in cities like Gulfport and Hattiesburg.
Let Us Be Your Guide
At Northwest Registered Agent, we've spent years crafting our Mississippi corporation service. When you hire us, we'll form your Mississippi corporation for $278 total and include:
One year of registered agent service
Corporate bylaws and resolutions
Digital notifications
Mississippi Annual Report reminders and directions for fast filing
A secure online account filled with intuitive business maintenance tools and forms to make corporate upkeep simple
Lifetime Corporate Guide Service—call us anytime, and one of our Corporate Guides will help you navigate whatever business problem, task or curiosity you have
Northwest Registered Agent is the only national corporation formation service that is dedicated to your personal privacy. We don't sell data to third-parties, and we do everything we can to keep your personal information secure.
START YOUR MISSISSIPPI CORPORATION FOR $278 TOTAL