Nebraska Corporate Bylaws
Nebraska corporate bylaws are the internal rules of a corporation, outlined in a legal document. Bylaws establish a corporation's process for distributing stocks, voting, holding shareholder and board meetings, and handling conflicts of interest, among other things. Bylaws are a corporation's most important internal document. They're also dense and full of legal jargon, so drafting them can be a daunting process. That's why Northwest offers a free guide to drafting Nebraska corporate bylaws, along with an attorney-drafted bylaws template, specifically for Nebraska corporations, to get you started.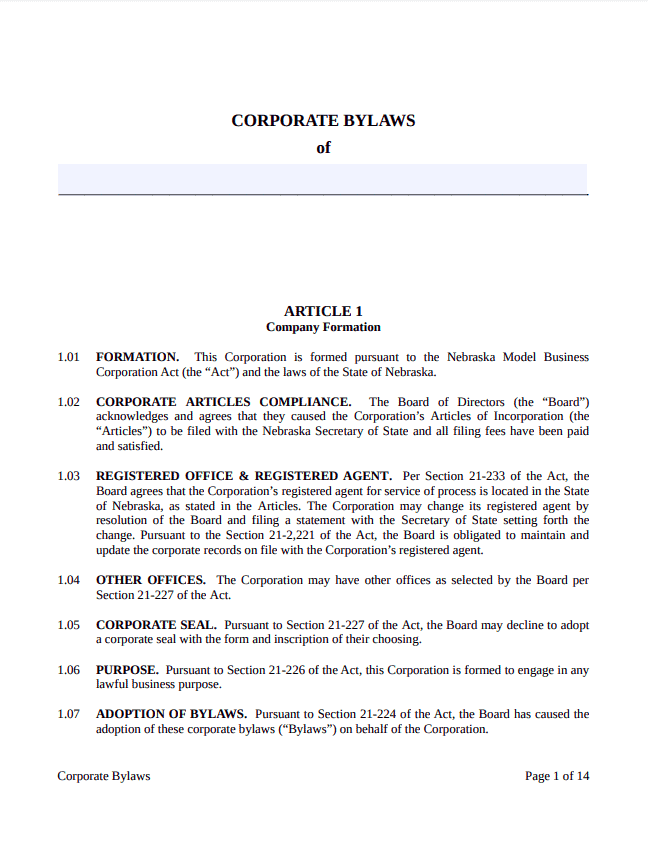 Why do I need corporate bylaws?
Unlike your Nebraska Articles of Incorporation, you won't file your corporate bylaws with the state, but they're still a must-have. Here's why.
1. Corporate bylaws are legally required in Nebraska.
According to NE Rev. Stat. § 21-224 (2019), either the incorporators or the board of directors of a corporation must adopt initial bylaws. Most of the time, bylaws are adopted at the first organizational meeting.
2. Corporate bylaws establish the rules and roles within your corporation.
Corporations are complex entities, and in order to run yours effectively, you must first establish clear rules and processes—things like how you will vote on amendments, how many officers and directors you'll have, and where you will hold board and shareholder meetings. If there's ever a dispute within your corporation, your bylaws can help you settle it fairly.
3. Corporate bylaws prove that your business is a legitimate corporation.
Bylaws show that your corporation is organized and follows the law. Banks, landlords, and potential investors will want to see your bylaws to make sure they can trust you.
What is included in Nebraska Corporate Bylaws?
Technically, you can include anything in your bylaws that isn't contrary to Nebraska law or your articles of incorporation. However, corporate bylaws should always include the following subjects:
Meetings
Stock
Directors and officers
Finances
Records
Amendments and emergencies
Who prepares the bylaws?
Nebraska corporate bylaws are prepared either by the incorporators or the board of directors, often with the help of an attorney. You can use our free, Nebraska corporate bylaws template as a starting place.
Are corporate bylaws legally binding?
Yes. Corporate bylaws amount to a legal contract between the officers, directors, and shareholders of your corporation, and there can be legal consequences for not following them. Directors or officers who violate corporate bylaws can be removed from office. In court, your bylaws can help you prove that your corporation follows its own rules, which can reinforce your limited liability protection.
FAQs
Are bylaws filed with the state of Nebraska?
No. Corporate bylaws are internal documents, so they are not filed with the Nebraska Secretary of State. You should keep your bylaws with your business records.
Do bylaws need to be signed?
No, but it's a good idea. While bylaws aren't legally required to be signed, having your officers and directors sign them shows that everyone in your corporation is on the same page.
How do I amend my bylaws in Nebraska?
You should set the rules for how your corporation will amend bylaws in the bylaws themselves. For example, you can determine in your bylaws whether the shareholders, the directors, or both will have the power to amend bylaws. You can also decide how many votes are needed to pass an amendment.