Massachusetts Corporate Bylaws
Your corporate bylaws establish the rules and procedures for your Massachusetts corporation. They determine how decisions will be made and who can make them. Your bylaws should include how many directors and officers your corporation will have, when and where shareholder and board meetings will be held, and how you will handle potential conflicts of interest, among other issues.
Corporate bylaws are internal documents—meaning that unlike the Massachusetts Articles of Organization, your bylaws aren't filed with the state. However, every Massachusetts corporation needs to have bylaws. Unless you're a legal expert, you might be intimidated by the prospect of creating corporate bylaws from scratch. That's why Northwest provides a free, attorney-drafted corporate bylaws template that is specifically for Massachusetts corporations.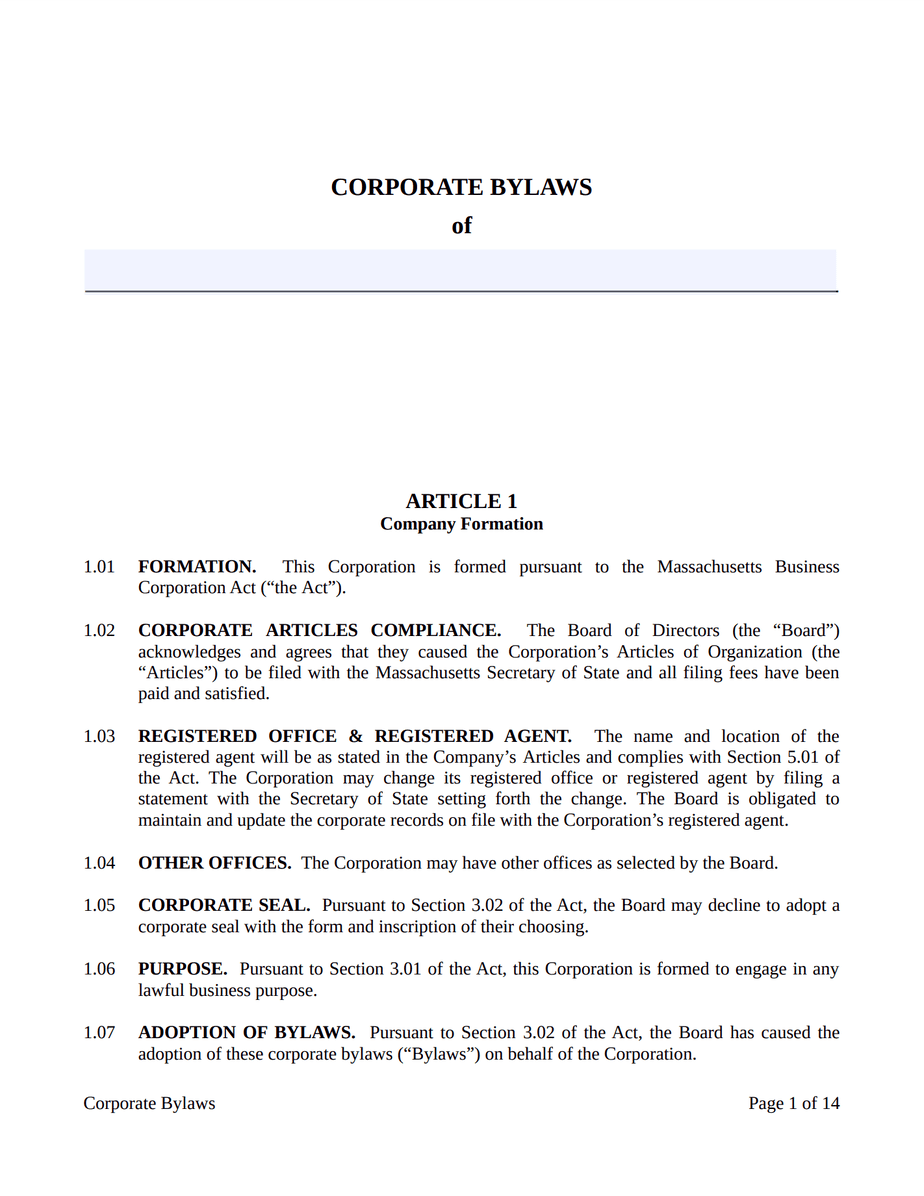 Why do I need corporate bylaws?
No matter the size or type of Massachusetts corporation you are forming, it is essential that you adopt bylaws. Here's why.
1. Corporate bylaws are legally required in Massachusetts.
Massachusetts Gen L ch 156d § 2.06 (2019) requires either the incorporators or the board of directors to adopt bylaws. The board of directors typically adopt initial bylaws at the first organizational meeting.
2. Corporate bylaws establish the rules and roles within your corporation.
Your bylaws put your corporation's rules, processes, and structure into writing. They determine what powers your directors and officers will have, and how many votes are needed to make a change. They also establish your process for holding board and shareholder meetings.
Since all of your corporation's rules are documented in your bylaws, they're the best resource to consult when you need to settle a dispute.
3. Corporate bylaws prove that your business is a legitimate corporation.
Your corporate bylaws show investors, landlords, and banks that your corporation is credible. You'll need to show your bylaws to a bank in order to open a corporate bank account. Potential investors will want to look at your bylaws to make sure your corporation follows appropriate protocols.
Not only that, but if your corporation is ever sued, your bylaws will be an essential document in your court case. Following the rules and procedures in your corporate bylaws demonstrates that your corporation is a distinct legal entity entitled to limited liability protection.
What is included in Massachusetts Corporate Bylaws?
Massachusetts corporate bylaws should cover your policies for all of the important issues your corporation will need to deal with. According to MA Gen L ch 156d § 2.06 (2019), you may include anything in your bylaws that doesn't contradict Massachusetts laws or your Articles of Organization. However, there are a few subjects corporate bylaws should always cover:
Meetings
Stock
Directors and officers
Finances
Records
Amendments and emergencies
Who prepares the bylaws?
Corporate bylaws are prepared by the board of directors. Since corporate bylaws are dense legal documents, corporations often consult with an attorney before making bylaws official. Northwest offers a free, Massachusetts-specific corporate bylaws template, drafted by an attorney, so you can start out on the right foot.
Are corporate bylaws legally binding?
Yes. All board members, officers, and shareholders have a legal obligation to abide by the corporate bylaws. Violating corporate bylaws could lead to your corporation losing its limited liability status.
FAQs
Are bylaws filed with the state of Massachusetts?
No. Unlike the Articles of Organization, corporate bylaws are internal documents that are not filed with the state. Your bylaws should be kept on record with your business's other documents, such as meetings minutes and resolutions.
Do bylaws need to be signed?
Not necessarily, but we recommend it. Technically, the board of directors can adopt corporate bylaws without signing them. However, having all board members and officers sign your bylaws shows that everyone in your corporation is on the same page.
How do I amend my bylaws in Massachusetts?
Usually, the policies for amending bylaws will be decided in the bylaws themselves. For instance, MA Gen L ch 156d § 10.21 (2019) states that bylaws can determine the quorum (the number of members who need to be present for a vote to take place) or the vote requirement to adopt an amendment.
According to MA Gen L ch 156d § 10.20 (2019), shareholders have the power to amend bylaws. Board members may only amend bylaws if they are given that power by the Articles of Organization or the bylaws.