Illinois Corporate Bylaws
Illinois bylaws are documents that state the rules and organizational structure your corporation will follow. They establish your policies for appointing directors and officers, holding board and shareholder meetings, making amendments, handling emergency situations, and other important issues.
While Illinois Articles of Incorporation are submitted to the Secretary of State's office, corporate bylaws are internal documents that aren't filed with the state. However, just because bylaws aren't filed doesn't mean you don't need to have them. Northwest can help you prepare your bylaws with our free, attorney-drafted corporate bylaws template, which is specific to Illinois corporations.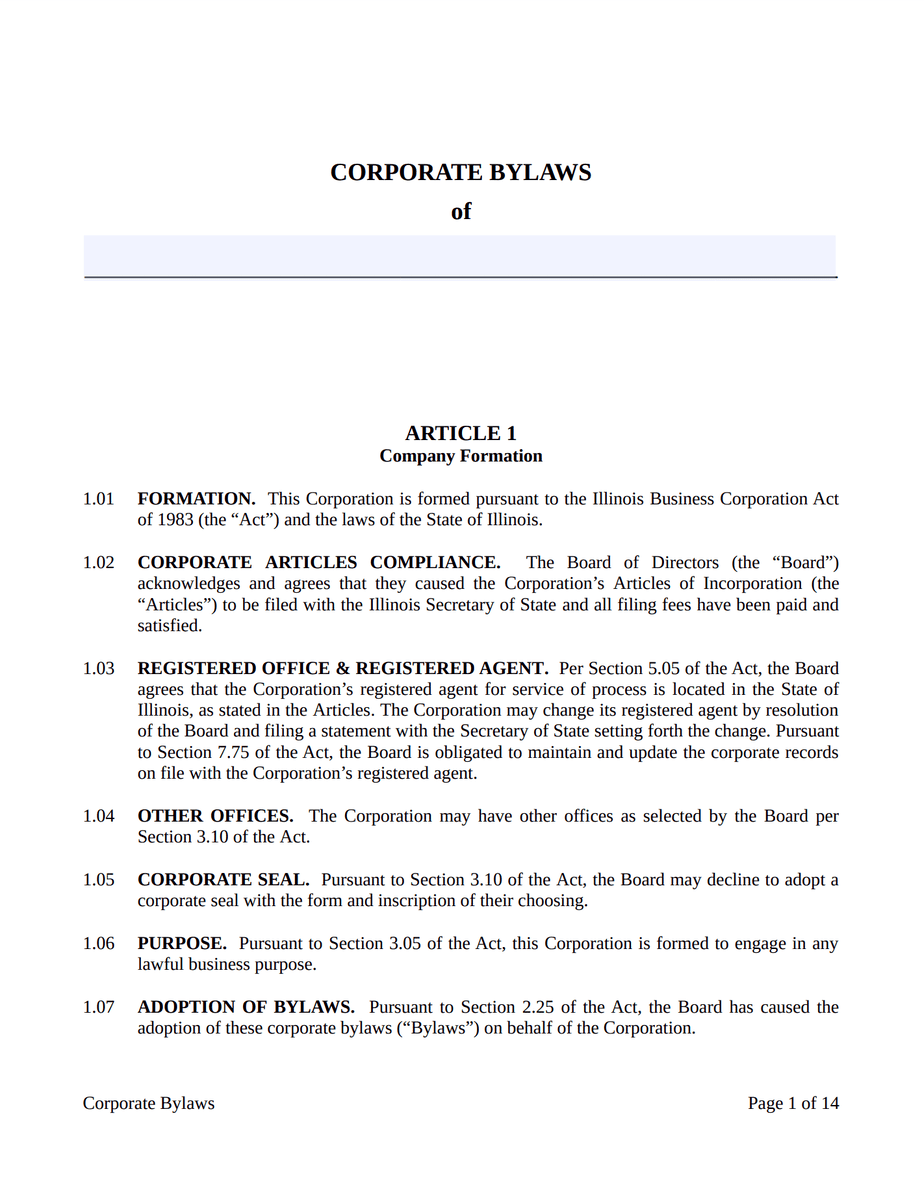 Why do I need corporate bylaws?
Bylaws are a legal and practical necessity for Illinois corporations. Here's why.
1. Corporate bylaws are legally required in Illinois.
Illinois statute §805 ILCS 5/2.20 requires that bylaws be adopted either by shareholders at the first shareholder meeting or by directors at the initial director meeting.
2. Corporate bylaws establish the rules and roles within your corporation.
Your bylaws establish how your corporation will be organized and managed, including how many directors and officers you will have and who has decision-making power. They determine how voting will work, and where board and shareholder meetings will be held.
Also, your corporate bylaws will be your guidebook for resolving conflict, as they contain all of your corporation's policies.
3. Corporate bylaws prove that your business is a legitimate corporation.
Bylaws are necessary for proving that your corporation is a lawful business. Banks will ask to see your corporate bylaws when you open a business bank account. Potential backers will want to look at your bylaws to make sure they're investing in a trustworthy company.
Plus, if your corporation is ever taken to court, your bylaws can help you maintain your limited liability status. Your bylaws show that your corporation has procedures and rules that make it a separate legal entity from the people who manage it.
What is included in Illinois Corporate Bylaws?
Your bylaws could potentially include any rule that doesn't violate Illinois law or your Articles of Incorporation. However, all strong corporate bylaws will cover at least these topics:
Meetings
Stock
Directors and officers
Finances
Records
Amendments and emergencies
Who prepares the bylaws?
In Illinois, either the shareholders or the directors can prepare the corporate bylaws. Often, whoever prepares the bylaws will consult with an attorney, to make sure their bylaws pass legal muster. Northwest has a free, attorney-drafted Illinois corporate bylaws template that can get you started.
Are corporate bylaws legally binding?
Yes. Your bylaws are legal documents that can be used in court. Violating your corporate bylaws could have negative legal consequences, like losing your limited liability status.
FAQs
Are bylaws filed with the state of Illinois?
No. You should keep your corporate bylaws on file with your company's other internal documents, rather than filing it with the Illinois Secretary of State.
Do bylaws need to be signed?
Technically, your corporate bylaws don't need to include signatures to be legally valid. However, we recommend that your directors and officers sign your bylaws, to ensure that everyone agrees to the policies you've established.
How do I amend my bylaws in Illinois?
For the most part, corporations establish the rules for amending bylaws in the bylaws themselves. For example, bylaws almost always define the quorum (the minimum number of directors or shareholders who must be present for a vote to take place).
According to Illinois statute §805 ILCS 5/2.20, either shareholders and directors may amend corporate bylaws, unless the Articles of Incorporation state that only shareholders may amend bylaws.