Montana Corporate Bylaws
Corporate bylaws are your corporation's rules for processes like voting, appointing directors and officers, holding shareholder and board meetings, distributing stocks and handling conflicts of interest, among other things. Because they create a framework for how your corporation will grow, make decisions, and navigate disagreements, bylaws are a crucial corporate document.
Here's our free guide to understanding corporate bylaws, plus a free, attorney-drafted template—just for Montana corporations—that you can use to get started.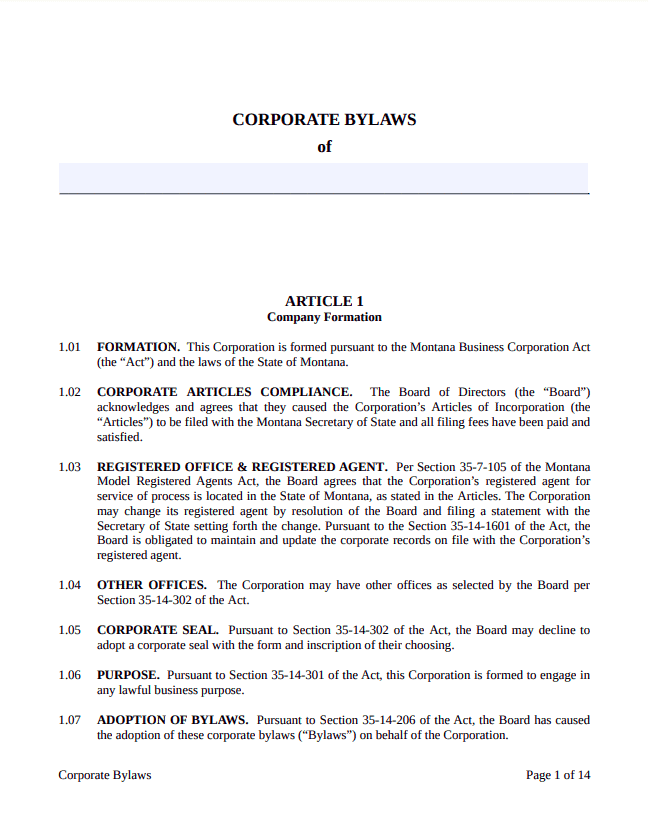 Why do I need corporate bylaws?
Bylaws are just as important as your Montana Articles of Incorporation, even though they're not filed with the state. Here's why:
1. Corporate bylaws are legally required in Montana.
Per MT Code § 35-14-206, bylaws must be adopted during the first organizational meeting following incorporation. So to stay legally compliant, your corporation needs bylaws.
2. Corporate bylaws establish the rules and roles within your corporation.
Your Articles of Incorporation form your corporation with the state of Montana, but your bylaws create an actual framework for your corporation, defining the roles of the people within it. Without clear rules, you can't hold a legitimate vote or meeting.
3. Corporate bylaws prove that your business is a legitimate corporation.
To open a bank account, enter a contract, or attract a potential investor, you need to demonstrate that your corporation is a legitimate organization that follows certain protocols. Your bylaws do exactly that.
What is included in Montana Corporate Bylaws?
Your corporate bylaws need to account for a range of scenarios, from appointing directors and officers to handling conflicts of interest. You can include almost anything in your bylaws as long as it's consistent with the law, but be sure to address the following topics:
Meetings
Stock
Directors and officers
Finances
Records
Amendments and emergencies
Who prepares the bylaws?
If already appointed, your board of directors should adopt your initial bylaws at your first organizational meeting. Otherwise, your incorporator(s) can adopt bylaws. Not sure where to start? Check out our attorney's Montana Corporate Bylaws template.
Are corporate bylaws legally binding?
Yes. Like a contract, corporate bylaws stand up in court. In the case of a lawsuit, bylaws can help you prove your limited liability status. On the other hand, there could be unwelcome legal consequences for anyone within your corporation who violates your bylaws.
FAQs
Are bylaws filed with the state of Montana?
No. No offense, but the Montana Secretary of State doesn't want your bylaws. Corporate bylaws are internal documents and should be filed with your own business records.
Do bylaws need to be signed?
Not technically. However, they should be. When your board of directors signs your bylaws, it lends the document credibility and just looks good.
How do I amend my bylaws in Montana?
MT Code § 35-14-1003 contains rules for making amendments, but for the most part, you can decide how your bylaws may be amended and specify that process in the articles or bylaws themselves.
For example, your articles may reserve voting rights exclusively for shareholders or change the terms of a quorum (the number of directors or shareholders needed to make a meeting official).