New Mexico Corporate Bylaws
New Mexico corporate bylaws formalize the rules, procedures, and organizational structure of a corporation. They determine who in your corporation will have decision-making power, and what steps must be taken to make a decision. Your bylaws should cover your corporation's policies for all important issues, including appointing directors and officers, holding shareholder and board meetings, handling conflicts of interest, and even amending the bylaws themselves.
Unlike the New Mexico Articles of Incorporation, corporate bylaws are internal documents that are not filed with the Business Services Division. However, every New Mexico corporation must adopt bylaws. Northwest realizes that creating corporate bylaws can be daunting for a new business owner, which is why we offer a free, attorney-drafted corporate bylaws template, customized for New Mexico corporations.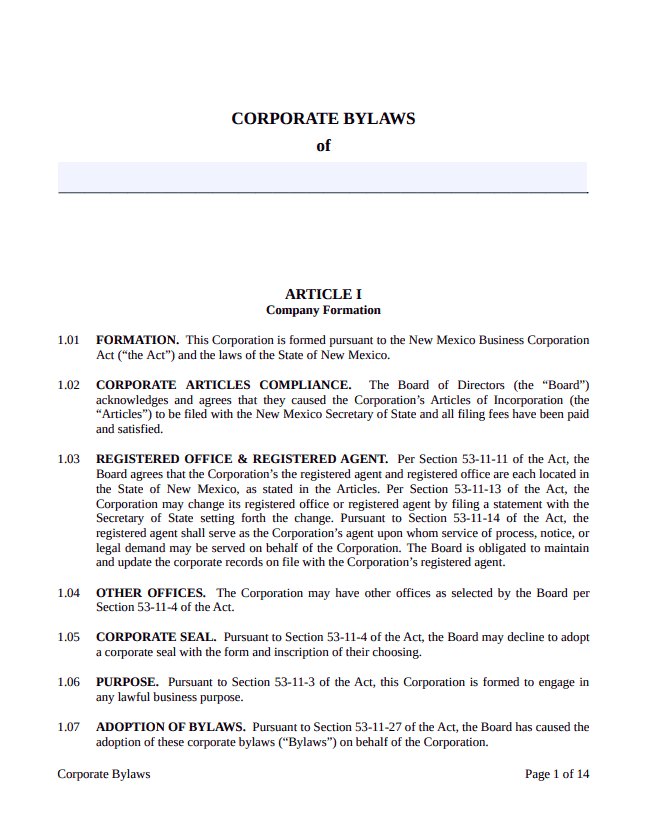 Why do I need corporate bylaws?
Bylaws are your corporation's most important internal documents, and you can't start a legitimate New Mexico corporation without them. Here are some reasons why:
1. Corporate bylaws are legally required in New Mexico.
Per New Mexico Stat § 53-11-27 (2019), initial bylaws must be adopted by the board of directors. In most cases, the board of directors will adopt corporate bylaws at the first organizational meeting.
2. Corporate bylaws establish the rules and roles within your corporation.
Your bylaws put your corporation's rules and structure into writing, including how many directors and officers you will have and what their powers are. Corporate bylaws also establish when and where meetings between directors and shareholders will be held and how voting will work.
If your members ever disagree on how to proceed, you'll refer to the policies in your corporate bylaws to resolve the dispute.
3. Corporate bylaws prove that your business is a legitimate corporation.
Your bylaws show investors, landlords, and banks that your corporation can be trusted. A potential investor or landlord will want to see your bylaws to make sure your business is following proper rules. You'll also need bylaws to open a business bank account.
In the case of a lawsuit, your bylaws can help you maintain your limited liability status. Since all of your corporation's rules and procedures are documented in your bylaws, you can use these documents in court to help prove that your corporation is a separate legal entity with separate liability.
What is included in New Mexico Corporate Bylaws?
New Mexico corporate bylaws should define your policies for handling important issues, including corporate finances and management. You may include any rule for managing your corporation in your bylaws, as long as it doesn't conflict with New Mexico law or the Articles of Incorporation. However, don't forget to cover the following subjects:
Meetings
Stock
Directors and officers
Finances
Records
Amendments and emergencies
Who prepares the bylaws?
The board of directors, often under the guidance of an attorney. Northwest offers a free, attorney-drafted corporate bylaws template specifically for New Mexico corporations to make preparing bylaws easier.
Are corporate bylaws legally binding?
Yes. Directors, officers, and shareholders are legally required to follow their corporate bylaws. Breaking the rules in your bylaws could jeopardize your limited liability and lead to other undesirable legal action.
FAQs
Are bylaws filed with the state of New Mexico?
No. You don't need to file your bylaws with the state. Bylaws are internal documents kept on file with your corporation's other documents, such as meetings minutes and resolutions.
Do bylaws need to be signed?
No, but we recommend it. It's technically possible for the board of directors to adopt corporate bylaws without signing them. However, it's beneficial to have all board members and shareholders sign your initial bylaws, since this signals that everyone is on board with your policies.
How do I amend my bylaws in New Mexico?
Typically, the rules for amending bylaws are written into the bylaws themselves. For example, your bylaws could state that a two-thirds majority of votes is required to amend bylaws or define a new quorum (the minimum number of people required to be present for a vote to happen).
According to New Mexico Stat § 53-11-27 (2019), the board of directors has the power to amend bylaws, unless the Articles of Incorporation specify that the shareholders and not the directors will have this power.