How to Start an LLC in Indiana
To start an LLC in Indiana, you must file Articles of Organization with the Indiana Business Services Division, pay a $100 filing fee, and get an EIN from the IRS. The complete steps to forming an Indiana LLC are as follows:
File Indiana LLC Articles of Organization

Pay the Business Services Division $100 ($98 online)

Wait to receive your Certificate of Organization

Get a Federal EIN tax ID for the LLC

Create an Indiana LLC Operating Agreement

Take these documents to the bank and get an Indiana LLC bank account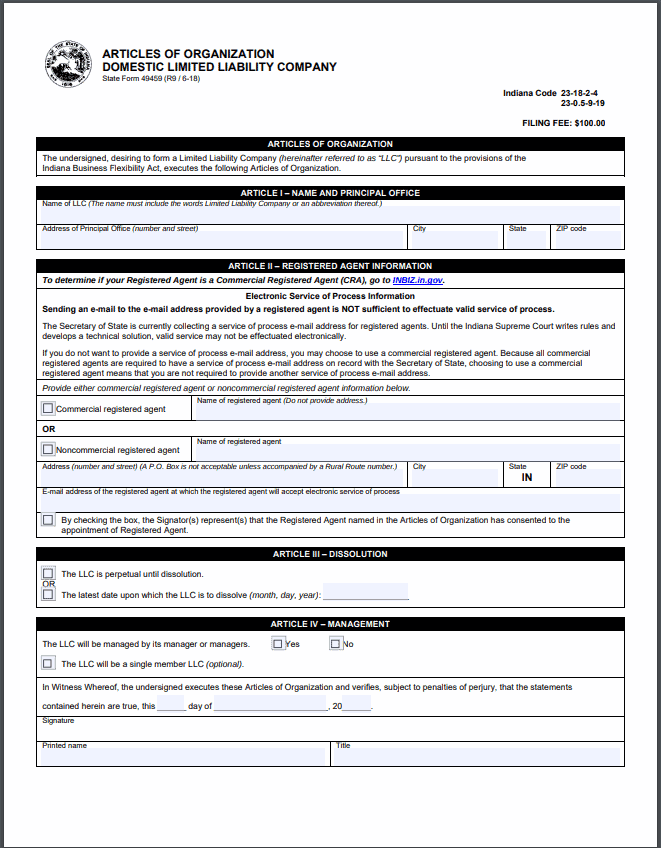 How to File Indiana LLC Articles of Organization
To form an Indiana LLC, you file Articles of Organization by following these steps:
Choose a name for your new LLC
Decide what address you'd like to list publicly
Decide if you want to hire a registered agent service to minimize public disclosures
Choose how long you'd like your LLC to exist
Choose whether your LLC will be managed by members or managers
File online and pay $98 with a credit card, or mail to the Secretary of State (Business Services Division, 302 West Washington St, room E-018, Indianapolis IN 46204) with a check or money order for $100
Free Download
File Online
HOW LONG DOES IT TAKE TO START AN INDIANA LLC?
Fast and Easy (1 day): Hire Northwest to file your Articles for you. Just answer a few simple questions and you can sit back and let our Corporate Guides file everything online correctly the first time.
Fast and Not-So-Easy (1 day): Submit Articles of Organization online yourself.
Archaic (5-7 days): Pay more money and wait longer to file by mail. This is technically an option, but really, who would want to do that?
WHAT IS THE COST OF AN INDIANA LLC?
If you file online, it'll cost you $98 (the filing fee is $95, plus a roughly $3 processing fee). Mailed filings are just slightly more expensive at $100.
When you hire Northwest, your total, out-the-door cost is $323, including state filing fees and a year of registered agent service.
How much does an LLC in Indiana cost each year?
Indiana LLCs file a Business Entity Report every other year and pay a filing fee of $50 ($32 if they file online).
What is an Indiana LLC Business Entity Report?
Your Indiana Business Entity Report is how the state keeps tabs on you. You file this report every two years to update your ownership and contact information. That's just infrequently enough for many businesses to forget to file. You won't get a late fee—but the state can dissolve your LLC if you're more than 120 days late. Worried you'll forget? When you hire Northwest, we include report reminders. You can even hire us to file your reports for you.
What are the Indiana LLC taxes?
Indiana's personal net income tax has a flat rate of 3.3%. Sales tax is also a flat 7% (one of the few states where cities and counties don't tack on local sales tax as well).
IS AN INDIANA LLC REGISTERED AGENT REQUIRED?
Yep—Indiana LLCs have to have an Indiana registered agent. You can either choose a noncommercial or commercial registered agent. So what's the difference?
A noncommercial registered agent can be pretty much anyone, as long as they're an adult resident of Indiana. You could even appoint yourself. You'd have to include the address where you'd be available, and then actually be available during business hours—a requirement that can be pretty restrictive when not all business takes place in the office. The state of Indiana also collect emails in a move towards electronic service of process. What this means for you is that you'll need to provide an email address in your Articles of Organization as well. Your Articles are part of the permanent public record, so in addition to the junk in your mailbox, you'll get spam in your inbox.
How can you avoid all this? With a commercial registered agent (like Northwest). Commercial registered agents are businesses on record with the Indiana Secretary of State as providing registered agent service. With a commercial registered agent, you list the agent's information—not yours. And, best of all, you're not stuck in the office waiting for service of process.
DO I NEED A TAX ID NUMBER (FEIN) FOR AN INDIANA LLC?
Most likely. You're required to have a federal tax ID if you're hiring employees or filing federal excise taxes like Alcohol/Tobacco/Firearms returns. Your bank will almost certainly ask for your FEIN when you go to open a business account. You can get a FEIN for free by filling out an application with the IRS (or, hire Northwest to apply on your behalf). Even if you don't need a FEIN right away, it's good to have one ready. You may need one in situations you don't anticipate, like when you're establishing credit with a vendor or filling out local tax forms.
DOES AN INDIANA LLC NEED A BUSINESS LICENSE?
Possibly—while Indiana doesn't have a state-level business license, some cities and counties require licenses of their own. The City of Gary, for example, requires a $150 general business license while Indianapolis only licenses specific business activities.
INDIANA LLC VERSUS INDIANA CORPORATION:
Costs are pretty much the same for starting and maintaining either an LLC or a corporation in Indiana. It's $100 to form either business type ($98 online). Biennial reports for both are $50 ($32 online). Both business types can make different tax elections as well. LLCs and corporations can both be taxed as S corporations, for example. Regarding costs, there's not a significant difference.
Unless you need a corporation (maybe you have plans for stock options or want to become a publicly-traded corporation), it's often easier to operate an LLC. LLCs don't have all the requirements for annual meetings, directors or officers. LLCs can manage themselves, so it's often faster and simpler to make changes and decisions. Think you may need a corporation instead? Here's information on Indiana incorporation.
DOES AN INDIANA LLC NEED AN OPERATING AGREEMENT?
Does the Indiana Secretary of State want to see your operating agreement? No. Will banks, investors, members, and partners want to see your operating agreement? Absolutely. Operating agreements may not be required by law, but they're par for the course in the business world. Your operating agreement spells out how your business functions: how much each member invested, how profits and losses will be allocated, when distributions will be made, and what happens if the business goes belly up.
From tornadoes to Wildcat wins, Hoosiers know better than anyone that the unexpected can pop up any time to ruin your day. Whether it's a stocked food pantry or a beer to drown your sorrows, it's always good to be prepared for disaster. An operating is the most important internal document of your LLC precisely because it prepares you for the best and the worst. Whether you're adding new members or settling a membership dispute, you'll want to have your operating agreement. That's why Northwest gives you a free operating agreement when you sign up with us. We give these away for free because our goal is to give you everything you'll need to show anyone you'll do business with. We also give out free resolutions, free membership certificates, and more. We're proud of our forms at Northwest. We were the first website to hand out free LLC forms, and we've spent years refining them to make them better and better. Over a million LLCs have used our free LLC forms to help form their businesses.
INDIANA LLC ARTICLES OF ORGANIZATION REQUIREMENTS:
Company Name:

You must include "Limited Liability Company" or an abbreviation like "LLC."

Principal Office:

Your principal office must be a street address (no PO Boxes).

When you hire Northwest, you can use our address here and avoid having to remember and update multiple addresses in the future.

Registered Agent:

You can list either an individual

person

or

a

commercial registered agent like Northwest.

Registered Agent Address:

The Secretary of State already has our address because we're a commercial registered agent, so if you hire us, you can skip this section. Have a noncommercial registered agent? You must include a street address in Indiana (again, no PO Boxes).

Registered Agent Email:

You'll also need to list an email if you choose a noncommercial registered agent. Choose Northwest and skip this part too.

Duration:

Most LLCs are perpetual, meaning they continue to exist unless they're dissolved. Want a self-destruct timer on your business? List the date you want your LLC to end.

LLC Management:

If your LLC is managed by managers, you'll tick "yes"

in this section

. If your LLC is managed by its members, tick "no." Most LLCs are managed by members, but if you don't plan to run the day-to-day operations, you can appoint or hire a manager and be "manager-managed."

Indiana LLC Organizer:

This is the person who completes and signs your Articles of Organization. The organizer doesn't need to be a member or manager. When you hire Northwest, we'll be your organizer.
Our 1-Day Indiana LLC Formation Service Includes:
Same Day Filing of Indiana Articles of Organization
Listing our Indiana address instead of your home or office becoming permanent public records
Indiana LLC Filing Fees
Organizer Initial Resolutions
Indiana LLC Operating Agreement
Indiana LLC Banking Resolution
Indiana LLC Membership Certificates
Indiana Registered Agent Services
Biennial Compliance Reminders
Online Account with instant tools to help you start and run your business