Corporation Articles of Amendment
An amendment to your corporation's Articles of Incorporation is filed when you need to update, add to, or otherwise change the original content of your articles. Amendments are important corporate filings as they are required to modify essential corporate information, such as changes to stock information. We offer a fill-in-the-blank template for an Amendment to Articles of Incorporation that's free for individual use.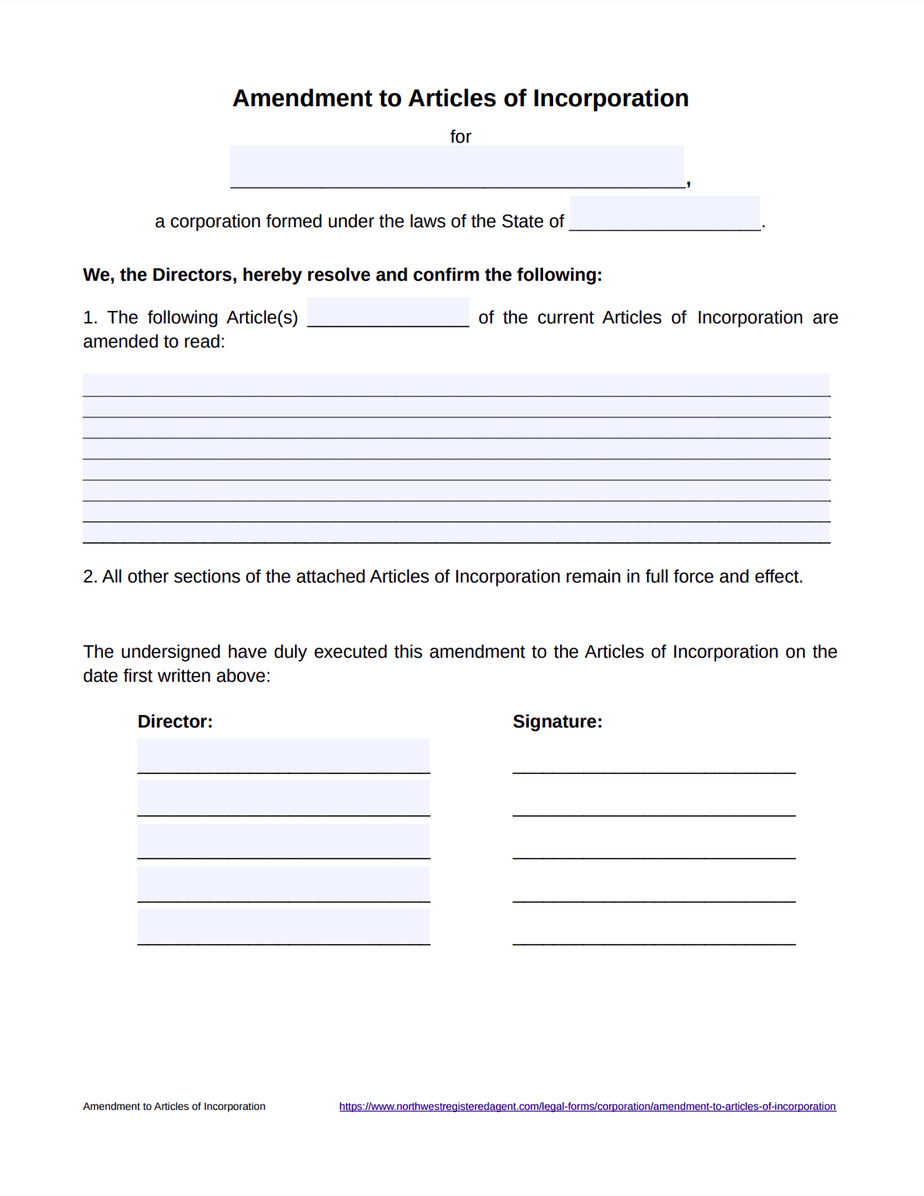 Amend Corporate Articles of Incorporation – Free Template
Please take advantage of our FREE Corporate Articles of Amendment template. This form is filed with the governing agency for corporations in your state and will require the state's filing fee. Like all our forms, this template is for individual use.
For your state's fees and requirements, check out our page on How to File Articles of Amendment.
How do I update my corporate record with the state?
If there's a change or addition to any of the information in your Articles of Incorporation, you'll need to update your record with the state. Depending on your state, the change may not require an amendment. Many states offer a variety of filing options that result in a change to a corporation's record, such as:
Filing Articles of Amendment
Restating your Articles of Incorporation
Making the change when you file your annual report
The laws of your particular state—and the specific change you're making—will determine whether or not an amendment is required.
When should I amend Articles of Incorporation?
Not every change to your corporation's information will require an amendment. Typically, you'll need to file an amendment if you're changing your corporation's duration, purpose, stock information, or name. This is far from uniform across states, however. In Oregon, for instance, a corporate name change requires restated articles instead.
For other articles content—such as registered agent, principal address, or officer/director information—state requirements vary widely. For example, you can change your statutory agent in Arizona with an amendment (or on the annual report or on the state's Statement of Change form). But in Alaska, you can't change your agent with an amendment. Instead, you have to use the state-specific form for that change.
Sometimes, a state's different filing options can work to your advantage. For instance, if you're making lots of changes, you may be able to file a single amendment instead of 5 different forms. Or, if you're filing a single, simple change, you can avoid forking over multiple amendment fees.
What should Articles of Incorporation amendments include?
Corporation amendments don't need to be complicated. Our corporate Articles of Incorporation template includes the following key information:
Corporation name and state
Date of amendment
Article number being amended
Statement that the article cited is being amended
The actual amendment
Statement that other sections of the articles remain in full force and effect
Director names and signatures