Delaware Benefit Corporation Certificate Of Incorporation
A public benefit corporation is a variation on the standard corporation that allows its operators to consider a public benefit, in addition to shareholder profits. This is why your Delaware public benefit corporation certificate of incorporation must include a statement of the public benefit to be pursued.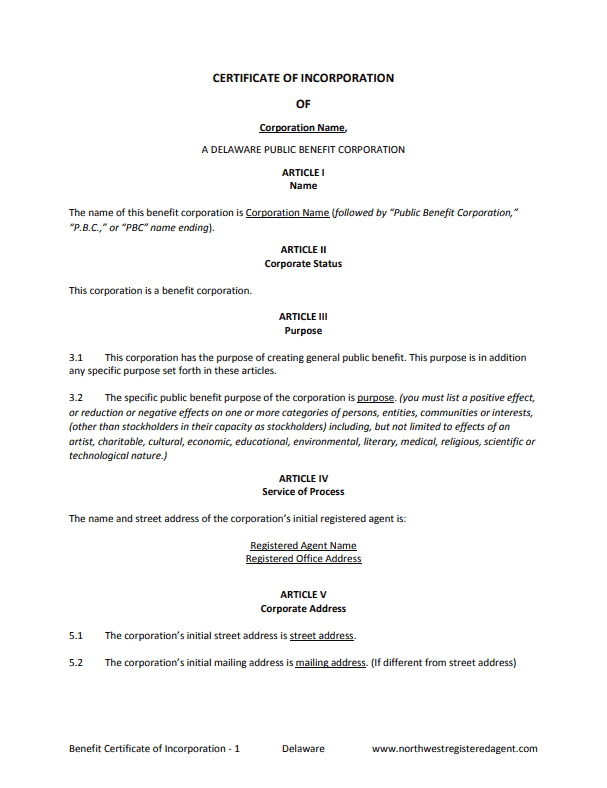 Filing for a Delaware Public Benefit Corporation
A Certificate of Incorporation must be filed with the Delaware Corporation Division to form a public benefit corporation. This certificate is very similar to a standard for-profit corporation, with some additional language that is included to create the benefit corporation. We provide free Delaware Certificate of Incorporation above in a PDF form format. Please feel free to use our Benefit Corporation Articles of Incorporation template, but please do not take this benefit corporation form as a replacement for competent legal counsel on your specific needs.
There are minimum state requirements that need to be listed on the benefit corporation articles in order for the state to accept them. Delaware has their own pre-made benefit corporation articles available to form your benefit corporation.
We have drafted custom Benefit Corporation Articles of Incorporation for states that allow Benefit Corporations. We also have a general articles of incorporation template for standard for-profit corporations.
In addition, if you hire Northwest as your registered agent, all the Delaware corporation forms are on the thank you page after you sign up.
Our drafted Articles of Incorporation include:
Certificate of incorporation
Adoption of the benefit corporation articles
Name of the benefit corporation
Statement of benefit corporation status
Principal and mailing address of the benefit corporation
Amount of stock the benefit corporation is authorized to issue
Registered agent and registered office address of the benefit corporation
The purpose of the benefit corporation
The benefit corporation incorporator(s)
Contact information
Most firms that provide legal forms charge hundreds if not thousands of dollars for the corporate documents that we provide free every day. Please feel free to use our free Delaware Public Benefit Corporation Certificate of Incorporation template.
If you are starting a public benefit corporation in Delaware, you are going to need a reliable Delaware registered agent service and we would love to have your business.