Free Template For a NY Nonprofit Certificate Of Incorporation
The State of New York is one of the few states that use the term "certificate of incorporation" instead of "articles of incorporation" for its corporation formation documents. New York State does not provide a nonprofit template that makes any sense or that is written in English, so please feel free to use our free template for New York Articles of Incorporation Template with 501C3 Language.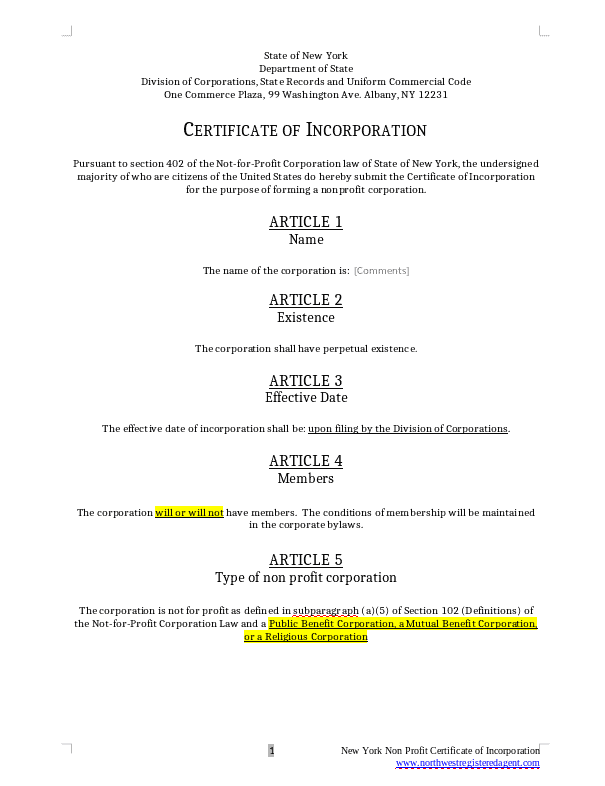 Our New York Nonprofit Articles of Incorporation Template
You'll notice our template has the required IRS language to become a tax exempt NY nonprofit, and it also deciphers the New York State code lingo into a usable template you can file with the state to incorporate your New York nonprofit. Some of the articles require a decision by the incorporator. The allowed choices are all there; just delete the ones that don't relate to your non profit.
Please make sure to take a good look at the type of NY nonprofit you wish to form. Typically, charitable non profits are type B.
Check out our NY Agency Consent pages too. Most non profit charities in New York State will require a written approval from another agency attached to the certificate of incorporation.
Note: 
Due to the bureaucracy and complicated nature of forming a nonprofit corporation in the state of New York, Northwest does not offer incorporation services for NY nonprofits. We do, however, provide helpful information to help you form a NY nonprofit yourself, and we are happy to provide trustworthy, gimmick-free registered agent service for your non-profit.