Kansas LLC Operating Agreement
Your operating agreement is the legal blueprint for your Kansas LLC. It is a binding contract between members, determining the rules and procedures your LLC will follow. Your operating agreement will govern the way your business handles important issues, including voting rights, membership interest, profits and losses, and dissolution, should that be necessary.
A Kansas operating agreement is an internal document, so it isn't filed with the state. Creating a customized operating agreement is an important step to take after you form a Kansas LLC, but it isn't easy. That's why Northwest provides a range of attorney-drafted, free Kansas operating agreement templates to help you get started.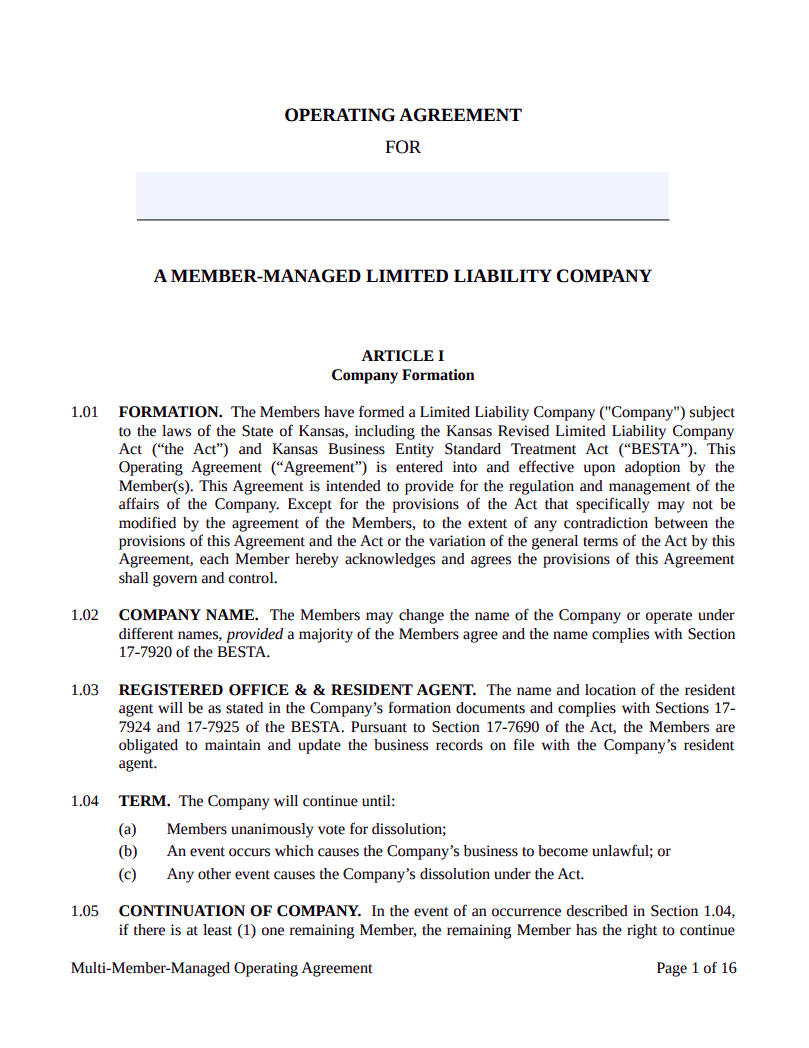 Why should a Kansas LLC have an operating agreement?
A Kansas LLC should have an operating agreement because a company cannot act for itself. In order to operate, LLCs require real humans (and other entities) to carry out company operations.
There is no Kansas state law requiring an operating agreement. However, Kansas Statute § 17-76,134 states that the law will give "maximum effect" to the "enforceability of operating agreements"—meaning that if you DO have an operating agreement, it can wield a lot of power. There are plenty of reasons why it's a good idea to have a written operating agreement. Here are a few of them:
1. Your operating agreement proves you own your LLC.
LLC members aren't required to put their own names or addresses on the Kansas Articles of Organization. This is great for privacy protection but can make it difficult to prove who owns the LLC, which you'll need to do to open a business bank account. An operating agreement lists all members' names and addresses, so you can show it to a bank to prove ownership.
2. An operating agreement can help reinforce your limited liability status.
To maintain limited liability status, an LLC must be able to prove that it's legally separate from its owners. One way to show this is by having your LLC's rules and protocols formalized in your operating agreement. If you're ever faced with a lawsuit, the strength of your operating agreement could make all the difference in your case.
3. An operating agreement can help prevent unnecessary conflict.
When two or more people go into business together, they're not going to agree on everything. By deciding on paper how you're going to handle major situations, you can head off a lot of misunderstandings down the road.
4. An operating agreement can override Kansas's default laws.
In the absence of an operating agreement, your LLC will be subject to Kansas's default LLC laws. These laws might not perfectly suit your business. That's why it benefits you to have an operating agreement that is customized to your LLC's needs.
Kansas Case Law
We asked our lawyers for an example of how an operating agreement can make or break your LLC. Here's what they said.*
"Consider the case of Investcorp v Simpson Investment Company, where a business disagreement among family members snowballed into full blown extensive and expensive litigation. This case is an excellent example of the importance that courts place on operating agreements when adjudicating intra-company disputes. While the underlying facts of the Investcorp dispute are lengthy and complex, this case also reveals the importance of fully thinking through the life cycle of an LLC, and planning accordingly.
"For these reasons (and more), a reasonably prudent business owner would (and should) adopt and maintain an operating agreement."
What is included in a Kansas LLC Operating Agreement?
Your operating agreement lays out the big-picture plan for your Kansas LLC. Technically, anything not prohibited by Kansas law can be included in your operating agreement. Make sure you include the following topics:
Transfer of membership interest
Voting rights and decision-making powers
Initial contributions
Profits, losses, and distributions
Management
Compensation
Bookkeeping procedures
Dissolution
FAQs
Is an operating agreement required in Kansas?
There is no Kansas law requiring an LLC to adopt an operating agreement. However, without an operating agreement, your LLC will be governed by the Kansas Revised Limited Liability Company Act. You'll also need an operating agreement to open a bank account and, in the case of a lawsuit, defend your limited liability status.
Do I have to file my operating agreement in Kansas?
No, the operating agreement is an internal document that doesn't need to be filed with the Kansas Secretary of State. You should keep your operating agreement on file at your place of business.
Does a single-member LLC need an operating agreement?
Absolutely! While it might seem odd to sign a contract with yourself, an operating agreement is still important for a single-member LLC. The most important reason being that if your LLC is ever sued, having a written operating agreement helps show that your LLC is a separate legal entity with limited liability status.
*This is informational commentary, not advice. This information is intended strictly for informational purposes and does not constitute legal advice or a substitute for legal counsel. This information is not intended to create, nor does your receipt, viewing, or use of it constitute, an attorney-client relationship. More information is available in our Terms of Service.