Oklahoma LLC Operating Agreement
Your operating agreement is a legally binding contract between your members that governs how your Oklahoma LLC will function internally. A strong operating agreement will cover all the major situations your LLC is likely to face, including voting, transferring membership interest, and dissolving the business, if necessary.
An Oklahoma operating agreement is an internal document, so you don't need to file it with the Secretary of State. But creating a strong operating agreement is an essential step for every Oklahoma LLC, and Northwest can help. We provide free Oklahoma-specific operating agreement templates that have been drafted by an attorney and are customized for a range of LLC types.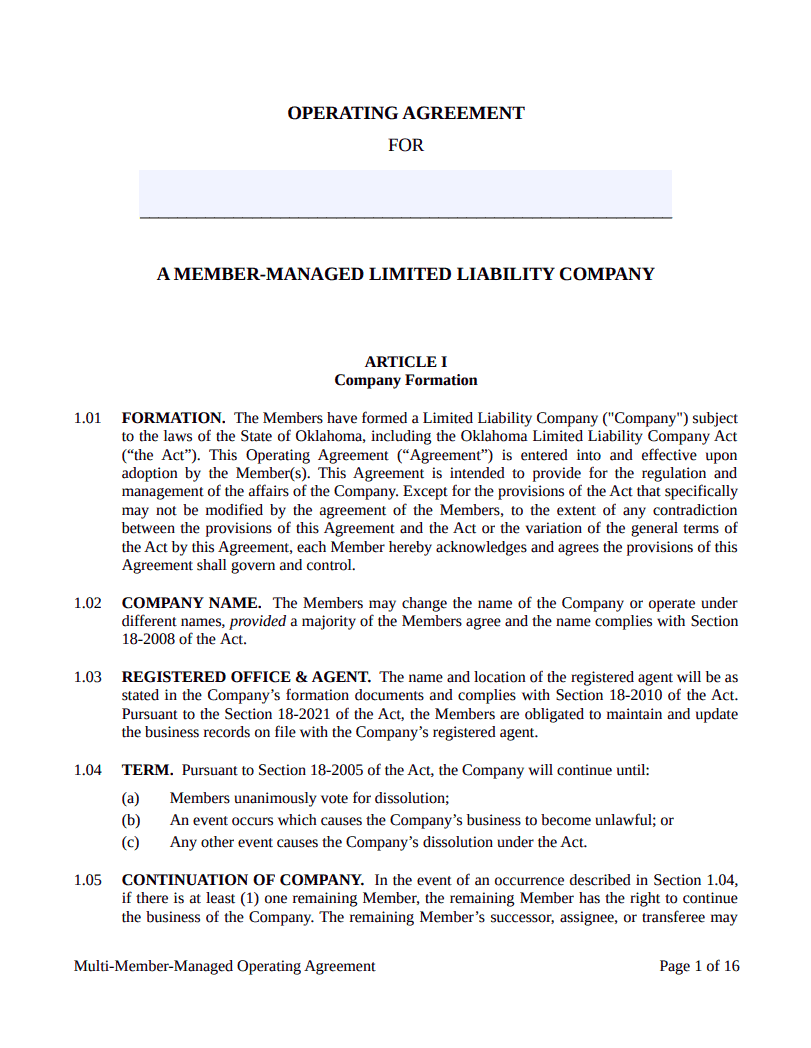 Why should an Oklahoma LLC have an operating agreement?
An Oklahoma LLC should have an operating agreement because a company cannot act for itself. In order to operate, LLCs require real humans (and other entities) to carry out company operations.
There is no Oklahoma law requiring LLCs to adopt a written operating agreement. According to 18 OK Stat § 18-2001.16 (2019) an operating agreement can be any agreement between LLC members, whether oral, written, or implied. But even though it's not required by law, crafting a written operating agreement now can spare you headaches in the long run. Here's why.
1. Your operating agreement proves you own your LLC.
Oklahoma law helps you protect your privacy by not requiring you to list members' names on the Articles of Organization. But in situations where you need to prove you own the LLC—like when opening a business bank account—you'll need a legal document with all your members' names on it. The operating agreement will list all your members' names and addresses, so you can show it to a bank or potential investor to prove ownership.
2. An operating agreement can help reinforce your limited liability status.
To reap the benefits of limited liability status, an LLC must be able to prove that it is a separate legal entity from its owners. Your operating agreement helps you show that your LLC is a distinct entity with its own rules and procedures. If you ever face a lawsuit, your operating agreement will be one of the best tools at your disposal.
3. An operating agreement can help you head off conflict.
Sometimes your members just won't be on the same page. But because your operating agreement outlines the rules for your LLC, you can use it to resolve disputes and avoid stalemates.
4. An operating agreement can override Oklahoma's default laws.
Any rule that isn't established in your operating agreement will be governed by Oklahoma's default statutes for LLCs. These statutes might be the wrong fit for your business. Having a custom operating agreement helps you create your own rules for your LLC.
Oklahoma Case Law
We asked our lawyers for an example of how an operating agreement can make or break your LLC. Here's what they said.*
"Consider the case of Colclasure v Colclasure, where the members (a married couple) did actually adopt an operating agreement. However, they each failed to follow the operating agreement before seeking intervention from the courts. This judicial intervention was unnecessary since the operating agreement of the members' LLC actually covered the precise situation that the members brought before the courts. To quote the Supreme Court of Oklahoma in this case, '[h]ad the parties followed their own agreement, this matter could have been settled by the parties without the need to involve the trial court in the valuation process.'
"The Colclasure case presents an excellent example of how it is important to not only adopt a formal operating agreement, but also the importance of actually knowing and understanding the contents of the operating agreement. After all, it is the contents of the operating agreement, not its mere presence, which spells out and outlines the various rights, duties, and restrictions of the members. For these reasons (and more), a reasonably prudent business owner would (and should) adopt, maintain, and actually understand an operating agreement."
What is included in a Oklahoma LLC Operating Agreement?
Your operating agreement is the legal blueprint for how your LLC functions internally. You may include anything in your operating agreement that doesn't run counter to Oklahoma state law, but no matter what you should include the following topics:
Membership interest
Voting rights and decision-making powers
Initial contributions
Profits, losses, and distributions
Management
Compensation
Bookkeeping procedures
Dissolution
FAQs
Is an operating agreement required in Oklahoma?
There is no state law in Oklahoma requiring an operating agreement for LLCs. However, without a written operating agreement, you will have difficulty opening a company bank account, and you might run into trouble if your LLC ever faces a lawsuit.
Do I have to file my operating agreement in Oklahoma?
No, you don't need to file your operating agreement with the Oklahoma Secretary of State. It's an internal document you should keep on file at your business location.
Does a single-member LLC need an operating agreement?
Yes. While you might feel odd signing a legal agreement with yourself, you'll need an operating agreement to open a business bank account. More importantly, if you're ever sued, your operating agreement could help you preserve your limited liability status. A single-member LLC without an operating agreement risks looking perilously similar to a sole proprietorship—a business type without limited liability protection.
*This is informational commentary, not advice. This information is intended strictly for informational purposes and does not constitute legal advice or a substitute for legal counsel. This information is not intended to create, nor does your receipt, viewing, or use of it constitute, an attorney-client relationship. More information is available in our Terms of Service.