Puerto Rico LLC Operating Agreement
A Puerto Rico operating agreement is a legal document that that formalizes the rules and procedures for an LLC. Your operating agreement serves as a legally binding contract between your members, establishing important processes for your LLC, including voting, allocation of profits and losses, transfer of membership interest, and dissolution.
Unlike the Puerto Rico Certificate of Formation, an operating agreement is an internal document, which means you don't need to file it with the Puerto Rico Department of State. However, having a strong operating agreement is extremely important for Puerto Rico LLCs, and we at Northwest want to help you get started. That's why Northwest offers a range of free, attorney-drafted Puerto Rico operating agreement templates.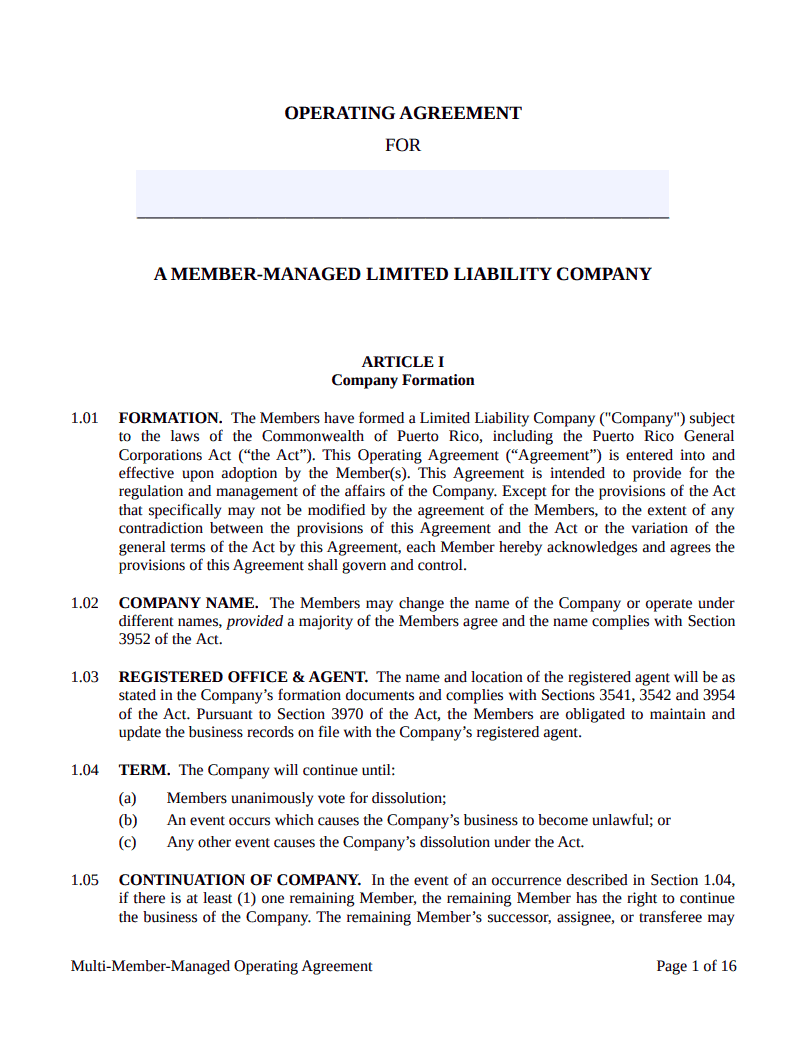 Why should a Puerto Rico LLC have an operating agreement?
A Puerto Rico LLC should have an operating agreement because a company cannot act for itself. In order to operate, LLCs require real humans (and other entities) to carry out company operations.
Puerto Rico doesn't legally require LLCs to enter into an operating agreement. But even though it's not required, adopting an operating agreement is in your company's best interest. Here's why.
1. Your operating agreement proves you own your LLC.
In Puerto Rico, you can choose to protect your privacy by not listing members' names on the Certificate of Formation. The only problem is that when you need to prove you own your business, like to open a business bank account or convince someone to invest in your LLC, you won't be able to prove ownership with the Certificate of Formation alone. That's when it helps to have an operating agreement, which lists information for all of your members.
2. An operating agreement can help reinforce your limited liability status.
In order to maintain limited liability, an LLC must demonstrate that it is legally separate from its members. One action that helps you do this is adhering to a written operating agreement that documents your LLC's rules and structure. If your LLC is ever sued, an operating agreement could be the pivotal weapon in your defense.
3. An operating agreement can settle disputes between members.
Every once in a while, your LLC members may disagree on an important issue. When this happens it helps to consult your operating agreement, which plans for a range of major situations.
4. An operating agreement can override Puerto Rico's default laws.
If you don't have an operating agreement, your LLC will be governed by Puerto Rico's default LLC statutes. These statutes might be different from the rules you want for your LLC. With a customized operating agreement, you can create rules that make sense for your LLC structure.
Puerto Rico Case Law
We asked our lawyers for an example of how an operating agreement can make or break your LLC. Here's what they said.*
"Consider the case of Begley v Fullana-Morales, where the LLC did have an operating agreement, however the disputing members seemingly failed to actually recognize the dispute resolution process spelled out in the operating agreement. As a result, when one member attempted to seek judicial intervention into the LLC internal affairs, the court easily sided with the other members who sought dismissal of the legal action. The members seeking dismissal pointed out that the operating agreement of the LLC explicitly spelled out a process for resolving disputes which included mediation and arbitration prior to bringing an action to the courts. Looking to the clear and unambiguous language of the operating agreement, the courts promptly dismissed the action and ordered the members to resolve their disputes pursuant to the process(es) outlined in their LLC operating agreement.
"Had the members taken the time to plan ahead, discuss potential pain points, and distill their collective understanding into a written operating agreement, and periodically reviewed that operating agreement for continued clarity and understanding, then this dispute could have been resolved internally (if not avoided completely), and valuable resources could have been preserved for other more fulfilling commercial purposes."
What is included in a Puerto Rico Operating Agreement?
You can think of your operating agreement as the legal blueprint for your LLC. You're free to cover almost any topic in your operating agreement that doesn't run counter to Puerto Rico law, but don't forget to include these key subjects:
Membership interest
Voting rights and decision-making powers
Initial contributions
Profits, losses, and distributions
Management
Compensation
Bookkeeping procedures
Dissolution
FAQs
Is an operating agreement required in Puerto Rico?
No. PR Laws tit. 14, § 3951 defines the powers of an operating agreement, but Puerto Rico does not legally require your LLC to have one. However, an operating agreement is an extremely useful document that you'll most likely need to open a company bank account. And if you're ever up against a lawsuit, your operating agreement could help you maintain your limited liability status.
Do I have to file my operating agreement in Puerto Rico?
Nope, you don't need to file your operating agreement with the Puerto Rico Department of State. Keep your operating agreement on record at your primary business location.
Does a single-member LLC need an operating agreement?
Yes! We realize it seems weird—why sign a contract with yourself? But single-member LLCs need an operating agreement to open a business bank account. Even more importantly, your operating agreement can help you maintain your limited liability status in court. Without an operating agreement, a single-member LLC could look dangerously similar to a sole proprietorship, and you could potentially lose your limited liability.
Is a Limited Liability Company Agreement the same thing as an operating agreement?
Yes. In Puerto Rico's statutes, the operating agreement is referred to as the Limited Liability Company Agreement, but these two terms refer to the same thing.
*This is informational commentary, not advice. This information is intended strictly for informational purposes and does not constitute legal advice or a substitute for legal counsel. This information is not intended to create, nor does your receipt, viewing, or use of it constitute, an attorney-client relationship. More information is available in our Terms of Service.