Rhode Island LLC Operating Agreement
Your operating agreement is the legal document determining the rules and structure of your Rhode Island LLC. Once signed, it is a legally binding contract for how your LLC will handle major procedures, including voting, transferring membership interest, allocating profits and losses, and dissolving the business.
Unlike the Rhode Island Articles of Organization, an operating agreement is an internal document that you don't need to file with Rhode Island's Division of Business Services. However, the operating agreement is one of your LLC's most important documents, and it's worth putting the effort into creating a strong one. Since we at Northwest realize this is easier said than done, we provide free, Rhode Island operating agreement templates that have been drafted by an attorney.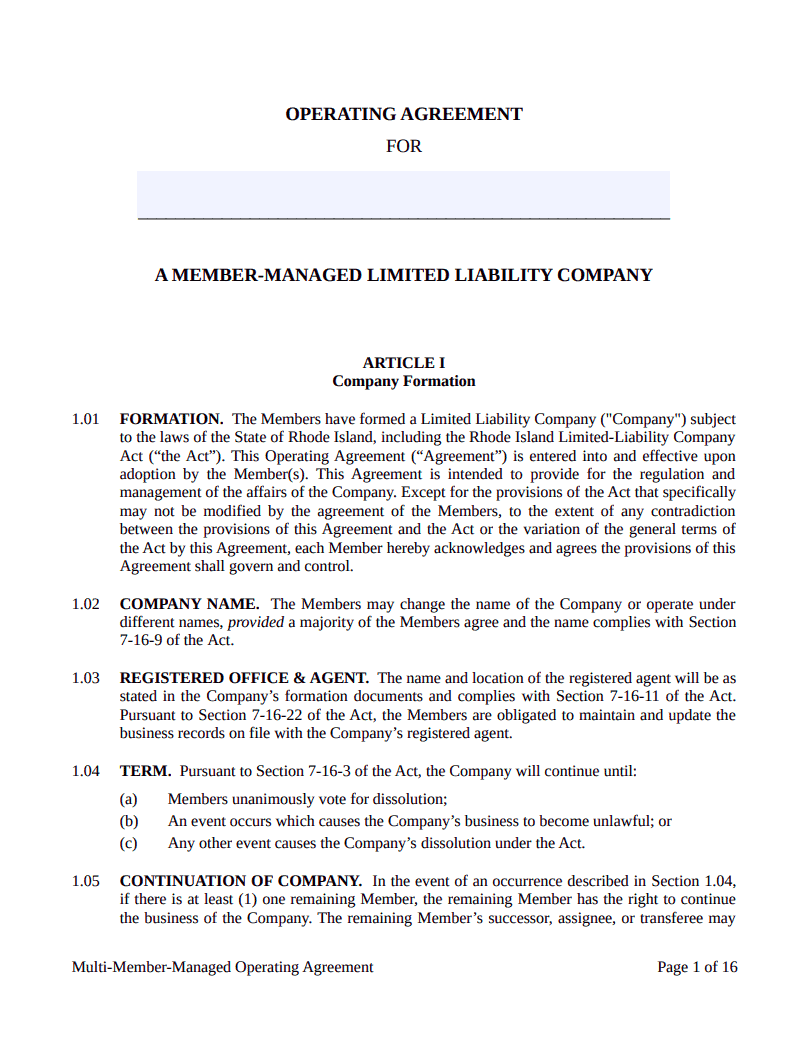 Why should a Rhode Island LLC have an operating agreement?
A Rhode Island LLC should have an operating agreement because a company cannot act for itself. In order to operate, LLCs require real humans (and other entities) to carry out company operations.
Rhode Island state law doesn't require LLCs to have a written operating agreement. According to RI Gen L § 7-16-2 (2019), an operating agreement can be "written or oral." Even so, we can't overstate the benefits of having a strong operating agreement. Here are a few reasons why:
1. Your operating agreement proves you own your LLC.
Rhode Island does not require you to list members' names on the Articles of Organization. This can make it tricky to prove who owns your LLC, which is required for opening a company bank account. This is when it helps to have a written operating agreement, which will list all your members' names and addresses and can be shown to a bank, landlord, or potential investor to prove ownership.
2. An operating agreement can help reinforce your limited liability status.
In order to reap the benefits of limited liability status, an LLC must be able to prove that it is legally separate from its owners. One way to demonstrate this legal separation is to define your LLC's rules and protocols in your operating agreement, which shows that the LLC is a distinct legal entity that adheres to a set of rules. If your business is ever sued, an operating agreement will be one of the strongest tools at your disposal.
3. An operating agreement can help prevent misunderstandings.
Miscommunication is a common pitfall for businesses run by multiple people. That's why it helps to get your original agreements down in writing, where you can refer back to them at times when you can't agree on what to do next.
4. An operating agreement can override Rhode Island's default laws.
Unless you have an operating agreement, your LLC will be subject to Rhode Island's default statutes for LLCs. These statutes might not be great for your business. Having a custom operating agreement will give you more control over how you run your LLC.
Rhode Island Case Law
We asked our lawyers for an example of how an operating agreement can make or break your LLC. Here's what they said.*
"Consider the case of Page v ADS Investments, LLC, where the members failed to adopt an operating agreement or other writing that reflected the understanding among the members, particularly the specific amount of membership owned by each member. The members entirely relied upon another member (a lawyer) to handle all the 'legal issues' related to the LLC. The courts pointed out, however, that the lawyer-member's failure to draft and circulate an operating agreement among the members, coupled with the fact that the statutes omitted a provision for judicial expulsion of LLC members, resulted in the LLC and its members being without a remedy for removing a member.
"Had the members taken the time to think ahead, discuss potential friction points, and distill their understanding into writing, then such valuable resources could have been preserved and devoted to other more fulfilling purposes. For these reasons (and more), a reasonably prudent business owner would (and should) adopt and maintain an operating agreement."
What is included in a Rhode Island Operating Agreement?
Your operating agreement is the road map for how your LLC will navigate important situations. You are free to include almost anything in your operating agreement, as long as it doesn't contradict Rhode Island state law, but you should make sure you include the following topics:
• Transfer of membership interest
• Voting rights and decision-making powers
• Initial contributions
• Profits, losses, and distributions
• Management
• Compensation
• Bookkeeping procedures
• Dissolution
FAQs
Is an operating agreement required in Rhode Island?
Rhode Island doesn't require a written operating agreement. However, if you don't have an operating agreement, your LLC will be governed by The Rhode Island Limited-Liability Company Act. An operating agreement also allows you to open a business bank account, and—if you're ever sued—it can help you maintain your limited liability status.
Do I have to file my operating agreement in Rhode Island?
Nope, Rhode Island doesn't require you to file your operating agreement. However, RI Gen L § 7-16-22 (2019) does require you to keep any operating agreement you have on file at your business office.
Does a single-member LLC need an operating agreement?
Absolutely! While you might find it strange to sign an agreement with yourself, a written operating agreement is essential for a single-member LLC. First off, you'll probably need an operating agreement to open a business bank account. More importantly, your operating agreement helps you demonstrate that your business has limited liability status, unlike a sole proprietorship. If you ever face a lawsuit, your operating agreement will help you demonstrate to a court that your LLC is legally separate from you.
*This is informational commentary, not advice. This information is intended strictly for informational purposes and does not constitute legal advice or a substitute for legal counsel. This information is not intended to create, nor does your receipt, viewing, or use of it constitute, an attorney-client relationship. More information is available in our Terms of Service.