South Carolina LLC Operating Agreement
Your South Carolina operating agreement is the legal document establishing the policies and organizational structure of your LLC. Your operating agreement is legally binding and determines how your LLC will handle important processes, including voting, transferring membership interest, allocating profits and losses, and dissolving the business (if that ever becomes necessary).
Unlike the South Carolina Articles of Organization, the operating agreement is an internal document—you don't need to file it with the Secretary of State—but having a strong operating agreement is essential. Creating an operating agreement can be challenging, which is why Northwest provides free, attorney-drafted operating agreement templates, specifically for South Carolina LLCs, which fit a range of ownership and management structures.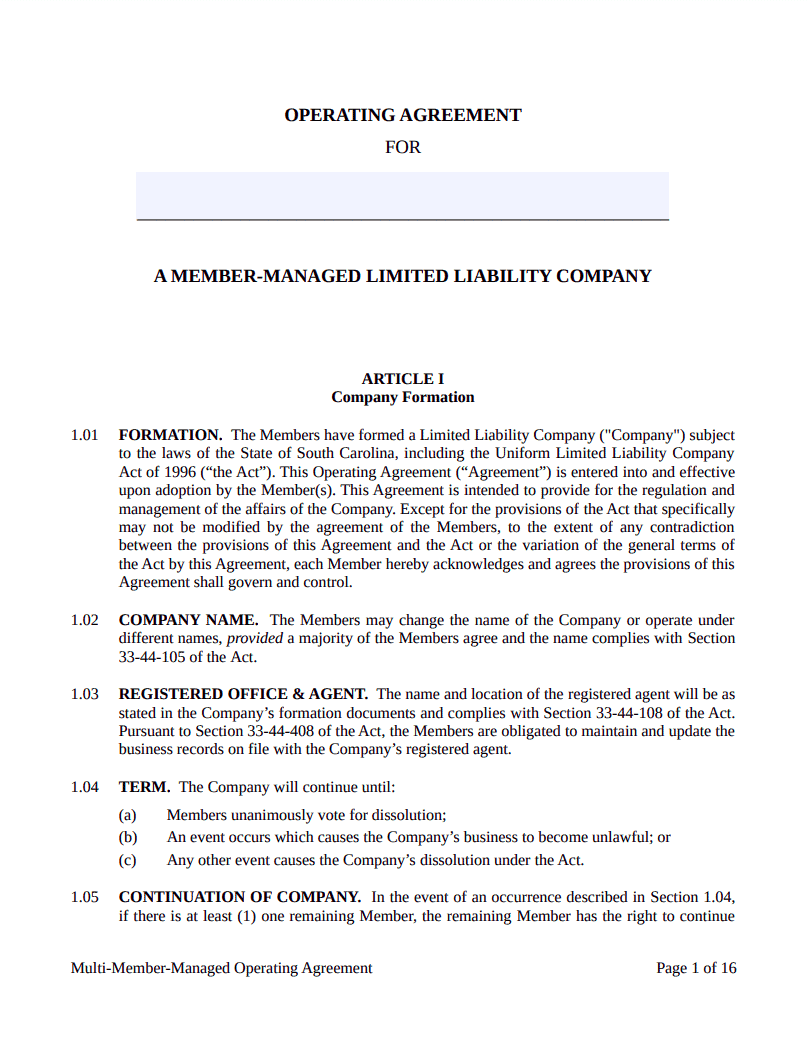 Why should a South Carolina LLC have an operating agreement?
A South Carolina LLC should have an operating agreement because a company cannot act for itself. In order to operate, LLCs require real humans (and other entities) to carry out company operations.
South Carolina state law says that LLCs may enter into an operating agreement—per SC Code § 33-44-112 (2019)—but doesn't require them to do so. However, a strong written operating agreement will work in your company's favor in many different circumstances. Here are a few of them:
1. Your operating agreement proves you own your LLC.
In South Carolina, businesses can choose not to list the names of LLC members on the Articles of Organization. This will help you protect your privacy, but it can make it difficult to prove who actually owns your LLC—something you will probably have to do in order to open a business bank account. That's when it's helpful to have a written operating agreement, which lists the names and addresses of all LLC members.
2. An operating agreement can help reinforce your limited liability status.
To benefit from limited liability protection, all LLCs must be able to prove they are separate legal entities from their members. This requires LLCs to follow certain formalities, including keeping business and personal spending separate. Another way to demonstrate that your LLC is a distinct entity is by following the rules and procedures documented in your operating agreement.
3. An operating agreement can help keep your LLC from getting bogged down by conflict.
Conflict is an inevitable part of doing business with other people, but you don't want a minor disagreement to turn into a messy legal battle. That's why it helps to get your initial verbal agreements down in writing, where you can refer back to them when disputes arise.
4. An operating agreement can override South Carolina's default laws.
Anything you do not cover in your operating agreement will be automatically governed by South Carolina's default LLC laws. These laws might not work well for the way you want to structure your business. If you have a thorough operating agreement, you can override default statutes and run your LLC on your own terms.
South Carolina Case Law
We asked our lawyers for an example of how an operating agreement can make or break your LLC. Here's what they said.*
"Consider the case of Wilson v Gandis, where a dispute among the members resulted in extensive and expensive litigation due in large part to the failure of the members to adopt and maintain an operating agreement. When disagreements among the members emerged following cash flow problems with the LLC, the members' failure to adopt and maintain an operating agreement or other writing that proved the membership interest of the members opened the door for some members to gang up on and kick out another member, then attempt to 'recreate history' with claims that the other member was actually an 'employee' and not a member.
"Had the members taken the time to plan ahead, discuss said plans, then distill said agreed-upon plans into writing, no member could reasonably argue something to the contrary, such as another member being an employee and not a member. For these reasons (and more), a reasonably prudent business owner would (and should) adopt and maintain an operating agreement."
What is included in a South Carolina Operating Agreement?
Your operating agreement provides the road map for how your South Carolina LLC will navigate major situations. While you're allowed to cover anything in your operating agreement not prohibited by state law, there are certain topics every strong operating agreement will include:
Transfer of membership interest
Voting rights and decision-making powers
Initial contributions
Profits, losses, and distributions
Management
Compensation
Bookkeeping procedures
Dissolution
FAQs
Is an operating agreement required in South Carolina?
South Carolina state law doesn't require LLCs to adopt an operating agreement. SC Code § 33-44-112 (2019) states that LLCs may adopt an operating agreement, not that they must. That being said, a strong operating agreement is essential for resolving disputes, opening a bank account, and maintaining limited liability status.
Do I have to file my operating agreement in South Carolina?
No, South Carolina law doesn't require you to file your operating agreement with the state. The operating agreement is an internal document you should keep on file at your business location.
Does a single-member LLC need an operating agreement?
Yes! While a single-member LLC won't need to worry about resolving disputes between members, adopting a written operating agreement is still necessary for opening a business bank account and helping you protect your limited liability status. A single-member LLC without an operating agreement could look dangerously similar to a sole proprietorship—a business type that doesn't have limited liability—and this could potentially lead to you being held personally liable in the case of a lawsuit.
*This is informational commentary, not advice. This information is intended strictly for informational purposes and does not constitute legal advice or a substitute for legal counsel. This information is not intended to create, nor does your receipt, viewing, or use of it constitute, an attorney-client relationship. More information is available in our Terms of Service.