Washington State LLC Operating Agreement
Your operating agreement is the legal blueprint for your Washington State LLC. It determines the rules and structure under which your LLC will operate. The operating agreement, when signed by all members, is a legally binding contract outlining your LLC's policies on many important issues, including voting, transferring membership interest, distributing profits and losses, and dissolution.
Since an operating agreement is an internal document, you do not need to file it with the Washington Secretary of State. However, having a strong operating agreement is essential to give your LLC strong footing. That's why Northwest provides a range of free, attorney-drafted operating agreement templates to help you get started.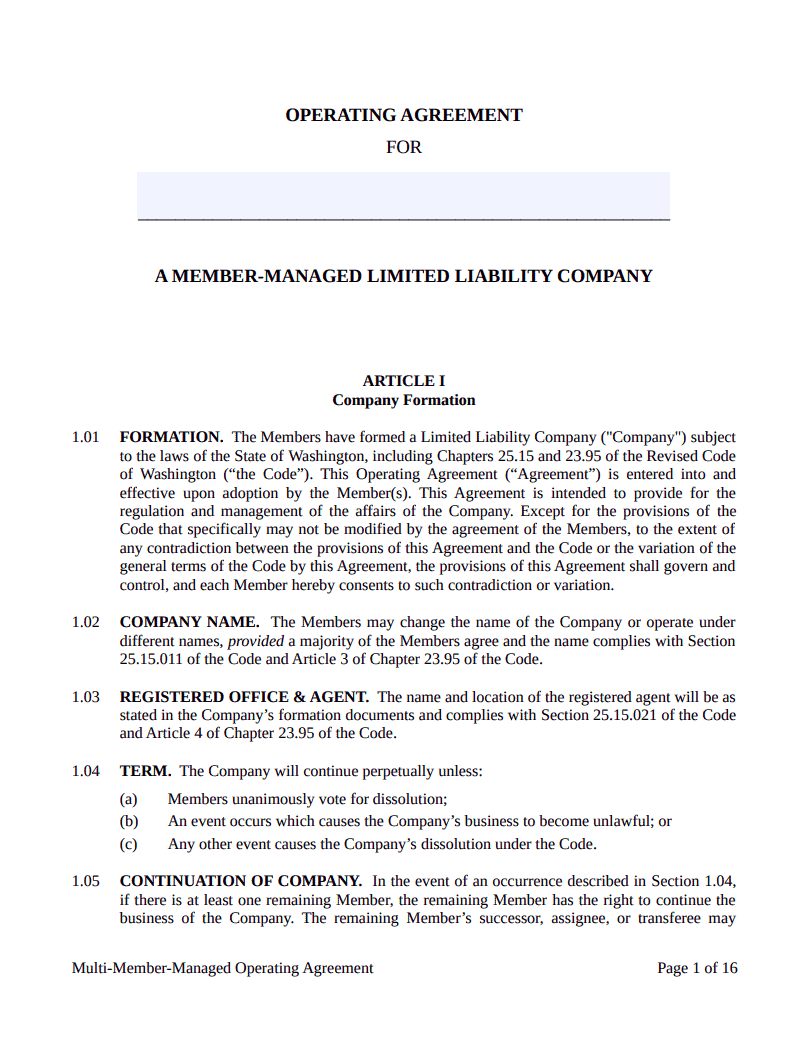 Why should a Washington State LLC have an operating agreement?
A Washington State LLC should have an operating agreement because a company cannot act for itself. In order to operate, LLCs require real humans (and other entities) to carry out company operations.
Washington State doesn't require you to have a written operating agreement for your LLC. According to WA Rev Code § 25.15.006 (2020), the operating agreement may be verbal or implied. However, having a written operating agreement on file is in your company's best interest. Here are the reasons why.
1. Your operating agreement proves you own your LLC.
Washington State doesn't require you to list all of your members' names on the Certificate of Formation, which is great for privacy but might make it tough to prove ownership of your LLC. The operating agreement lists all members' names and addresses, so you can use it when you need to show who owns the LLC (like when you open a company bank account).
2. An operating agreement can help reinforce your limited liability status.
In order to maintain limited liability, an LLC must be able to prove that it is a separate legal entity from its owners. Because your operating agreement defines the positions, rules, and processes of your LLC, it is one of your best weapons for helping to prove limited liability if your LLC ever faces a lawsuit.
3. An operating agreement can help resolve disputes between members.
Disagreements are bound to arise when sharing control of a business. The operating agreement is a great resource to consult when you run into conflict.
4. An operating agreement can override Washington State's default laws.
Without an operating agreement, your LLC will be governed by Washington State laws. These laws might not be the best fit for your LLC, so it's essential to adopt an operating agreement that's customized to meet your LLC's needs.
Washington State Case Law
We asked our lawyers for an example of how an operating agreement can make or break your LLC. Here's what they said.*
"Consider the case of Pac Organic Fruit, LLC, where a member filed for bankruptcy, yet insisted they had the right to continue on as a member of the LLC despite the operating agreement stating otherwise. In this case, the member filing for bankruptcy attempted to invalidate the provisions of the operating agreement via numerous legal gymnastics. Nevertheless, because the operating agreement explicitly stated that a member who files for bankruptcy also automatically dissociates from the LLC as a a member, coupled with LLC law granting members the discretion to contract and do business on their own terms, the courts easily found in favor of the LLC and against the member who filed for bankruptcy."
What is included in a Washington Operating Agreement?
The operating agreement is the guiding document for how your Washington State LLC will manage "big-picture" situations. Your operating agreement can technically include anything not prohibited by Washington State laws. Below are some topics your operating agreement should cover:
Transfer of membership interest
Voting rights and decision-making powers
Initial contributions
Profits, losses, and distributions
Management
Compensation
Bookkeeping procedures
Dissolution
A list of what is prohibited from Washington State operating agreements can be found in WA Rev Code § 25.15.018 (2020).
FAQs
Is an operating agreement required in Washington state?
Washington state doesn't legally require an LLC to adopt a written operating agreement. However, a written operating agreement is important for proving ownership and limited liability status. It can also help you resolve disputes.
Do I have to file my operating agreement in Washington state?
No, Washington state does not require you to file your operating agreement. The operating agreement is an internal document that your LLC should keep on file.
Does a single-member LLC need an operating agreement?
Yes. It might seem unnecessary to sign an agreement with yourself, but having a written operating agreement will allow your LLC to open a bank account and override default Washington LLC statutes. And—crucially for a single-member LLC—your operating agreement helps demonstrate a clear separation between yourself and your business, better protecting your limited liability.
Is a limited liability company agreement the same thing as an operating agreement?
Yes. In Washington state LLC statutes, the operating agreement is referred to as the limited liability company agreement, but these two terms mean the same thing.
*This is informational commentary, not advice. This information is intended strictly for informational purposes and does not constitute legal advice or a substitute for legal counsel. This information is not intended to create, nor does your receipt, viewing, or use of it constitute, an attorney-client relationship. More information is available in our Terms of Service.