Wisconsin LLC Operating Agreement
Your operating agreement is the legal blueprint for your Wisconsin LLC. This legally binding document establishes how your LLC will handle important situations, including voting, transferring members' interest, distributing profits and losses, and dissolution.
Unlike the Wisconsin Articles of Organization, the operating agreement is an internal document that is not filed with the Wisconsin Department of Financial Institutions. But it's hard to overstate the importance of having a strong operating agreement. To make creating an operating agreement easier for new business owners, Northwest provides free, attorney-drafted operating agreement templates that are customized for Wisconsin LLCs.
.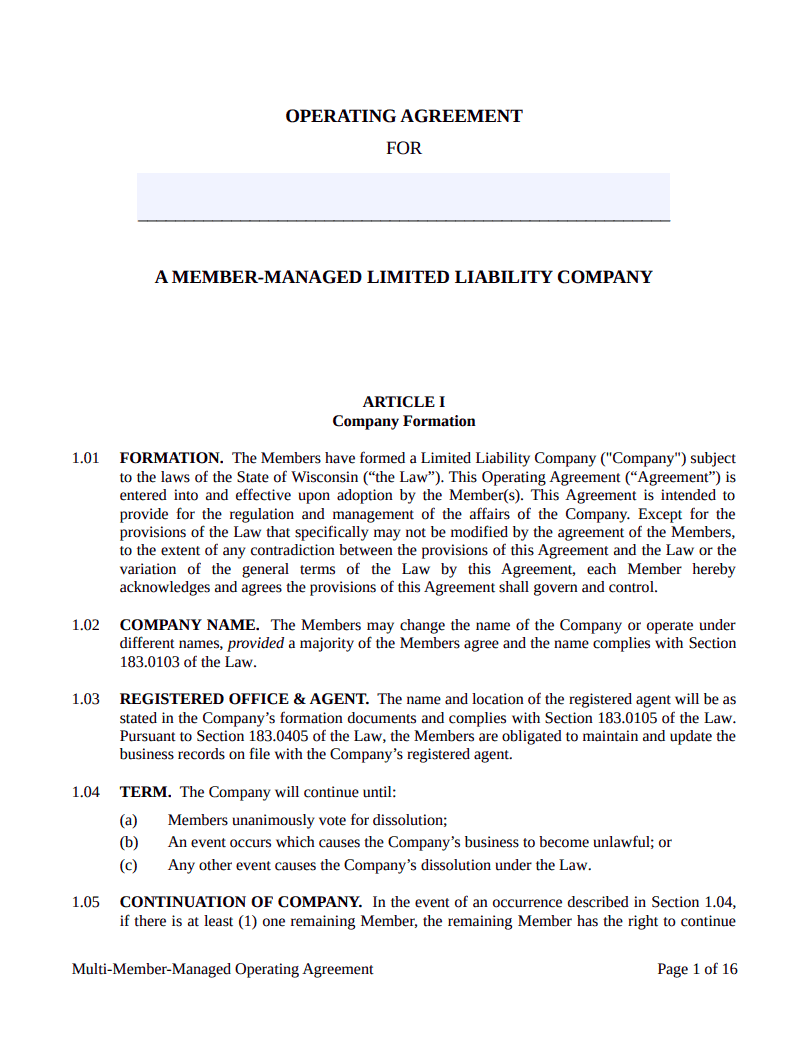 Why should a Wisconsin LLC have an operating agreement?
A Wisconsin LLC should have an operating agreement because a company cannot act for itself. In order to operate, LLCs require real humans (and other entities) to carry out company operations.
Operating agreements are not legally required for Wisconsin LLCs. But we at Northwest strongly recommend creating a written operating agreement. Here's why.
1. Your operating agreement proves you own your LLC.
In Wisconsin, you have the option of keeping your members' names off the Articles of Organization in order to better maintain your privacy. The only problem is that to open a business bank account—or in other cases where you need to prove you actually own your LLC—you'll need a legal document with all members' names listed. That's why it helps to have an operating agreement that lists your members' names and addresses. And since your operating agreement isn't on the public record, you can still protect your privacy.
2. An operating agreement can help reinforce your limited liability status.
An LLC can only benefit from limited liability status if it can prove that it is a separate legal entity from its owners. The most obvious way LLCs do this is by having a business bank account to keep business finances separate from members' personal finances. Another way to do this is by following the rules and procedures outlined in the operating agreement, which shows that your LLC is a distinct entity with clear policies. If you ever face a lawsuit, a strong operating agreement can help you prove your case.
3. An operating agreement can help head off misunderstandings.
No matter whether you go into business with ten strangers or your best friend, you probably won't agree on everything. That's why it's best to have your initial agreements in writing, so that you can refer back to them when your members can't see eye-to-eye.
4. An operating agreement can override Wisconsin's default laws.
Without an operating agreement, your LLC will be subject to Wisconsin's default laws. You might prefer to have more control over the structure and day-to-day operations of your LLC. A written operating agreement can override these default laws with your own rules tailored to suit your LLC.
Wisconsin Case Law
We asked our lawyers for an example of how an operating agreement can make or break your LLC. Here's what they said.*
"Consider the case of Doral Dental USA, LLC, where the members failed to flesh out the inspection right of the other members in the LLC's operating agreement, which required judicial intervention. Assuming good faith on all parties, because the members disagreed with each other about the meaning of 'reasonable request,' the Doral Dental case serves as an excellent example of why it is important for the members to think ahead and discuss the various roles and procedures which impact the LLC and its operations. Additionally, the members should have ensured that the operating agreement provisions matched the intent and understanding of the members.
"For these reasons (and more), a reasonably prudent business owner would (and should) adopt and maintain an operating agreement."
What is included in an Wisconsin LLC Operating Agreement?
Your operating agreement determines how your Wisconsin LLC will handle the "big-picture" scenarios that are likely to occur. You could include anything not prohibited by Wisconsin law in your operating agreement, but you should be sure to cover the following subjects:
Membership interest
Voting rights and decision-making powers
Initial contributions
Profits, losses, and distributions
Management
Compensation
Bookkeeping procedures
Dissolution
FAQs
Is an operating agreement required in Wisconsin?
Wisconsin doesn't legally require LLCs to adopt an operating agreement. However, to open a company bank account or fight a lawsuit, you're going to want to have one.
Do I have to file my operating agreement in Wisconsin?
No, the operating agreement doesn't need to be filed with the state. However, according to Wis. Stat. § 183.0405, any operating agreements or amendments you have (including operating agreements no longer in effect) must be kept on record at your LLC's primary location.
Does a single-member LLC need an operating agreement?
Yes. We know it seems odd to make an agreement with yourself, but single-member LLCs need an operating agreement to open a business bank account. Even more importantly, if your LLC is ever taken to court, an operating agreement can help you maintain your limited liability. A single-member LLC that doesn't have an operating agreement could look dangerously similar to a sole proprietorship—a business type without limited liability protection.
*This is informational commentary, not advice. This information is intended strictly for informational purposes and does not constitute legal advice or a substitute for legal counsel. This information is not intended to create, nor does your receipt, viewing, or use of it constitute, an attorney-client relationship. More information is available in our Terms of Service.