How To Start An LLC In Ohio
To start an LLC in Ohio, you must file Articles of Organization with the Ohio Secretary of State, pay a $99 filing fee, and get an EIN from the IRS. The complete steps to forming an Ohio LLC are as follows:
File Ohio LLC Articles of Organization

Pay the Ohio Secretary of State $99

Wait to receive your approved Articles

Get a Federal EIN for the LLC

Create an Ohio LLC Operating Agreement

Take these documents to the bank and get an Ohio LLC bank account

Register with the Ohio Department of Taxation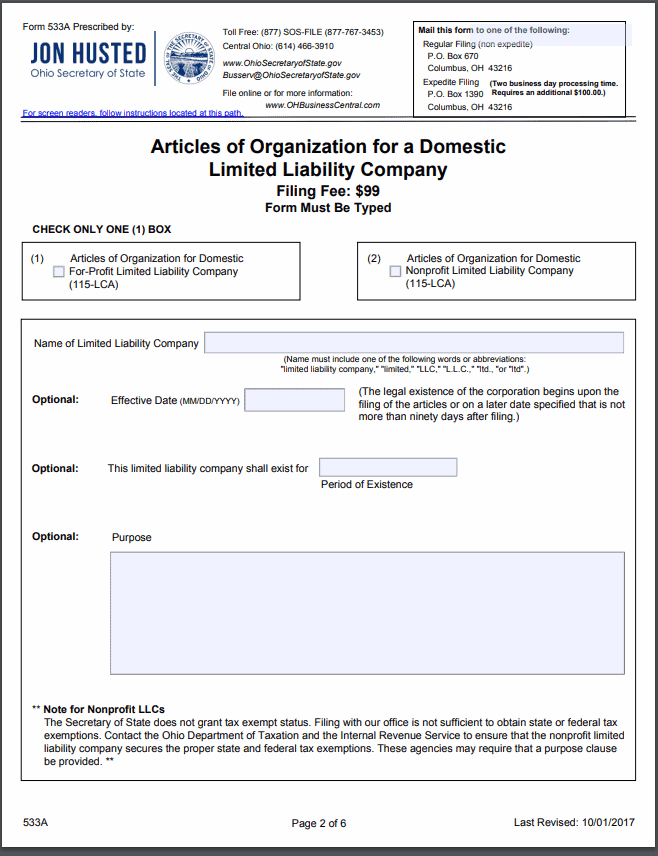 How to File Ohio LLC Articles of Organization
To form an Ohio LLC, you file the LLC Articles of Organization by following these steps:
Choose a name for your new LLC
Choose when you want to start and how long you'd like your LLC to exist
Decide if you want to hire a registered (statutory) agent service to minimize public disclosures
File online and pay $99 with a credit card, drop off your filing and fee in person at 180 E Broad St, Suite 103, Columbus OH 43215, or mail to the Secretary of State at PO Box 670 (or PO Box 1390 for expedited filings), Columbus OH 43216 with a check or money order for $99
Free Download
File Online
HOW LONG DOES IT TAKE TO START AN OHIO LLC?
Fastest 1 day: Drive to Columbus and visit the Secretary of State's Client Service Center in person. Pay an extra $300 for 4-hour expediting or $200 for 1-day expediting.
Almost Fastest (and much easier) 2 days: Pay $100 for 2-day expediting and either file yourself online or hire Northwest.
Not Too Shabby 5 days: Forgo expediting and file online or by mail. Better yet, hire Northwest to file for you.
Whether you want 2-day or 5-day processing, Northwest has you covered. Just answer a few brief questions, sit back, and let our Corporate Guides file everything correctly the first time.
WHAT IS THE COST OF AN OHIO LLC?
The Ohio Secretary of State charges a $99 filing fee to submit your Ohio LLC Articles of Organization.
Hire Northwest, and your total, out-the-door cost is $324 ($424 with 2-day expediting), including state filing fees.
How much does an LLC in Ohio cost each year?
Ohio doesn't require LLCs to file the Ohio Biennial Report, so there is no annual or biennial state filing fee for LLCs.
What are the Ohio LLC taxes?
The Ohio personal net income tax rates are:
0.50%: $0 to $5,249
0.99%: $5,250 to $10,499
1.98%: $10,500 to $15,799
2.48%: $15,800 to $21,099
2.97%: $21,100 to $42,099
3.46%: $42,100 to $84,199
3.96%: $84,200 to $105,299
4.60%: $105,300 to $210,599
5.00%: $210,600+
The state sales tax is 5.75%. While there's no city or town sales tax, counties can tack on an additional sales tax. As a result, the average total sales tax is just over 7%.
Ohio also has a Commercial Activity Tax for businesses with gross receipts of $150K or more. The CAT is a flat $150 for gross receipts up to a million bucks, but it jumps to $800 or more for businesses with over a million in gross receipts.
IS AN OHIO LLC STATUTORY AGENT REQUIRED?
Absolutely. Ohio LLCs must appoint and maintain an Ohio statutory agent (also known as a registered agent). Some people appoint themselves as their LLC's statutory agent to save a little cash—but the money you save doesn't always compare to the privacy and freedom you give up. You have to list the address where you'll be to accept legal notifications. This address then becomes a part of the permanent public record of your LLC, meaning you'll end up on the lists of data sellers. Goodbye privacy, hello junk mail.
You'll also have to actually be at the address you list during business hours. Business doesn't just take place in the office, however. You have meetings to attend, errands to run, and occasionally just a trip out to Hocking Hills to get away from it all. At Northwest, we'll help unchain you from your desk. When you sign up for our service, we list our address on your Ohio LLC Articles of Organization, and we'll be there to accept, scan and send any legal notifications the same day.
DO I NEED A TAX ID NUMBER (EIN) FOR AN OHIO LLC?
Your Ohio LLC must get an EIN from the IRS if you plan to hire employees or if you file certain federal excise taxes. You'll need an EIN for a few other situations as well—opening a business bank account, establishing credit with vendors, and even registering with the Ohio Department of Taxation for taxes like the CAT. You could use your personal social security number instead, but why put your personal information at risk? There's no filing fee if you apply for your EIN directly from the IRS, so there's no reason not to get one. You can even hire Northwest to get your EIN for you when you sign up for our services.
DOES AN OHIO LLC NEED A BUSINESS LICENSE?
Ohio doesn't have a general, statewide business license, but some occupations require professional licenses, and some activities (like alcohol sales) require permits. Cities and counties have their own local licensing requirements as well.
OHIO LLC VERSUS OHIO CORPORATION:
Costs are pretty similar for Ohio LLCs and corporations. The base filing fee for both LLCs and corporations is $99. (However, corporations with more than 990 shares are charged up to 10 cents a share beyond the 990.) Neither business type is required to file an annual or biennial report with the state. Both business types have tax elections options too. For example, both LLCs and corporations can be taxed as S corporations, which would make their tax obligations the same.
With costs being neck-and-neck, the real difference boils down to how each type of business operates. LLCs are generally easier to manage. There's no requirements for directors, officers or any upper management at all—members can manage themselves if they choose to do so. Corporate formal requirements like annual meetings are optional for LLCs. The simplicity of LLCs makes them popular for first-time business owners and small businesses. Corporations have more requirements, but they have their own merits as well. Considering a corporation? Here's information on Ohio incorporation.
DOES AN OHIO LLC NEED AN OPERATING AGREEMENT?
Yes, yes, yes. While it's not required by Ohio law (you don't file operating agreements with the state), every LLC should have an operating agreement. Why? Operating agreements put in writing all of the most important things about your business. Who owns the business. How much each person invested. How profits and losses will be allocated. What happens if you shut it all down. Your operating agreement is your opportunity to set the terms of your business. It's not just important; it's critical.
Even if you're the only person in your LLC, you'll still want an operating agreement. For most people, starting a business is one of the biggest and riskiest endeavors of their lives. Major decisions about your business shouldn't just be made up on the spot. Your operating agreement is a good opportunity to make carefully-considered decisions for the future of your LLC. And while your operating agreement is an internal document, it isn't just for you. Your bank will want to see your operating agreement when you open an account or take on debt. Potential members, investors and partners will want to see it as well.
Starting a business takes a lot of work—but you don't have to do it all on your own. When you hire Northwest to form your Ohio LLC, we give you a free operating agreement, specific to your management style. We give you other free forms as well: membership certificates, resolutions and more. We've spent years refining our forms and we're pretty proud of them. We're also proud to say that over a million LLCs have used our free LLC forms to help form and maintain their businesses.
WHAT IS THE OHIO LLC STATUTE?
OHIO LLC ARTICLES OF ORGANIZATION REQUIREMENTS:
Company Name:

Your name must include "Limited Liability Company," "Limited," or an abbreviation. Most businesses keep it short and simple with "LLC."

Effective Date:

If you want to push off your start date (for example, if the next tax period is on the horizon), you can list a future effective date up to 90 days in the future. Want your Ohio LLC to start right away? Skip this section.

Duration:

To put a self-destruct timer on your LLC, enter an end date in this section. If you don't put anything, your Ohio LLC will continue indefinitely. Tip: Most LLCs skip this section.

Purpose:

This is yet one more optional section. Your purpose is why your business is being created (in other words, what business activities your LLC plans to engage in). A general business purpose stating that the LLC is organized for any lawful purpose in the State of Ohio is sufficient. Tip: Most LLCs skip this section as well.

Statutory Agent and Address:

You can either list an individual (like yourself) or a business that provides

statutory

agent service.

The Ohio street address where the agent will be available will become part of the permanent public record of your Ohio LLC. Hire Northwest, and our name and address will go here.

Ohio LLC Authorized Representative:

Sounds fancy, doesn't it? Your authorized representative is just the person you authorized to form and file your Articles of Organization. It could be a member, manager, or someone outside of the LLC. When you hire us, we'll be your authorized representative.
Our Ohio LLC Formation Service Includes:
Filing of Ohio Articles of Organization
Listing our Ohio address instead of your home or office becoming permanent public records
Ohio LLC Filing Fees
Expedited Service
Organizer Initial Resolutions
Ohio LLC Operating Agreement
Ohio LLC Banking Resolution
Ohio LLC Membership Certificates
Ohio Statutory Agent Services
Online Account with instant tools to help you start and run your business