What is a VoIP Number
& Do You Need One?
When You Want More
Understanding Cloud-Based Phone Lines
Is it okay to Facetime someone out of the blue? We may never know. In the meantime, the VoIP phone number is on the rise. VoIP (Voice over Internet Protocol) services provide you with a local-to-outside-eyes number that you can take anywhere and use with any internet-connected device. And your area code? Completely up to you.

If you're looking for a flexible business number—or a simple way to protect your personal one—a cloud-based phone line may fit the bill. But is an online number right for you? We're here to help you figure it out.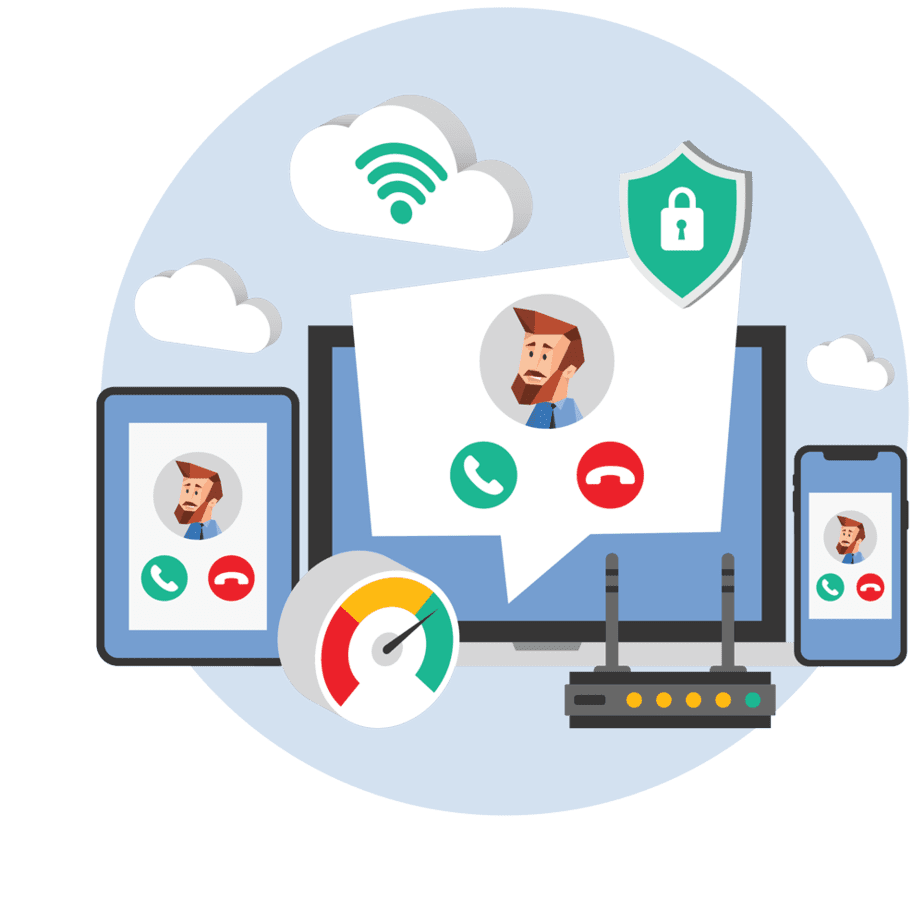 About VoIP Phone Service:
Ready to VoIP?
Northwest is a VoIP service provider, and we can set you up with a secure, local number for your business (or yourself) in minutes.
For unlimited talk and text, your choice of area code and a suite of user-friendly features, click the button below.
What is a VoIP Number?
A VoIP number is the 10-digit phone number you choose when you sign up with a VoIP phone system provider. But what's a VoIP phone system and how does it work? Let's get into the basics.
Voice over Internet Protocol (VoIP) is the technology that enables voice-based calling over the internet, instead of a traditional phone line or mobile network. Rather than using wires and fiber optic cables (like landlines) or radio waves (like cell phones), VoIP systems transmit sound signals over a broadband internet connection, much like any other piece of digital data. The last time you had a Zoom chat with a friend, it was VoIP technology that allowed you to hear each other.
But when you place a call with a VoIP number, the recipient doesn't have to be online—your VoIP provider can route the call to any cell or landline. Most Voice over IP numbers are local (at least on the outside), and they have the same functions as regular phone numbers. As long as you have high-speed internet, you'll be able to make and receive calls, send and receive texts, and more.
Why Would Someone Use a VoIP Number?
Individuals—and businesses of all sizes—are jumping on the digital bandwagon, with more than a billion people worldwide now using a Voice over IP number. Here are a few reasons why.
They Offer Privacy Protection.
With cyber-attacks and phone scams becoming more prevalent, many of us are looking for a way to keep our personal numbers safe. Using a secondary line for everyone but friends and family provides an essential layer of privacy—and it may soon be the norm.
They Move With You (& Your Business).
Lots of us are growing businesses from home. Or out-of-state. Or on the road. The flexibility of the VoIP number makes it ideal for this work-anywhere moment in time. You can set up a local line 5 states away, respond to texts from your laptop, forward calls to a remote employee's cell, and keep your number when your business moves.
They're Economical.
You're likely paying one bill for home internet and another for mobile data—unless you've bundled them into one giant bill. Luckily, VoIP numbers run on the internet you're already paying for—which means they cost significantly less than traditional phone lines.
They Have Advanced Features.
VoIP phone service is a cloud-based technology, with high-tech features to match. Business owners can streamline their communications by viewing voicemails as text, recording calls, setting up custom business hours and downloading important messages.
Weighing the Pros & Cons
While VoIP phone lines have obvious advantages—like portability, techy features and wallet-friendly pricing—there are also a few downsides worth considering. Here are 3 questions to help you decide if a digital number is the right (or possibly wrong) choice for you.
1

How's your internet?

Your call quality will only be as good as your internet connection. If you have spotty or slow internet, you might experience dropped calls, latency or jitter when using your VoIP number.
2

Is location tracking important to you?

If you're looking for a number you can rely on in an emergency, a VoIP number probably shouldn't be your first choice. VoIP calls don't have GPS or cell tower info attached—which means you'll need to communicate your location in a crisis.
3

Are you analog or digital?

VoIP phone numbers are user-friendly and don't require much technical know-how. But if you don't go online that often, you might not enjoy having a number that requires you to do so. Better go for that vintage landline instead.

If your answers to the above questions were 1) my internet is usually great 2) I'm not looking for an emergency number and 3) I'm cool with apps—then you're ready for your VoIP (Very own Internet-Powered) number.
VoIP Phone Number FAQs
Do I need to sign a contract to get VoIP phone service?
This depends on the VoIP provider and plan you choose. But with so many options out there, there's no need to get locked into a contract if you don't want to be.
Northwest Phone Service is a commitment-free monthly subscription, and you can cancel anytime.
What kind of features should I look for in a VoIP phone line?
Many of the same features you'd want in a regular phone line.
You should be able to talk (with high-quality audio), text and check your voicemail—and the platform should make these functions easy and intuitive.
In addition to the basics, a well-rounded VoIP service will include call forwarding, a user-friendly mobile app and a handful of premium features—such as voice-to-text, downloadable messages and auto-attendant.
Will people know I'm calling from a VoIP number?
It's not likely. Your outbound Caller ID will display the local, 10-digit number attached to your VoIP line, and the corresponding city and state. There will be nothing to indicate you're using an internet-based number.
If you customize your Caller ID by adding your business name (as many of our clients do) the call recipient will see that name too.
What's the set-up process like?
Quick and easy. There's no need for additional hardware, and many VoIP numbers are plug-and-play—meaning they're compatible with your existing phone.
Northwest Phone Service takes it a step further: our VoIP numbers work instantly with your native browser on any iOS or Android device, and you can customize your phone line in less than 5 minutes. Check out our Quick-Start Guide to see how.
Can I make calls without a phone?
Yes—you can put your VoIP number to use on any device with an internet connection and a mic, including your laptop, desktop or tablet. And if you've never speed-typed a text using a full-size keyboard, we recommend it.