Register a Foreign Corporation in Illinois
To register a foreign corporation in Illinois, you must file an Illinois Application for Authority with the Illinois Secretary of State, Department of Business Services. You can submit this document by mail or in person. The Application for Authority for a foreign Illinois corporation costs $175 to file. Below, you'll find answers to frequently asked questions about how to file the Application for Authority and register a foreign corporation in Illinois. Or, sign up for our Illinois Foreign Corporation service, and we'll handle your filing instead!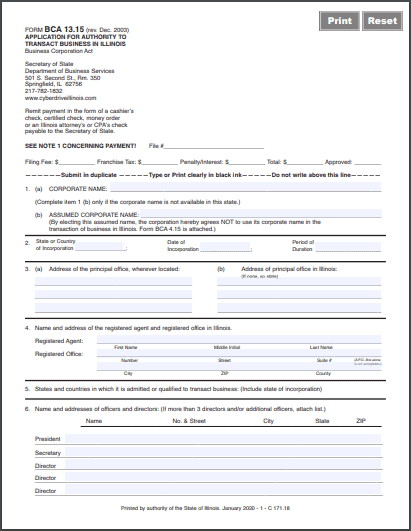 Free PDF Download
Download the Illinois Application for Authority. Fill out the form and submit it to the state.
Do It Yourself Online
Our free account and tools will walk you through registering your Foreign Corporation in Illinois. All for free.
Illinois Foreign Corporation
$
400
Total
Free Guide to Registering a Foreign Corporation in Illinois
What does it cost to register a foreign corporation in Illinois?
$175 minimum fee due. Once received, they will review your application and notify you of the exact amount due. Any additional fees will be billed and must be paid before the application can be filed.
How long does it take for the state to process the Illinois Certificate of Authority?
Normal Processing: 30 business days, plus additional time for mailing.
In Person Processing: 30 business days, unless paying for expedited processing.
Expedited Processing: while you wait (Springfield office only).
How will I get verification of qualification back from Illinois?
A stamped copy of the application form will be returned to you by mail.
What forms do I file with Illinois to qualify my out of State Corporation?
The Application for Authority (in duplicate), certified copy of Articles of Incorporation with all amendments and mergers, and the filing fee is required.
What do I need from my home state?
Certified copy of Articles of Incorporation with all amendments and mergers.
Does it need to be an original copy?
Yes.
How current does the certificate need to be?
Needs to be current within the last 90 days.
Will I need an Illinois registered agent for my corporation?
Yes, when you hire Northwest as your IL registered agent, it's a flat rate yearly price of $125 a year, you'll have an online account that tracks your report due dates, which states your registered in, when your yearly service with us is up, and any documents we receive locally for you are uploaded into your account immediately for complete viewing. If or when you get served with a lawsuit, we can email up to 4 people and your attorney at the same time for real time complete viewing of a lawsuit. You'll receive annual report reminders. It's the same price every year, and there are no weird fees or cancellation fees.
You'll also see all the pre-populated forms and specific filing instructions on the thank you page, in your online account, and they are emailed to you immediately upon signing up for 1 year of registered agent service.
Does the Illinois registered agent need to sign the filing?
No.
How can I file the Illinois Certificate of Authority?
By mail or in person.
What is the state agency that accepts the out of state registration?
Illinois Secretary of State
Department of Business Services
328 Howlett Building
Springfield, IL 62756
Phone: (217)782-1834 or (217)782-6961
Do the signatures on the Illinois corporation application need to be original?
No.
Who has to sign the foreign corporation filing?
Any authorized officer of the IL corporation.
Are there any weird things about registering in Illinois?
A minimum amount of $175 will be due. However the amount of fees due will vary depending upon the corporation's paid-in capital and the proportion of property and business that will be located in Illinois. Because of the calculations involved, fees and taxes cannot be computed by telephone or in advance of a review of your application. Upon submission of a completed application, and the certified copy, the Department of Business Services will compute the amount due and notify you.
After the Application for Authority is issued by the Secretary of State, you must file it with the county recorder in the county where the Illinois registered office is located. Because of the requirements of the Counties Code, the form BCA 13.15 supplied by the Secretary of State should always be used to effect qualification, that way you can avoide a doubled recording fee at the county level. County publication is not necessary, unless specifically required by the county in which your registered agent resides.
If you hire Northwest to make the foreign corporation filing for you, we take care of all of the filing on your behalf.
Are there ongoing Illinois annual report and/or initial reporting requirements?
The IL annual report is due on the last day of the month prior to the anniversary month you initially filed in. There will also be an annual franchise tax due at the same time.
What are your fees?
You'll need to have an Illinois registered agent. We charge $125 a year to act as your registered agent in Illinois. It's a flat rate, once a year fee, and includes more than other registered agents. Here's a little more about our registered agent service.
We charge a $100 one-time filing service fee if you would like us to obtain the certificates needed from your home state, and register your company in any state you choose. We have offices in every state and can act as your registered agent and make your filings for you in any state. If you would like to register with multiple states at once, we can usually drop our filing service fee down.
Additional Resources: