Register a Foreign Corporation in Oregon
To register a foreign corporation in Oregon, you must file an Oregon Application for Authority with the Oregon Secretary of State, Corporation Division. You can submit this document by mail, by fax, or in person. The Application for Authority for a foreign Oregon corporation costs $275 to file. Below, you'll find answers to frequently asked questions about how to file the Application for Authority and register a foreign corporation in Oregon. Or, sign up for our Oregon Foreign Corporation service, and we'll handle your filing instead!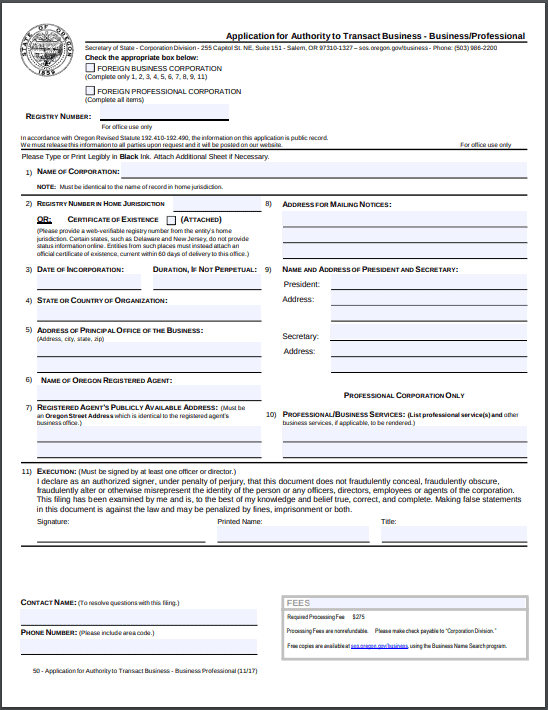 Free PDF Download
Download the Oregon Application for Authority. Fill out the form and submit it to the state.
Do It Yourself Online
Our free account and tools will walk you through registering your Foreign Corporation in Oregon. All for free.
1 Day Oregon Foreign Corporation
$
500
Total
Free Guide to Registering a Foreign Corporation in Oregon
What does it cost to register a foreign corporation in Oregon?
$275 for normal processing. $50 for non-profit. $5 additional for optional confirmation copy.
How long does it take for the state to process the Oregon Certificate of Authority?
Normal Processing: 3-5 business days, plus additional time for mailing.
In Person Processing: while you wait at no additional charge.
Fax Filing Processing: 5-7 business days, plus additional time for mailing.
Online Processing: 1 business day.
How will I get verification of qualification back from Oregon?
You will receive an acknowledgement letter by mail. If filing online, you will receive an email confirmation.
What forms do I file with Oregon to qualify my out of State Corporation?
The Application for Authority to Transact Business form, a Certificate of Existence, and the filing fee is required.
What do I need from my home state?
A Certificate of Existence is required.
Does it need to be an original copy?
No.
How current does the certificate need to be?
It must be current within 60 days of filing.
Will I need an Oregon registered agent for my corporation?
Yes, when you hire Northwest as your registered agent, it's a flat rate yearly price of $125 a year. You'll have an online account that tracks your report due dates, which states you're registered in, when your yearly service with us is up, and any documents we receive locally for you are uploaded into your account immediately for complete viewing.
If or when you get served with a lawsuit, we can email up to 4 people and your attorney at the same time for real time complete viewing of a lawsuit. You'll receive annual report reminders. It's the same price every year, and there are no weird fees or cancellation fees.
You'll also see all the pre-populated forms and specific filing instructions on the thank you page, in your online account, and they are emailed to you immediately upon signing up for 1 year of registered agent service.
Does the Oregon registered agent need to sign the filing?
No.
How can I file the Oregon Certificate of Authority?
By mail, fax, in person or online.
What is the state agency that accepts the out of state registration?
Oregon Secretary of State Corporation Division 255 Capitol St. NE, Suite 151 Salem, OR 97310-1327 Phone: (503)986-2200 Fax: (503)378-4381
Do the signatures on the Oregon corporation application need to be original?
No.
Who has to sign the foreign corporation filing?
At least one officer or director must sign the form.
Are there any weird things about registering in Oregon?
County filing or publication is not necessary for foreign corporations, unless specifically required by the county in which your registered agent resides.
Are there ongoing Oregon annual report and/or initial reporting requirements?
Annual reports are due on the anniversary from when you initially file.
What are your fees?
You'll need to have an Oregon registered agent. We charge $125 a year to act as your registered agent in Oregon. It's a flat rate, once a year fee, and includes more than other registered agents. Here's a little more about our registered agent service.
We charge a $100 one-time filing service fee if you would like us to obtain the certificates needed from your home state, and register your company in any state you choose.
We have offices in every state and can act as your registered agent and make your filings for you in any state. If you would like to register with multiple states at once, we can usually drop our filing service fee down.
More OR Foreign Corp Resources:
certificate of good standing
Oregon annual report 
Oregon registered agent
Oregon taxes 
Oregon withdraw foreign corp
Oregon corporation
Registered agent service