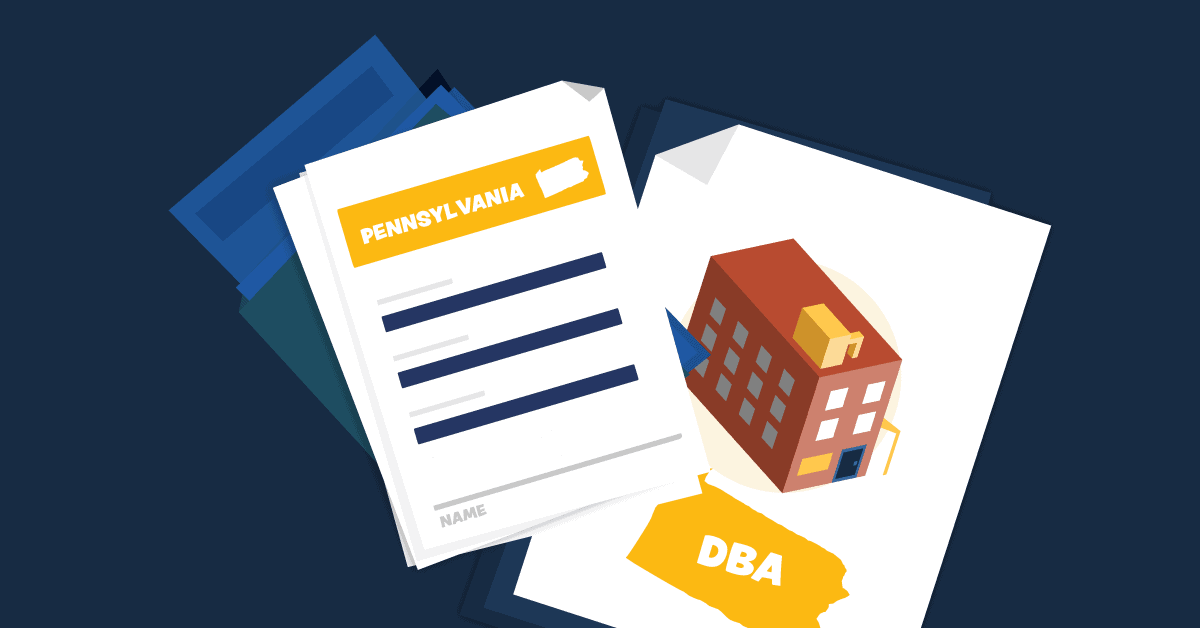 Getting a DBA (doing business as) name for your Pennsylvania business is a simple process. Here's what to know:
What is a DBA name in Pennsylvania?
A DBA (doing business as) name is like a pseudonym for your business. It's not a legal name, but rather a name you can use for your business. In Pennsylvania, as in many states, a DBA name is called a fictitious name.
Why would I need a fictitious name in Pennsylvania?
DBA names are often used by sole proprietors, or companies that may want to re-brand a branch of their business:
Sole proprietors – When you own a business as a sole proprietor, you file taxes using your own personal name. If you wish to operate your business under another name, that name must be registered with the state in connection to your legal name. Filing a fictitious name will do that.
Branding – For companies that may manufacture and/or sell different products, obtaining different DBA names can be helpful—and cost-effective. Getting a fictitious name is generally more affordable than starting a new Pennsylvania Corporation or Pennsylvania LLC from scratch.
How do I register a DBA in PA?
To get a fictitious name in Pennsylvania, you'll have to submit a Registration of Fictitious Name form to the Pennsylvania Department of State, Bureau of Corporations and Charitable Organizations. The form should include:
Address (physical or email) where you'd like to receive your official form
Fictitious name
Brief description of the business associated with the fictitious name
Physical address of your principal place of business (not a P.O. Box)
Name(s) and address(es) of business owner(s)—OR name and address of business entity, if your company is owned by another business
Name(s) of anyone authorized to amend, withdraw or cancel fictitious name registration (optional)
Signature(s) on behalf of any person or business entity already listed on form
Payment of $70 (unless eligible for exemption)
Before filing you registration form with the state, make sure you check the Department of State's Business Name Search to confirm your desired name is free to use.
How much does it cost to get a DBA in PA?
The filing fee for a fictitious name in Pennsylvania is $70. (Note that all veteran or reservist-owned small businesses can qualify for a fee exemption by checking the box at the top of the form.)
Where do I send my PA fictitious name registration?
You may apply for a fictitious name using Pennsylvania's online filing system, PENN File. Or, you may fill-out and mail a paper registration form to:
Pennsylvania Department of State
Bureau of Corporations and Charitable Organizations
P.O. Box 8722
Harrisburg, PA 17105-8722
What do I do after I get my fictitious name in PA?
Pennsylvania law requires all businesses owned by an individual (as opposed to another business) to advertise their new fictitious name in two newspapers. According to 15 Pa.C.S. §102, these newspapers must be in the county in which the business operates, and if only one newspaper is present in that county "advertisement in that newspaper is sufficient." The advertisement should include:
Address of the principal office where the business under the fictitious name will be carried out
Names and addresses of anyone listed on the fictitious name registration form
Statement that an application for registration of a fictitious name is to be or was filed under the Fictitious Names Act