Guam Articles of Incorporation – Free Template
Guam Articles of Incorporation are filed with the Business License Branch of the Department of Revenue and Taxation in order to legally incorporate your business. Guam statutes list quite a few specific requirements for what needs to be included in the Articles of Incorporation, from subscribed stock to corporate purpose. We provide a free template for your Guam Articles of Incorporation, as well as detailed explanations below to help guide you through the requirements.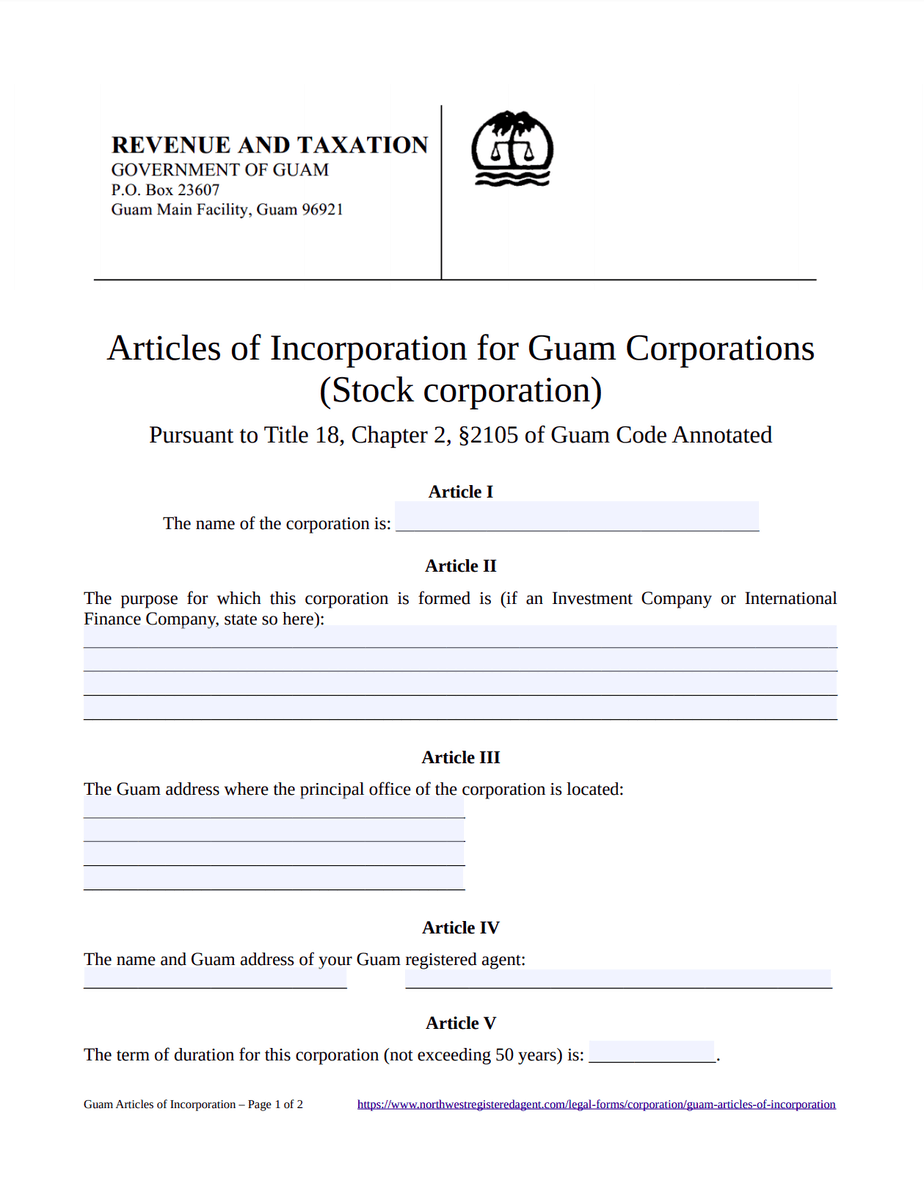 What should I include in the Guam Articles of Incorporation?
There's a long list of information specifically required in your Guam Articles of Incorporation. According to the Guam Code Annotated (Title 18, Division I, Part 5, Chapter 2, §2105), the articles must include information on directors, incorporators, subscribers, capital stock, shares, and much more. The Guam Articles of Incorporation template on this page covers all this information, plus provides space for other useful information, such as your registered agent and office.
Article I: Name
Your Guam corporation's name needs to include a corporate identifier, such as "Corp.," "Inc.," "Co.," "Ltd.," "Corporation," "Incorporated," "Company," or "Limited." You can't use a name that's already in use or is deceptively similar to another business operating in Guam.
Article II: Purpose
Your purpose is the primary business activity your corporation plans to engage in. In Guam, it's sufficient to list a general purpose ("engaging in any lawful business").
Article III: Principal Office
Your principal office is your corporation's official business address, which should be a street address in Guam.
Article IV: Registered Agent
Although it's not specifically required in this particular document, it's a good idea to list your registered agent (also known as the "agent for service of process"). Your registered agent accepts legal notifications on behalf of your corporation at the corporation's registered office—the Guam street address where the agent is available during regular business hours. If listing the registered agent, the registered agent must sign the articles to show their consent to serve.
Article V: Duration
Duration is how long your business will exist. The requirements typically put a cap of 50 years on duration, so most people enter "50 years" here.
Article VI: Incorporator
Your incorporator submits the Articles of Incorporation. You need at least one incorporator. Incorporators can be directors or officers, or someone else you authorize, such as an attorney. On the articles, list the names and addresses of each incorporator. Incorporators should sign the articles as well.
Article VII: Directors and Officers
List the names and addresses of each director. Guam corporations must have a minimum of three directors and typically no more than seven (although up to eleven are possible for stock corporations if the number is increased with the formal assent of stockholders). Directors must sign the articles. Note also that each director must own at least one share of stock.
Article VIII: Capital Stock
You'll need to list the corporation's capital stock, along with the number of shares.
Article IX: Subscribed Stock
Guam has an unusual requirement regarding stock subscription. When investors commit to the purchase of stock before it's issued, the stock is considered "subscribed." Guam requires a certain amount of stock to be subscribed prior to incorporation. In Guam, at least 20% of capital stock must be subscribed and a least a quarter of subscribed stock must be paid before filing Articles of Incorporation.
In the articles, list the names and addresses of each subscriber, as well as the amount of stock they're subscribed for and the amount paid to the treasurer for each subscription. Per the Guam Code Annotated (Title 18, Division I, Part 5, Chapter 2 §2109), the treasurer should also attach a sworn statement confirming these subscriptions are as stated.
Article X: Authorized Shares
You'll need to decide how many shares of stock you want to authorize. If there's more than one class of shares, you'll need to note the rights and limitations of each class as well.
Article XI: Shareholder Liability
This section confirms that the shareholders are not personally liable for the acts or debts of the corporation.
What is the process for filing Guam Articles of Incorporation?
The Articles of Incorporation must be printed or typewritten and include original signatures. The articles and the mandatory $100 filing fee are submitted to the Business License Branch of the Department of Revenue and Taxation:
Government of Guam
Department of Revenue & Taxation
PO Box 23607
GMF, GU 96921
Phone: 671-635-1826
This department will process your filing and issue you a Certificate of Incorporation. Before you can begin operations, however, you'll need to take a few more steps, such as getting an EIN, opening a bank account, and getting a Guam business license.
Northwest Incorporation Services
While we provide free information and forms for incorporating in Guam, we also offer a variety of services for other locations. We provide incorporation services in all 50 US states, the District of Columbia and Puerto Rico for only $100 plus state fees. We also provide industry-leading registered agent service in these locations for $125 a year.