Iowa Articles of Incorporation - Free Template
You can download the free Iowa corporation articles of incorporation template below.  The Iowa Secretary of State does not provide simple PDF templates like most other states to help you easily form your Iowa corporation.  We provide the Iowa Articles of Incorporation PDF template we use to file with the Iowa Secretary of State below.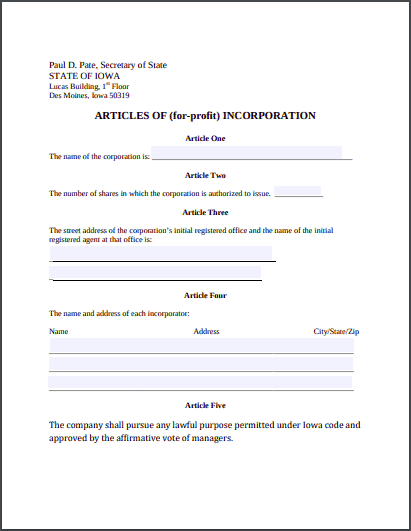 What do I include in my Iowa Articles of Incorporation?
When forming a corporation in Iowa, the usual first step would be to visit the Secretary of State Website, Business Services. Next you select the Online Forms. As you scroll down to Business Organization and click on Domestic Profit Corporations, you find that the filing fee is $50. But when you click on what you are hoping will be a fillable form for Articles of Incorporation, you are instead directed to the chapter of Statutes, Iowa Code that deals with the required elements for Articles of Incorporation. They are all stated in perfectly confusing legalese. We are furnishing here a template that you can print out and use if you like, or you can hire our company to be your registered agent. We offer professional registered agent service and business formation services that include document filing. We have a great deal of experience at getting the complicated process correct the first time.