Waiver Of Notice For Shareholder Special Meeting
A special shareholder meeting will usually be called without much notice. If there's not enough time to give the notice required by state laws or corporate bylaws, all shareholders should sign a waiver of notice. The waiver ensures that all shareholders agree to hold the meeting and abide by the actions that take place. Below, we provide a free waiver of notice template for your special meeting of shareholders.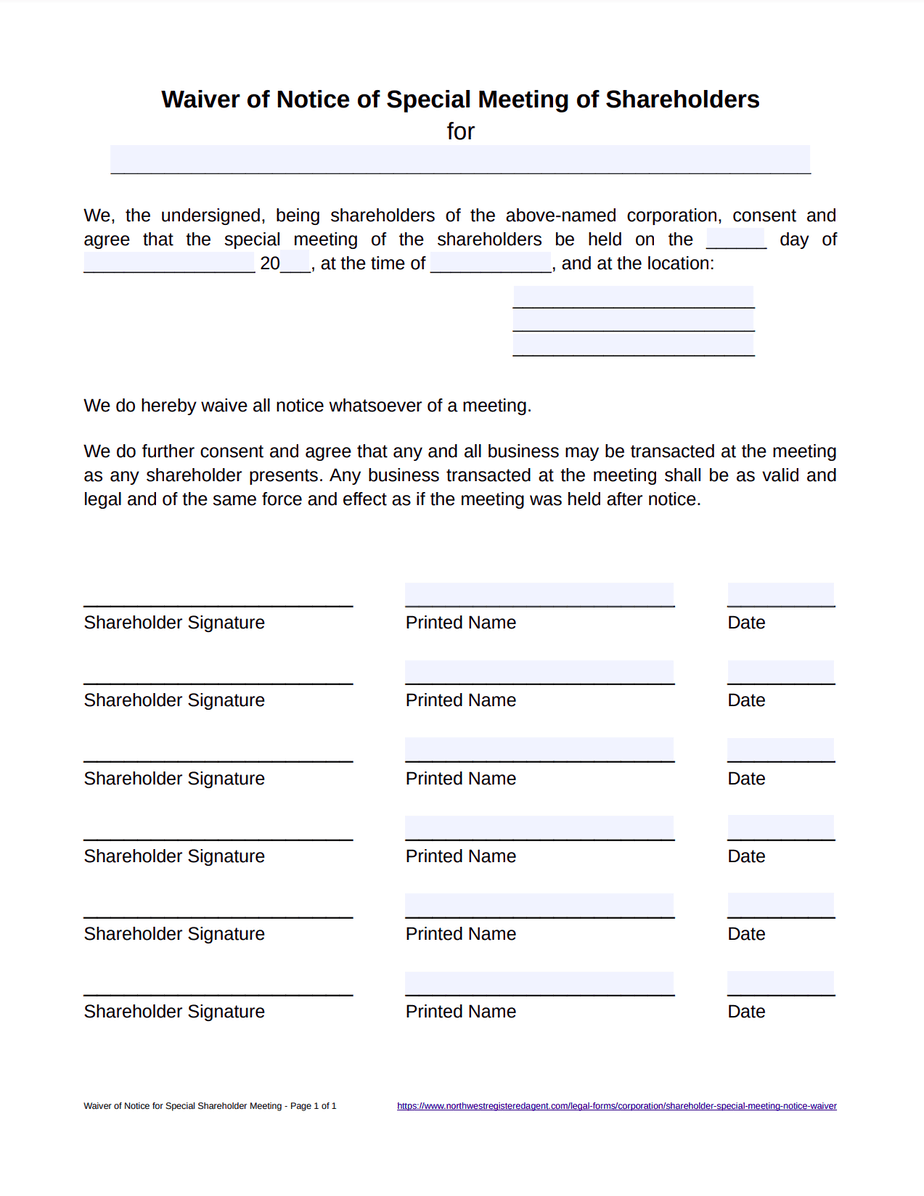 Special Meeting of Shareholders – Free Waiver Of Notice Template
Please enjoy our free waiver of notice template for shareholder special meetings. Like all our forms, this template is intended for individual use.
Need more? We have additional tools and resources to help you maintain your corporation as well. We offer registered agent service in every state for $125 a year. You can also hire us for state annual report compliance. If you would like help forming a corporation in your state or any state, we charge $100 plus the state filing fees.
Why would I need a waiver of notice for a shareholder special meeting?
From time to time, shareholders will need to hold a special meeting. One of the biggest reasons for a special stockholder meeting is to oust a director from the board of directors. When this kind of problem arises, shareholders typically need to progress quickly.
If you have a feisty director on the board of directors—or worse yet, the director in question has become friends with some of the other shareholders—it will be imperative that you document the special shareholder meeting correctly and ensure there is no question as to the legitimacy of the decisions made. If you did not give the required notice before holding the meeting, you absolutely must ensure that all shareholders sign a waive of notice.
What should a special meeting waiver of notice include?
Our template for a special shareholder meeting waiver of notice includes the following key information:
Your corporation's name

Date, time and location of first meeting

Statement waiving notice

Statement consenting and agreeing to business transacted at the meeting

Statement that business transacted has the same force and effect as if there had been notice

Shareholder names and signatures

Dates of all signatures