How to Start a Series LLC in Oklahoma
To start a Series LLC in Oklahoma, you must file Articles of Organization with the Oklahoma Secretary of State. You can file the document online, by mail or in person. The Articles of Organization cost $100 to file. Filing the Articles of Organization with the state officially establishes your Oklahoma Series LLC.

Before you break out the champagne to celebrate, you'll need to take several additional steps in order to complete the process of setting up your business.
Oklahoma Series LLC Guide:
What is an Oklahoma Series LLC?
The Oklahoma Series LLC is a special type of LLC that can form divisions of itself called "series." If properly organized and maintained, each series can have its own business purpose, assets, bank account, and limited liability. In short, the series LLC is a legal way for LLC owners to limit liability to one series, while also obtaining asset protection from potential lawsuits or judgments.
Why form an Oklahoma Series LLC?
Imagine you own ten rental properties in Oklahoma. If all of your property is protected by one LLC, and a tenant sues you, all ten of your properties could potentially be at risk. But if you separate each property into individual series under an Oklahoma Series LLC, you can insulate each property, and yourself, from a lawsuit against any one series. Why not simply form ten regular LLCs? That would immediately set you back $1000 as each formation would be $100 a pop. That's significantly more than the $100 formation fee for creating a single Oklahoma Series LLC with ten series.
Series LLCs are offered in more than a dozen states. To learn about the Series LLC business structure in general, which states allow it, and the main steps involved in starting a Series LLC, see our Series LLC Guide.
Oklahoma Series LLC Articles of Organization Requirements
To form a Series LLC in Oklahoma, you must first file your Articles of Organization with Oklahoma's Secretary of State. The articles cost $100 to file, and you can file online, by mail, or in person. The Articles of Organization are pretty straightforward, and require the information below:
Note: Oklahoma doesn't provide a section for the formation of a series LLC on the articles form. Instead, you'll need to add a statement to the the articles that states the limitations of liability for each series. While the Oklahoma Series LLC will be primarily created and governed by its operating agreement, this addendum will serve to notify Oklahoma of your intent to form a series LLC.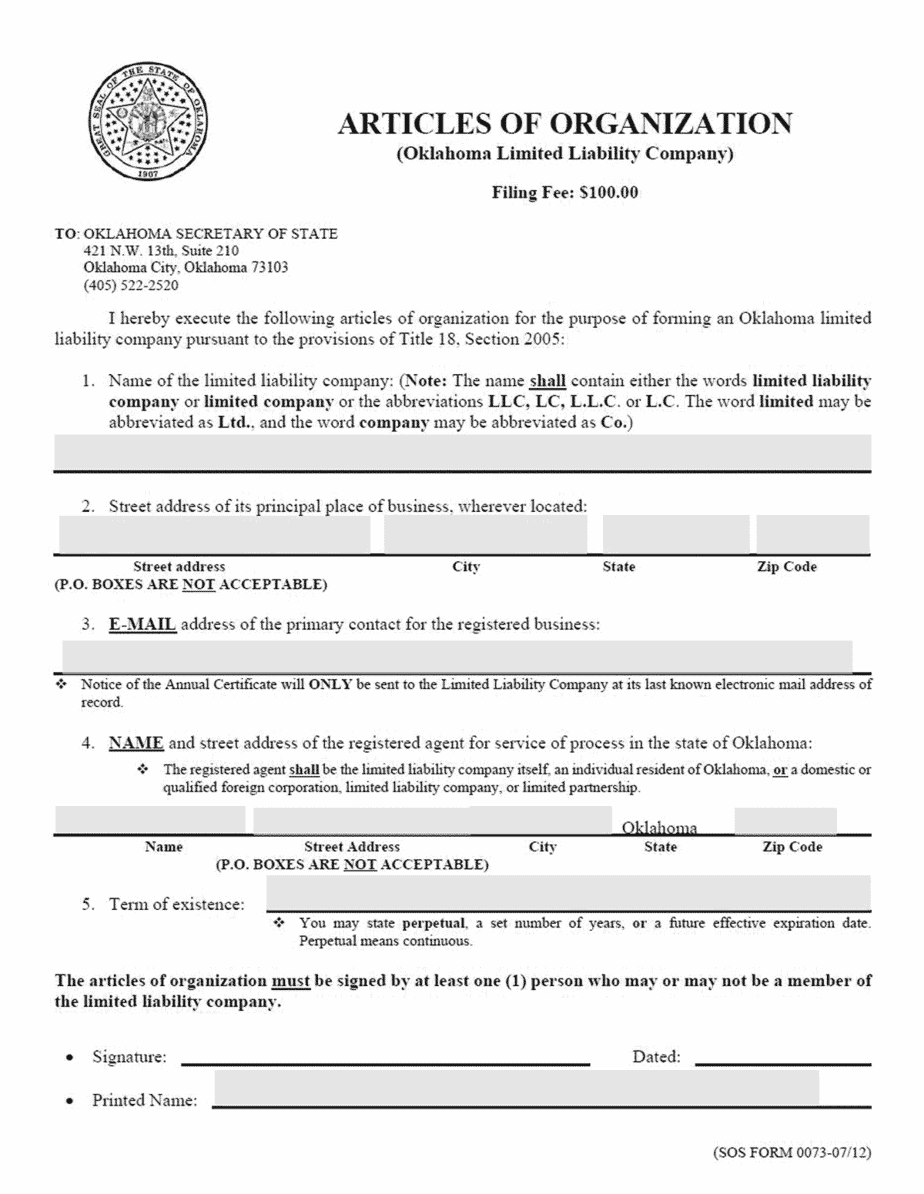 Company Name
Your LLC name goes here. The name of your business can contain either the words Limited Company, Limited Liability Company, or any of the abbreviations the Oklahoma Articles of Organization form allows. Example: Sally's Sundries, LLC.
Principal Place of Business
This must be a street address in Oklahoma (no PO Boxes).
Business Email
This is the email address where Oklahoma's Secretary of State will send all important documents pertaining to the Oklahoma Annual Certificate. Notice of this annual certificate will ONLY be sent to the LLC at its last known electronic mail address of record.
Registered Agent and Registered Office
You can be your own agent or you can appoint or hire someone to accept service of process and any important documents your business may receive. The registered office address you list will become part of the permanent public record of your LLC.
Term of Existence
Oklahoma allows LLCs to be perpetual, so unless you plan to put an end date on your company, you can list that date here. If not, just write "perpetual."
Execution
Your executor is the person you authorize to form and file your Oklahoma LLC's Articles of Organization. It doesn't have to be a member, manager, or anyone in your LLC, just someone you authorize to form your business.
Addendum
Per 18 OK Stat § 18-2005 (2020), you'll need to attach an addendum giving notice of the series' limitations of liability under 18 OK Stat § 18-2054.4 (2020). For online filings, there's an option to upload attachments for additional provisions near the end of the filing process.
How much does it cost to start an Oklahoma Series LLC?
The state filing fee for the Oklahoma LLC Articles of Organization is $100. If you file online, there's also a credit card processing fee of 4%. Some states charge an extra fee per "series," but Oklahoma only charges the initial filing fee for the parent LLC. However, each series LLC you create will need to be noted in your LLC's operating agreement.
How long does it take to register an Oklahoma Series LLC?
Online filings average 1-2 business days for processing after they're received. Mailed forms take 5-7 business days to process after receipt.
Does an Oklahoma Series LLC need a registered agent?
Yes. Your Oklahoma Series LLC is legally required to appoint and maintain an Oklahoma registered agent to receive service of process and other official mail on its behalf. Your registered agent must have a physical street address in Oklahoma and be available during business hours to accept and forward legal correspondence.
Does each series of an Oklahoma Series LLC need its own registered agent?
No. Your Oklahoma Series LLC will only need one registered agent for the parent LLC.
How do I add a series to my Oklahoma Series LLC after it's formed?
Oklahoma doesn't have a lot (or any) oversight when it comes to whether you add another series, or more, after your LLC is formed. All you really have to do is add your new series to your Oklahoma Series LLC operating agreement. Of course you'll also need to maintain separate records for each series in order to take advantage of the liability protections the LLC offers.
Create an Oklahoma Series LLC Operating Agreement
Why is an operating agreement important for an Oklahoma Series LLC?
The real meat of your Oklahoma Series LLC comes from its operating agreement. Your operating agreement is where you can designate the duties and limitations of each series, as well as name specific assets, members, and managers of each. While you won't need to file your operating agreement with the state of Oklahoma, you're still required to have one. As far as your Oklahoma Series LLC is concerned, its operating agreement is everything.
Do I have to write the Operating Agreement?
You can hire an attorney or you can go it alone and write the operating agreement yourself, whichever you feel the most comfortable with. The bottom line is that Oklahoma is pretty hands off when it comes to series LLCs. This means that in order for your Oklahoma Series LLC to adhere to Oklahoma's LLC Act and it's legal provisions for series LLCs, you'll need to be as forthcoming with the information for each series as possible in order to strengthen its credibility and its liability protections.
At Northwest, we provide numerous free templates for crafting operating agreements and other LLC-related documents. You can use these templates as starting points for crafting documents that fit your company's needs.
Not sure where to start? Here are just a few of the LLC forms available from Northwest Registered Agent:
Get Federal EINs from the IRS
Does my Series LLC need a federal EIN?
Yes. An EIN is necessary for hiring employees, changing your tax designation, getting a business license, and opening a business bank account. Fortunately, you can get an EIN for free at the IRS website. It's a fairly fast and simple application process.
Should I get a separate EIN for each series in my Oklahoma Series LLC?
The answer is likely yes. In order to maintain limited liability for your Oklahoma Series LLC, you'll want to keep the finances of each series segregated. This means you'll want to open separate bank accounts for each series, and to open separate bank accounts you'll need each series to have its own EIN.
Learn more about how to get a Federal EIN for your business.
Open Bank Accounts for your Series LLC
To open a bank account for your Oklahoma Series LLC, you will need to bring the following with you to the bank:
A copy of your Oklahoma Series LLC Articles of Organization
Your Series LLC operating agreement
Your Series LLC's EIN
If your Series LLC has more than one member, you might want to bring an LLC resolution stating that the person opening the account on behalf of the LLC is authorized to do so by the other members.
Should I open separate bank accounts for each series?
An important aspect of protecting your Oklahoma Series LLC is to operate each series as if they were separate. In order to insulate each series from the other, you're going to want to open a separate bank account for each. While opening several bank accounts may seem like a chore, do you really want to keep track of each series' deposits and expenditures? Beyond keeping your accounting clean, separate bank accounts serve to bolster each series LLC's liability protections.
Even though the Series LLC has been established in Oklahoma for almost two decades, banks may still be a bit hesitant to open multiple accounts. You'll be able to smooth the process if you already have an established relationship with your local bank. They know you. They trust you. Start there.
Obtain any Required Business Licenses
Oklahoma has no general license required to start or own a business. Of course this doesn't mean your business won't need any specific permits or licenses. Some businesses, like restaurants and bars, require local licensing. Other occupations, like accountants, lawyers, or psychologists, generally require state-level professional licenses. It is important to check with state and local licensing bodies.
File the Oklahoma Series LLC Annual Certificate
What is the Oklahoma Annual Certificate?
Just as a regular Oklahoma LLC is required to submit an Oklahoma Annual Certificate, so will your Oklahoma Series LLC. Like an annual report, the annual certificate ensures that the state has up-to-date contact and ownership information for your LLC. Oklahoma charges a filing fee of $25. You can mail in your report, and save a little bit of money, or you can file online and pay an additional service fee of 4%.
Your certificate is due every year on the anniversary of your parent LLC's formation. For example, if your Oklahoma Series LLC's Articles of Organization were processed and approved on June 10, 2021, your first Oklahoma Annual Certificate would be due June 10, 2022.
Learn more with Northwest's Oklahoma Annual Report Service & Filing Guide.
Do I have to submit an annual certificate for each series within my Series LLC?
You do not. The beauty of an Oklahoma Series LLC is that it reduces paperwork and administrative costs by piggybacking off the parent LLC. This means that you'll only need to pay the $25 filing fee for the parent LLC no matter how many series you have.
Let Us Be Your Guide
Interested in forming a traditional Oklahoma LLC instead of a Series LLC? At Northwest Registered Agent, we've spent years crafting our Oklahoma LLC service. When you hire us, we'll form your Oklahoma LLC for $330 total and include:
One year of registered agent service
An LLC operating agreement, membership certificates and LLC resolutions
Digital notifications
Oklahoma Annual Certificate reminders and directions for fast filing
A secure online account filled with intuitive business maintenance tools and forms to make LLC upkeep simple
Lifetime Corporate Guide Service—call us anytime and one of our Corporate Guides will help you navigate whatever business problem, task or curiosity you have
Northwest Registered Agent is the only national LLC formation service that is dedicated to your personal privacy. We don't sell data to third-parties and we do everything we can to keep your personal information secure.
START YOUR OKLAHOMA LLC FOR $330 TOTAL