Free LLC Operating Agreement -
Free for Download
We're Just Not Annoying®
limited liability company operating agreement
An LLC operating agreement is not required in any state in the US, although it is important. An LLC operating agreement is the legal document that governs your Limited Liability Company. Articles of Organization do NOT govern your LLC. An Operating Agreement shows who owns the LLC, manages it, how profits are dealt with, and how any problem the LLC may have now or in the future will be resolved.
An LLC operating agreement is not very important for single member LLCs but it is critical for multiple member LLCs.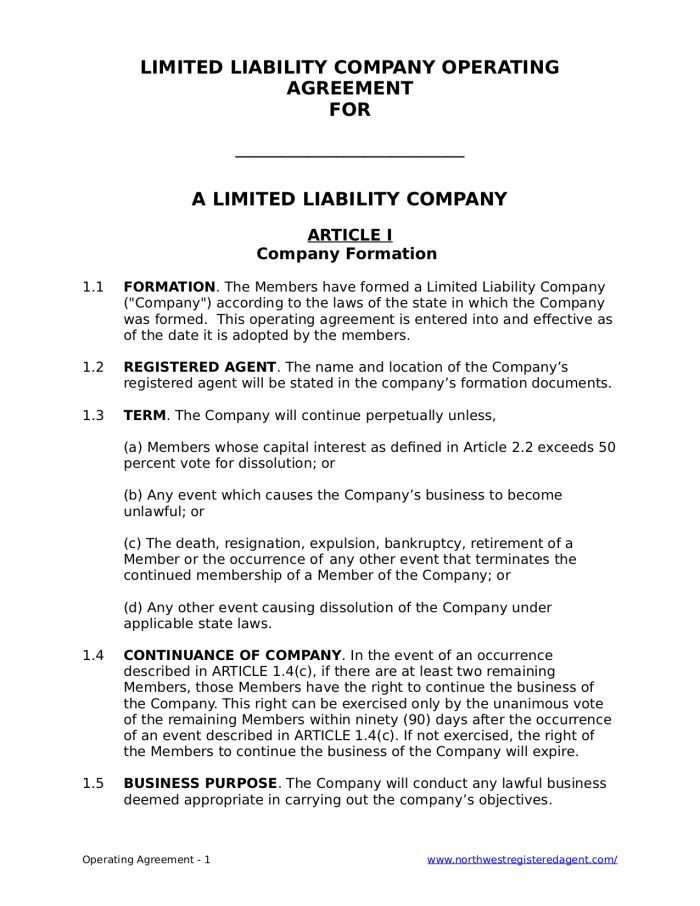 What is required to be listed in an LLC operating agreement?
Our free Limited Liability Company Operating Agreement sample covers the crucial parts of an operating agreement:
The name of the LLC.
A certificate of formation (also known as articles of organization) by the members, showing proof that they did indeed form an LLC.
The registered office and registered agent of the LLC.
The length of the life of the LLC.
Voting rights of the members.
Continuance of the company if one of the members dies.
Business purpose of the LLC.
Principal place of business.
Addition of additional members.
What the initial contributions will be and how much each member contributed.
What the LLC will do with its profits and losses.
How the LLC will make distributions.
How the managers will run the company.
The powers of the managers and members.
How the LLC will maintain its records.
Management fees.
Assignment of rights of members.
What is so different about Northwest Registered Agents operating agreement?
You'll find that our LLC operating agreements are not only free, but are also painstakingly written in a language that you can actually understand. If you do pay for a 30 page LLC operating agreement, do you think you'll be able to understand it? It's quite unlikely. If there's one thing we've noticed with LLCs, it's that lawyers will argue every part of everything, because they all read it differently. We've edited our limited liability company operating agreements down to the bare essentials over the years. Here you'll find everything your LLC needs and less to read and fight about.
Am I required to have a LLC operating agreement?
Every state is going to say you should, but guess what? Almost every state statute says failure to maintain LLC operating agreements for your LLC does not cause you to lose your LLC liability protection. We have yet to see an actual state agency require you to maintain a LLC operating agreement.
Should my LLC have an operating agreement?
Yes, absolutely, especially if you're going to have multiple members. Even though the state does not require it, it would be silly to form an LLC with another person without having an LLC operating agreement that both of you agree upon. Operating agreements will lay out how to handle disagreements, money, and technical things like the right of first refusal—things that will shape the future of your company. If you are going into business with another person, the odds are that you will eventually need to part ways. The operating agreement between you will be what outlines how the breakup will happen.
Does Northwest help me create an LLC operating agreement for my LLC?
We don't, unless you hire us to form your LLC, but you can get a free legal forms account and either use the tools in your account to create your own llc operating agreement, or you can download the PDF which we've spent years making usable. Or, if you feel the need, you can use the word doc template and make the limited liability company operating agreement completely your own. If you sign up for our LLC formation services, we include your initial LLC resolutions and we create the llc operating agreement for you.
Also, we help LLCs maintain their businesses. If you'd like to use our LLC registered agent services, you can sign up at the top right corner on any one of our webpages. If you'd like to have us form your LLC for you, we'll do so and include the creation of your LLC operating agreement with every order.
Please enjoy our free LLC operating agreement. Our free LLC legal forms, and any content on this website, are for individual use. If you're a lawyer wanting to use our free legal forms, that's fine as long as you give us credit for them on your website or in the document. Anyone wishing to re-sell our documents, or use them commercially in your own business must obtain permission from us.