Free Limited Liability Company Articles Of Organization
We're Just Not Annoying®
LLC Articles Of Organization Template For Download
Articles of Organization must be filed with the state to form the Limited Liability Company. We provide free Articles of Organization above in a PDF form format or a word doc format. Please feel free to use our LLC Articles of Organization template, but please do not take this LLC form as a replacement for competent legal counsel on your specific needs.
Articles of Organization can be long and drawn out articles or they can be drastically simplified. The main purpose is to have something in writing to file with the state.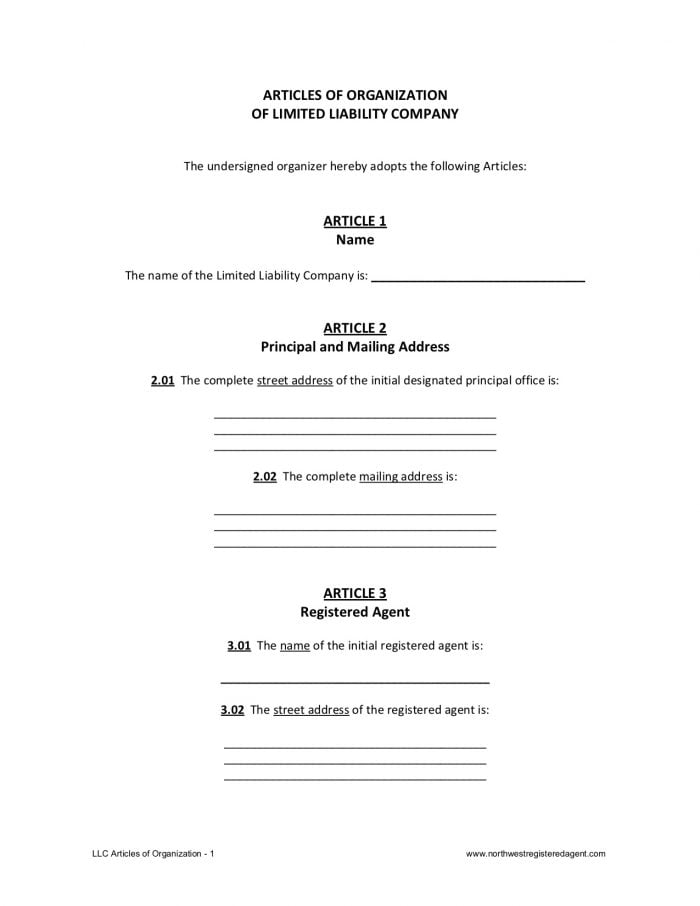 Why Hire Us
In addition, if you hire Northwest as your registered agent, all the state supplied LLC Articles of Organization are on the thank you page after you sign up. We email them to you as well.
Our drafted Articles of Organization include:
Certificate of organization
Adoption of the LLC articles
Name of the Limited Liability Company
State of organization
Principal and mailing address of the LLC
Duration of the LLC
Registered agent and registered office address of the Limited Liability Company
Registered Agent acceptance for the LLC
Management of the LLC
Members of the LLC
Initial contribution of the Limited Liability Company
The purpose of the LLC
Limitation of Liability clause
The LLC organizer
Contact information
Most firms would charge you hundreds if not thousands of dollars for the type of documents that we give away for free every day. Please feel free to use our free LLC Articles of Organization template.
If you would like our help forming your LLC, we file LLCs every day, and for only $100 we will get your LLC set up correctly the first time.
If you would like registered agent service, which you usually will need anyway, we would love to have your business for that as well, so you can utilize our industry leading registered agent service for $125 a year.