New Mexico LLC Articles Of Organization Template
Please use our free format below if you are doing your New Mexico LLC formation yourself. We customize a few things in more detail when people pay us our $100 LLC formation service fee, but these New Mexico LLC articles will work fine most of the time. The requirements for forming a New Mexico LLC are under section 53-19-7 to 53-19-10 of the New Mexico LLC code.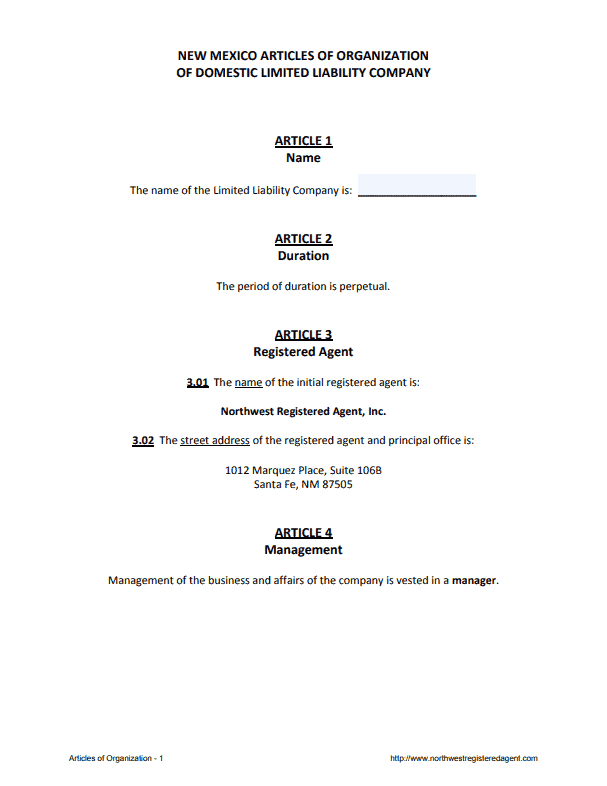 New Mexico LLC Formation
You are required to include:
The name of the New Mexico LLC
The period of duration of the New Mexico LLC
The name of the New Mexico registered agent
The address of the New Mexico registered office
The address of the principal office
Management structure of the New Mexico LLC
Date of effectiveness for the articles
Organizer name and signature
Registered agent consent and signature
New Mexico LLCs  are now processed online within 15 days. You can file articles of organization digitally, and receive confirmation online that your filing has been processed.
You'll need a registered agent service only and you do the filing. If you do the filing yourself, we will give you the correct name to enter in the Registered Agent section of the online filing. Once your filing is processed, we will be designated as your New Mexico registered agent.