Free Nebraska Certificate Of Organization
Nebraska has a very strong Bar Association.  So they have lobbied to keep the Nebraska Secretary of State from having simple forms available online to form a Nebraska LLC. Here's a free template to use to file a certificate of organization with the Nebraska Secretary of State.  NE Attorneys:  sorry…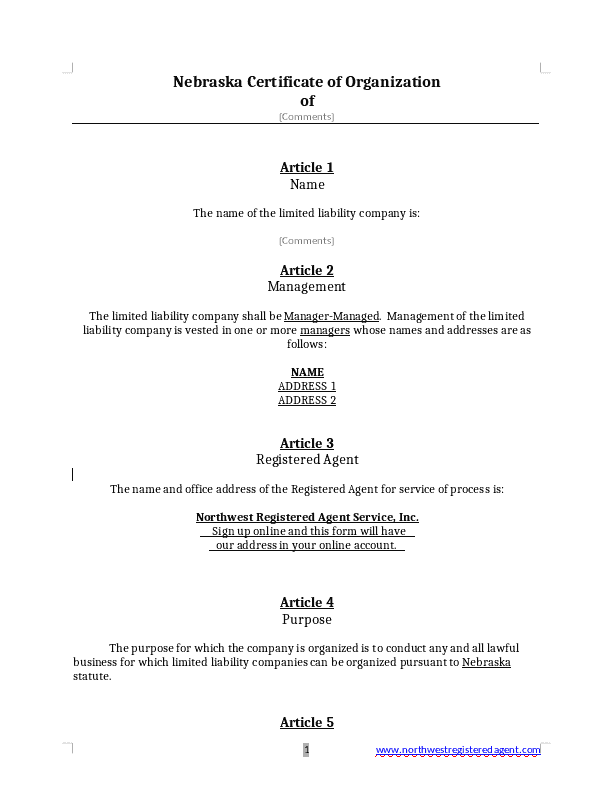 Our Nebraska LLC Certificate of Organization
It's important to note that Nebraska has a strong definition of what is considered practicing law without a license.  We must stress that you probably might want to talk to a lawyer before forming a Nebraska LLC.
This Nebraska LLC certificate of organization template will be accepted with the Nebraska Secretary of State.  Are all the articles exactly how you would want them for your specific situation??  Well, we have no way of knowing, and that would be up to you to figure out.
You'll notice that we are listed as the registered agent on the certificate.  If you do not want us to be your Nebraska Registered Agent, you will need to change this part.  Most people forming a Nebraska LLC could benefit from our services as your registered agent.  You can sign up for that at the bottom of this page.  The Nebraska Certificate of Organization is also in your online account.
Forming a Nebraska LLC should not be overly complicated though.
You basically file the certificate of organization with the Secretary of State according to Statute 21-117 and then publish in the newspaper after you've filed.
For more details, you can also refer to our in-depth guide on How To Publish Your Notice Of Incorporation Or Notice Of Organization In Nebraska.
You can also use our free:
If you'd like help forming your Nebraska LLC, you can sign up for our filing service ($100) plus the Nebraska State $100 filing fee.  If you'd just like us to be the registered agent, you can sign up for the registered agent only service for $125.