Free LLC Articles Of Organization
Articles of Organization must be filed with the state to form a limited liability company. LLC Articles of Organization can be long and drawn out, or they can be drastically simplified. The main purpose is to have something in writing to file with the state that covers the essential information the state requires, such as the LLC's registered agent and organizer. We provide a free LLC Articles of Organization template you can use for your new business.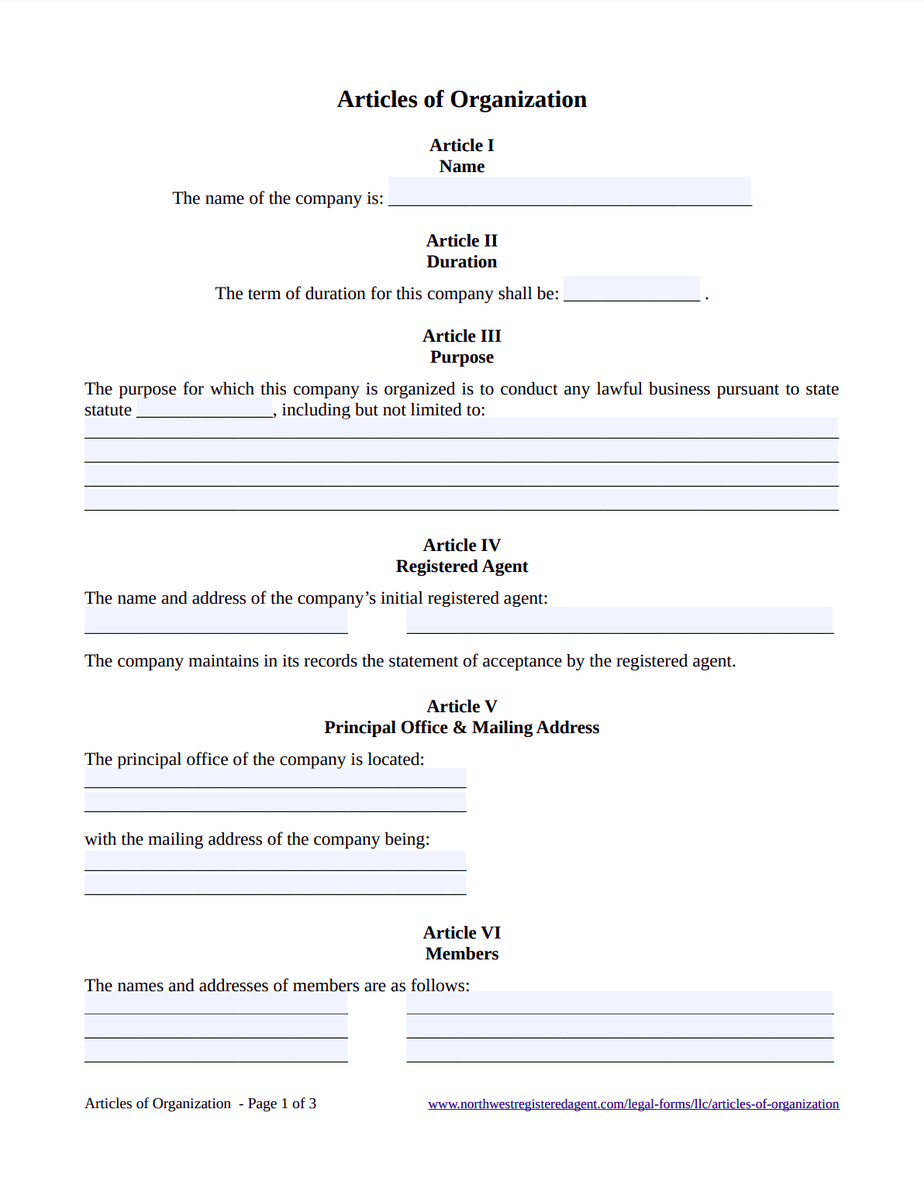 Articles of Organization – Free Template
Articles of Organization are filed with the state governing agency in order to register your LLC. Feel free to use our LLC Articles of Organization template, but please do not take this LLC form as a replacement for competent legal counsel on your specific needs. Like all our forms, our LLC Articles of Organization template is intended for individual use.
If you would like our help forming your LLC, we file LLCs every day. We'll get your LLC set up correctly the first time for only $100 plus state fees. We also provide industry-leading registered agent service for $125 a year.
How to Write Articles of Organization
At minimum, you'll need your LLC's name, registered agent, principal address and organizer signature. Some states have additional specific requirements, such as information about management and members. Our comprehensive LLC Articles of Organization template covers these topics and more:
Article 1: Name
Your business name typically needs to include "LLC," "L.L.C.," or "Limited Liability Company. To make sure your name isn't already being used in your state, you can do a business name search to check for availability.
Article 2: Principal and Mailing Address
Your principal address is your official business address. A street address is typically required. You can add a mailing address as well, which can be a PO Box.
Article 3: Registered Agent
In this section, you'll list your registered agent and registered office. A registered agent accepts legal notifications, such as court summons, on behalf of your LLC. Your registered office is the street address in your state where the agent is available during regular business hours. Don't have that kind of time (or don't want to list your personal info here)? Many businesses opt to hire a registered agent service like Northwest.
Article 4: Statement of Acceptance by Registered Agent
Some states require registered agents to acknowledge their appointment with a signed statement. This ensures no one is appointed without their knowledge. The statement also assures the state that someone is actively taking responsibility for the registered agent role.
Article 5: Duration
Duration is how long your LLC will exist. Most LLCs are perpetual, meaning they continue until they are dissolved.
Article 6: Management
Your LLC can be managed either by its members or managers. If the members run the day-to-day operations, your LLC is "member-managed." If the LLC hires or appoints one or more managers to run the business, the LLC is "manager-managed."
Article 7: Members
Members are the owners of the LLC. You can list the names and addresses of the members here. Note that not all states require LLC member information in the Articles of Organization.
Article 8: Initial Contribution
Initial capital contributions are how members "buy in" to the LLC. Members contribute cash or assets in exchange for their ownership interest. While this information is commonly documented in the LLC operating agreement, you can write in initial contributions here.
Article 9: Purpose
Your business purpose is what your LLC plans to actually do as a business. In some states, it's sufficient to have a general purpose ("to conduct any and all lawful business"), but other states require you to list a specific business activity ("motorcycle repair and maintenance").
Article 10: Liability
Limited liability is one of the most important benefits of an LLC. This section provides a statement to affirm that members and managers are not personally liable for debts and obligations of the business.
Article 11: Organizer
The organizer signs and submits the Articles of Organization. The organizer can be a member or manager, or someone else you authorize to complete this paperwork. If you hire Northwest to form your LLC, we'll be your organizer.
Are LLC Formation Requirements the Same in Each State?
No. Each state decides on their own procedures and requirements for forming an LLC. So, starting an LLC in New Jersey is going to be a little different than starting an LLC in neighboring New York. All states charge a fee for filing.
To ensure you provide all the necessary information, most states have their own Articles of Organization form you can download from the state agency's website. You can also find these forms, as well as state filing fees, on our individual state LLC pages (just select your state from the drop down on our "LLC Guide" page). Our LLC Articles of Organization template, however, will meet the general requirements of most states.
Do I Need to File Articles of Organization with Other Forms?
Sometimes—it depends on the state. For instance, Pennsylvania requires a docketing statement, and Nevada requires multiple additional forms, including an Initial List of Managers or Managing Members.
Again, you can visit our individual LLC pages via our LLC Guide to learn about specific state requirements. Or better yet, let us do the heavy lifting and hire us to form your LLC for you.
How Do I File Articles of Organization
In most states, you file your Articles of Organization with your state's Secretary of State office. Upon filing Articles of Organization, some states give you back a Certificate of Organization. Others just return the LLC Articles of Organization with a stamp showing the filing, filing number and date.
Although the approval of your Articles of Organization legally registers your business with the state, there's more to do to get your LLC business-ready. You'll typically need to open a bank account, get an EIN, and obtain any relevant business licenses and permits as well.