LLC Special Meeting Minutes Template
Any member has the right to call a special meeting at any time. For serious disputes, emergencies or other issues, a member can provide a notice of special meeting and force a decision on the issue. Because special meetings are serious by nature, documenting the meeting with LLC special meeting minutes is crucial. We provide an LLC special meeting minutes template here to document the actions taken and members in attendance at your LLC special meeting.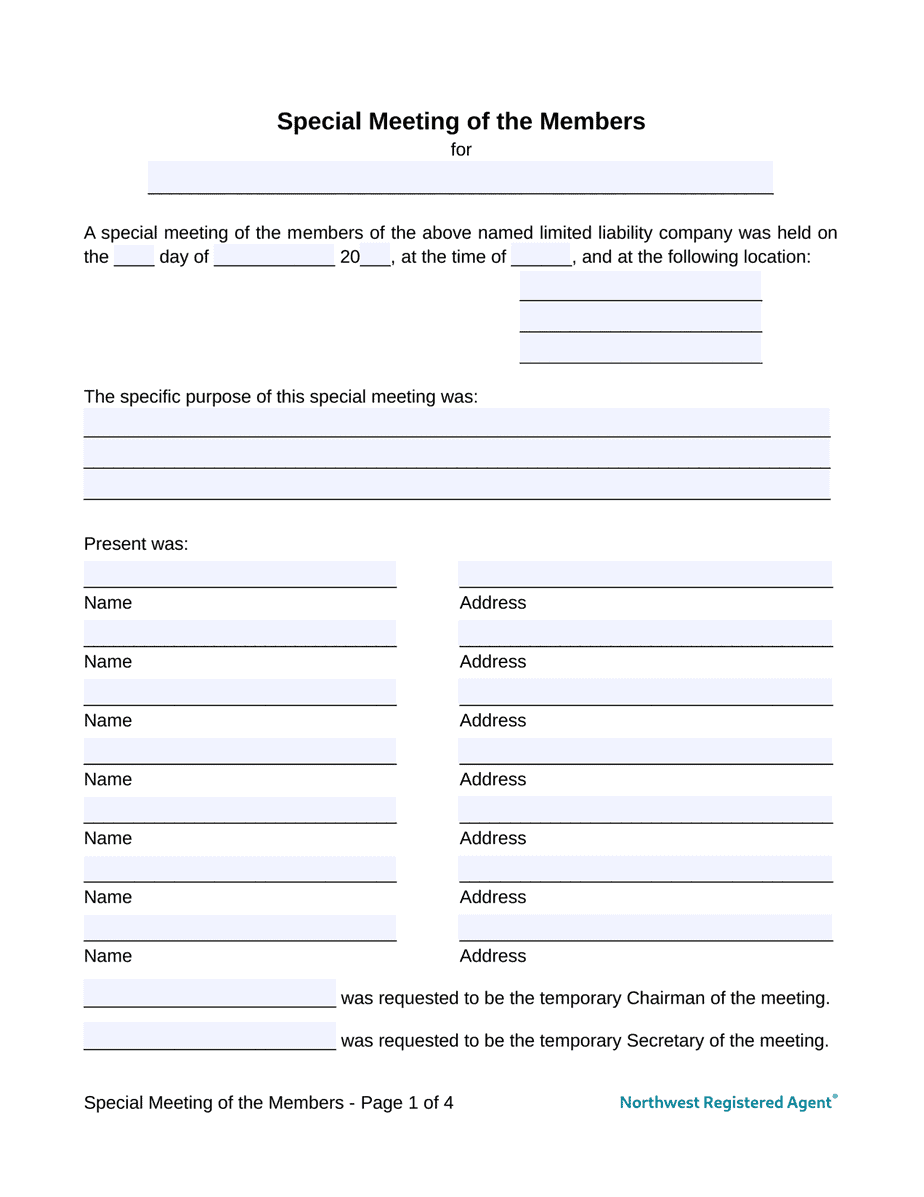 Why should I record LLC special meeting minutes?
Special meetings are typically called for matters of some urgency—topics that can't wait until an annual or other regularly scheduled meeting. For instance, a special meeting might be called if the LLC received an offer to merge with another company or if members disagreed on the interpretation of a key policy.
Since special meetings are called so that important information can be delivered or critical decisions can be made, it's crucial to properly document these meetings with LLC special meeting minutes. You should always add all meeting minutes to your LLC book of records.
Keeping meeting minutes is a small part of effectively maintaining your LLC. At Northwest, we have many tools and resources for LLC maintenance. We offer registered agent service in every state. You can even hire us for state annual report compliance.
What should LLC special meeting minutes include?
Although special meetings are usually called because of an unexpected or otherwise urgent situation, there are still common processes and information that should be included, such as a the confirmation of a quorum and the election of a chairperson. Our free LLC special meeting minute template covers the following:
General Meeting Information: All meeting minutes should record basic details, such as the LLC's name, meeting date, meeting location, and individuals present.
Chairperson and Secretary Elections: At the start of the meeting, LLC members elect a chairperson (to run the meeting) and a secretary (to record the meeting minutes).
Quorum Confirmation: For a meeting to take place, a quorum (minimum number) of members must be confirmed present.
Review of Previous Minutes and LLC Records: The minutes from the last meeting are distributed for members to read, and LLC records (operating agreement, Articles of Organization, etc.) are made available to members to review as well.
Business Conducted: Special meetings can vary greatly in subject matter, but any items of business that are conducted should be recorded.
Signatures: Members sign the meeting minutes. The secretary who recorded the minutes also provides a final signature.